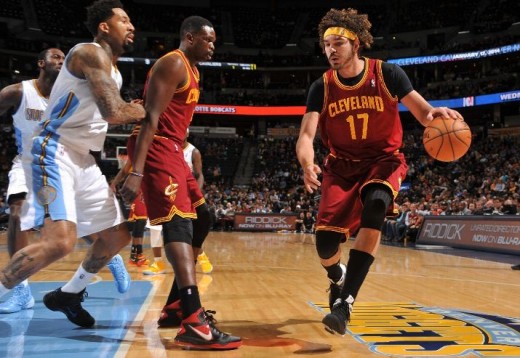 Remember that five wins in six games stretch in late November and early December?  The Cavs beat the Nuggets by double-digits then, in one of the best games of Cleveland's season.  Those two weeks were fun, and included a win over the Clippers, too.  Everything else this season?  Not much fun, including zero wins against teams with records better than five-hundred.  While maybe over dramatic, tonight's game defines the difference between this West Coast trip being a success, or a bit of a disaster.  With a victory, the Wine & Gold emerge from their longest road trip of the season with three wins and two losses, a very nice result on any West Coast trip.  Fans can revel in the exciting addition of Luol Deng, and what it means for the season's second half.  With a loss though, the trip features a double-digit, negative per game point differential, and another frustrating move towards 30 or fewer wins.  With the season reaching the halfway point Monday against Dallas, there will be relatively little to be optimistic about.  It is pretty stark how different the "narrative" of this road trip and season could be, depending on win or lose tonight.
So, what happened?
The first quarter started well enough.  Tristan scored nine points in the first six minutes, as the score stayed tight early: 14 to 13 with five minutes to go in the first.  Unfortunately, Randy Foye just wouldn't miss.  Making 54% of his threes over the previous seven games, Foye canned three more in the first quarter, good towards 11 points, staking Denver to a 21 to 15 lead at the max.  The second unit fought valiantly though, and the quarter ended with the Cavs trailing 29 to 26.  Tristan finished with 9 points, and Andy with 6 rebounds.
The second quarter began with the Cavs blazing.  At one point, Jarrett Jack scored seven points as part of a nine to nothing Cleveland run.  The Wine & Gold lead 35 to 31 with eight minutes left.  All three of Jack's buckets were in the paint, which is a very nice development that hopefully continue.  As soon as I began basking in that glory though, Nate Robinson spurred a seven to nothing Nuggets run.  But then, things got crazy.  Cleveland scored 33 points in the final 7.5 minutes of the quarter. Dion scored six straight, including one ferocious slam. Then, Kyrie scored ten in a minute and a half, featuring one abracadabra drive for a lay-in.  With three minutes left in the quarter, the Cavs lead 58 to 46.  Tristan made a couple of buckets, then Dion and CJ each hit threes, and voila, 10 more points in a little over a minutes!  68 to 57 at the half.  That was some of the most breakneck, ridiculous seven minutes of basketball I have seen the Cavs, or any other team play.  For those seven minutes, they scored 211 points per 48.  The Wine & Gold finished the half shooting 57 / 46 / 79, as Tristan, Kyrie and CJ scored 13 each, with Dion and Jack pitching in nine a piece.  Combining the torrid shooting with three turnovers, it was one hell of a half.
The third quarter started slightly saner, maybe even a bit of a hangover after the drunken exuberance of the third quarter, but the Cavs maintained a solid lead.  The margin was double digits most of the quarter, until Denver pulled within seven towards the end.  Cleveland lead 87 to 80 going into the fourth. Luol Deng scored ten and Tristan six for the quarter.
The fourth quarter continued slowly, like the third, an extended withdrawal from the madness of the late portions of the first half.  Cleveland scored 11 points in the first six-plus minutes of the final frame, but fortunately Denver only matched.  The Cavs' offense stagnated, as Denver drew within four at 101 to 97…
I start to sweat, before Varejao finds a cutting Deng for a layup, grabs an offensive board, and then hits Tristan on a nice pass, getting Thompson to the line.  Thank goodness for you, Andy.  Next, of course, Nate Robinson promptly hits a three, before Varejao throws a lazy inbounds pass for a Nate Rob gimme.  I vomit a little.  105 to 102 Cavs.  3:25 left.
Andy redeems himself with another sweet dime to Kyrie.  That's three extremely crucial passes in crunch time from Varejao.  109 to 102 Cavs.   The stupid Nuggets won't go away though.  Wilson Chandler cans two from deep, while the Cavs start shooting long two-pointers…but on one, the ball is loose on the floor…Luol Deng slams it home.  113 to 108 Cleveland!!  44 seconds to go!!  From there, the rest is easy.  Cleveland wins 117 to 109!  The season is saved!!  Three wins on the longest West coast trip of the season!!!
Ok, it may not be that easy, but coming out of this swing with three wins is a really nice outcome.  Here's to wishing a Luol Deng infused second half leads to many more victories and the type of season that most envisioned.  Just like the other stretch of winning basketball from this season, hope appears to be on the horizon.  Fingers crossed…
A few bullets…
That stretch in the second quarter was crazy.  I couldn't keep up.  Everyone was scoring from everywhere all the time.  I do not know the NBA's 25th ranked offense had that capability.
Tristan made his first eight shots.  Short jumpers, driving hooks, catch and finishes, it was an offensive explosion from TT.  He finished with 20 points on 8-9 shooting, with 10 rebounds and two blocks.  Seeing Thompson swat a few shots may have been as exciting as anything.
Andy finished with seven points, 16 boards, seven assists, three steals and a block while leading the team in plus/minus.  It was exactly the type of game you would expect from that stat line.  A perfect Andy game, if you will.  How many other guys in the NBA can but up those numbers?  Send that man to the All-Star game.  The Eastern Conference stinks anyways, right?
Kyrie scored 23 points, to go with six assists, four rebounds and one turnover.  It was a fairly understated 23 points.  Tristan and Andy were the "stars" tonight.
C.J. Miles scored 14 on 6-12 shooting, and like Andy, finished +14.  He has really been a plus/minus all-star for the team this year.
Luol Deng scored 18 points on 6-17 shooting.  It wasn't his greatest game.  He scored a lot in the third though, when the offense otherwise bogged down, and put in a pivotal bucket off an Andy dime late.
Rough first eight minutes for Dion.  Got destroyed by Kenneth Faried on a fast break, and also bobbled a different fast break opportunity. He threw a couple of bad passes and generally looked unengaged early.  Then, that turned around and he scored nine points with two steals over the next nine minutes.  But of course next, the second half sucked.   0-4 with no free throws.  He didn't get to finish the game on the court, and shot 3-14 for the game, for nine points.  I want to feel better about Dion than I do.
Tyler Zeller grabbed seven boards in 17 minutes.  He wasn't generally capable of doing that last year.