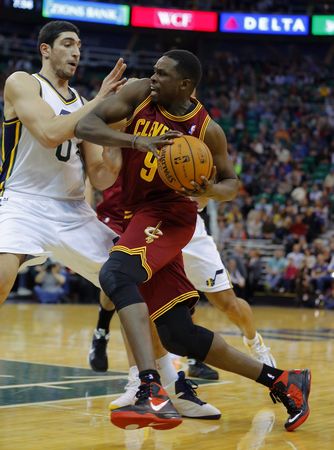 O.K., so we know the Jazz are the second worst team in the league, and we know they were missing their best player, but they did beat the Thunder the other night. Earlier this season, the Cavs would have played down to Utah's level, but not tonight. Riding C.J. Miles' coattails, the Cavs kind of coasted in the first half, and ended up three points behind the Jazz at the intermission.  Then Cleveland exploded in the third, outscoring the Jazz 39-21. They put their foot on Utah's throat the fourth, by pushing out to a 20 point lead with three minutes left.
Tonight marked Luol Deng's debut with the Cavs, and he did not disappoint. Luol scored 10 on 4-8 shooting in 21 minutes, and finished +10 for the game.  His buckets came on a series of mid range jumpers, to the right and left side of the basket, and a nice cut to the basket off a feed from Andy. These are shots that Alonzo Gee and Earl Clark do not make.  It's obvious with Deng on the floor, that the starting unit is no longer playing four on five. His best moment came when he forced a steal, ran down the right sideline, and then set up for an easy pull-up from the right side off a feed from Kyrie. That play would have made me cringe if it was Earl Clark taking that shot.
Kyrie Irving played another sterling game. He rode a 17 point third quarter to a 25 point, eight assist, six rebound, five steal performance.  His best play of the game came in the third, though, when he stole the ball raced up the court, and could have easily scored, but saw Dion Waiters streaking on his right. Irving shoveled him an easy pass, and Dion thumped home a slam.  That's the kind of unselfish, chemistry building moment that will make an average team good, and a good team great. Irving's defense was sloppy at times.  I did see him sticking to screens a lot in the first half, but he got better.  Irving also seemed to make a concerted effort to pick his spots and set up his teammates early. But he rode his hot hand in the third and early fourth, and had another good shooting game, with a TS% of .619.  He had some sick plays, including a post-up on Burke from the left block where he shimmied, and rattled home a turnaround from a nasty angle off the square.
Waiters chipped in 17, and Jack returned to the rotation with a very solid 12 points on 5-6 from the field. He even went inside a couple times.  My only complaint about the way Irving and the rest of the back-court played was that they failed to get the ball to C.J. Miles enough.  C.J. helped the Cavs off to a good start, scoring 13 points in the first half, and finished with 17, on 6-7 shooting and 4-4 at the line.  It's a little unconscionable not to get the ball to a player who's as red-hot as Miles is right now.  He really ought to have had more than 9 shot attempts.
Part of this was on Mike Brown, who went to the Irving, Jack, Waiters lineup at times in both halves. It was definitely a head-scratcher, since the the Cavs now have the personnel to avoid having to match Jarrett Jack with small forwards.  I hope that we see less of this, and more of Miles moving to the three when Deng goes out.
What about the big men, you ask?  Well, Andy, Tristan, and Tyler combined to grab 35 rebounds.  Tristan was dominant, with 10 offensive rebounds and 18 points in 35 minutes.  Andy led the team in plus/minus, and though he was 1-6, he gobbled up 13 defensive boards, and handed out 4 dimes.  Tyler had a nice 22 minutes to finish with 10 and 6 and ran the floor well.
The only real complaints about the Cavs' play were that they allowed the Jazz to shoot 48% from the floor, and were kind of lazy about about playing lock-down defense. Part of that was because Deng doesn't know the defense yet, and a couple times he had a problem figuring out where his help was coming from. Cleveland won this one with offense, not defense.
Also, at 2:47, down 20, the Jazz cleared their bench. Inexplicably, Mike Brown left Kyrie and other rotation guys in for another two minutes. Call me paranoid, but that just seems like a bad idea.
A Digression:
This game was one that the Cavs should win, especially when Gordon Hawyard's in a suit, but it was easy to see that, with Luol Deng, Cleveland's an order of magnitude or two better at the small forward position. Now that they actually have a roster that makes sense and is designed to win games, this Cavs team has the ability to be really good. Deng is the perfect "sidekick" for Kyrie Irving: the type of all-around player who can fill in all the little things: defense, rebounding, scoring, situational awareness, hustle, etc. He's Shawn Marion to Steve Nash.
I started Bill Simmons' "The Book of Basketball" this week, and he talks a lot about "The Secret," and what it takes to be a great team. "The Secret" Isaiah Thomas tells him, is that it's not all about basketball. I mean it is about basketball, but it's about sublimating one's own basketball abilities for the good of the team.  Ugh. I'm just not doing the idea justice.  Let me elaborate with a block quote from Cameron Stauth's The Franchise: a book that details how Pistons' General Manager Jack McCloskey built the Pistons championships of the late 80s.
It's hard not to be selfish. The art of winning is complicated by statistics, which for us becomes money. Well, you gotta fight that, find a way around it.
McCloskey continues a few pages later.
Lots of times, on our team, you can't tell who the best player in the game was. 'Cause everyonebody did something good. That's what makes us so good. The other team has to worry about stopping eight or nine people instead of two or three. It's the only way to win.
The Cavs are going to have to embrace this philosophy if they want to win. Fortunately, Deng seems like the type of player that embodies this. Anderson Varejao, similarly, is a guy who can play a fantastically game, like he did tonight, and only score two points. He knows how to do what he needs to do to help the team win.  Lately, he's been gobbling up defensive rebounds like J.R. Smith gobbles up fines. But among the guards on this team, the philosophy of "statistics become money" seems to run rampant.
Sometimes, it seems like Kyrie and Dion have the "I gotta get mine" attitude. They have to get up a certain amount of shots. It's hard to blame them, though, because that's how the NBA works. Players on the rookie scale are playing for the big money that comes from an extension or a big free agent contract, and stuffing the stat sheet is how these guys get paid. Vets like C.J. Miles are always playing for their next contract too. If he wants to win, the next evolution of Kyrie Irving's career has to be sacrificing his own game to make his teammates better. That's a lot to ask of a 22 year old.
If Irving has this in him, then Cleveland can be something special.  I want to see C.J. Miles get 20 shots when he's this hot. Dion needs to sit sometimes when Miles is hot. I want to see a 10 point 15 assist game from Irving. I want to see more of that great chemistry I saw tonight from Kyrie and Dion. I want Cleveland to get to a point where "Everybody does something good".
This commitment to winning and team is going to have to extend past the players. The coaching is going to have to get better. If Mike Brown can't be more creative on offense, then he needs to turn over the reigns to an assistant who can. He's going to need to cut the minutes of some guys who are not going to be happy it. With Deng, there will not be enough minutes to go around for everyone. If the Cavs are able to embrace "the secret" and become a true team that is more than the sum of its parts, then the time will come soon when the management and ownership will have to figure out how to pay these guys appropriately. That may have to start soon with Luol Deng.
This is a lot of internal monologue about a team on a two game win streak against lousy teams. It's three in the morning, and we need to wrap this up, but I'm excited. I feel like the Cavs are finally a collection of complementary players — players who can be flexible enough to figure out different ways to beat different teams. I saw glimpses of what could be tonight. I hope this is the team we've been waiting for.