Tom and I have been going back and forth all week about whether the Deng trade is a good one for Cleveland. With neither of us willing to concede to the other, we decided to step inside the textual octagon, and let you be the judge.  In the wine colored trunks, I argued "yes." In the gold trunks, Tom Pestak argued "no." This went the distance.
Nate:
This trade was a win/win/win. It's a great trade from a GM's standpoint, a coach's standpoint, a team culture standpoint, and even a fan's standpoint.  That's actually four "wins."
As a talent evaluator, Chris Grant has been a mixed bag when it comes to drafting players and signing free agents, but as a trader, he has been masterful.  Cleveland gave up two second round picks from Portland, in 2015 and 2016, that will likely be very near the end of the draft. Then they gave the Bulls the ability to switch picks with the Cavs in 2015 if the pick falls out of the lottery.  This is only a big deal if the Bulls end up being really good, and the Cavs are a borderline playoff team (ok, this is probably a more realistic possibility than I want to admit). The final piece to the deal: the inscrutable Sacramento Kings pick, which only goes to the Bulls if it's outside of the top 10 in the next three years.  That doesn't look even like a possibility right now.
From a basketball standpoint, Deng will help this team immensely.  Just take a look at his Synergy Stats from this season.

Deng is an offensive Swiss Army knife.  He can Score on post-ups, cuts, screens, hand-offs, offensive rebounds, in transition as a ball handler, and as a spot-up shooter.  While he's not the best ball handler or spot-up shooter this season, that's partly because he's the Bulls' primary offensive weapon.  To get an idea of what he's going to be like in Cleveland, let's go back to 2011, when Deng shot .367 from three.  This was when he got to play a full season with Derrick Rose, which approximates, somewhat, the looks he'll get playing with Irving.  The only thing that Deng doesn't do, that the Cavs need, is shoot threes really well.  But Deng does some things that no one else on the Cavs can.
The Cavs biggest problem on offense is not a lack of outside shooting.  Cleveland shoots .359 from three, which is good for 12th in the league.  But Cleveland shoots .422 from the field, last in the league.  Part of this is their over-reliance on long two point jumpers, but a bigger problem is that they're terrible at finishing inside. Cleveland is last in the league at finishing from less than five feet: a paltry .509. The Bulls barely did better, but Deng was the best of them, shooting .595.  He'll definitely be an upgrade at the rim.
Luol Deng instantly becomes the Cavs best player off the ball, and the Cavs best post up player. He's also their best transition finisher.  And let's compare him to the player he's replacing.  Earl Clark as a starter is shooting .327 from the field and posting a PER of 9.45. Yes, he stretches the floor, but he's been an order of magnitude better as a backup power forward off the bench.
And let's not even talk about Alonzo Gee, who's shooting .381, and .294, and averaging a PER of 6.24.  And those numbers represent those players' ceilings, it seems.  Over the last five games, both players are shooting under .200. If Luol Deng had been playing those minutes, the Cavs would have beaten Brooklyn and the Pacers, and be winners of four straight.
I've laid enough offensive stats on you.  I don't need to tell you that Luol Deng is an elite defender.  He's a positive APM player over the last five years, and he's in the top third in the league at opponent field goal percentage at the rim, at .47
This trade was all about establishing a culture of winning.  Deng is a guy I respect enough to do that. He's a selfless professional.  At some point, you have to start surrounding the young guys on this team with players who are going to teach them how to be pros.  Just look at everything Tom Thibodeau said about Deng.  Look how much his teammates are upset he's gone. Luol Deng  is a winner, and a guy who can help a team get deep into the playoffs. He's the ultimate glue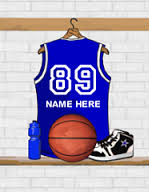 guy.  Plus, by all accounts, Deng is a remarkable person. He was almost criminally under-appreciated in Chicago. The more I read about him, the more I like him.  More than anything, for me, as a fan, Deng is the kind of player I want to root for.   And if you're not rooting for players, you're rooting for laundry.  So I'm ecstatic.
Tom:
Nate – before I begin an explanation of my concerns regarding this trade, I'd just like to say that each time we exchange ideas about this you convince me more and more that this is, in fact, a great deal. I'm very familiar now with all of your bullet points and the logic you are wrapping around them resonates with me. Everyone knows Luol Deng is a huge upgrade at the Cavs position of greatest need, but you've gone deeper and I appreciate that. I would say that of your main points of emphasis, I would rank things like the composite stats (WS, PER, APM), finishing ability, and shooting percentages much higher than culture, likeability, and "being a winner".  I thought Jarrett Jack was a "Swiss Army knife" on offense, a great "fit", an experienced veteran, and a culture changer (Marc Jackson was really upset he lost Jack if you recall). But it seems he's an average NBA backup guard (on a team with decent starting guard play). Deng, on the other hand, is an above average NBA small forward on a team with possibly the weakest amount of talent at small forward in the league. Maybe it's that simple – better ingredients, better pizza.
Culture and fit and all those intangibles are tricky. Everyone converges in agreement when a team starts winning (For example, David West is THE REASON the Pacers culture is so strong) and everyone grasps at straws when the Ls unexpectedly outpace the Ws. Question: why did adding Kevin Garnett and Paul Pierce and Jason Kidd and Jason Terry – all those winners and culture changers (Garnett has to be second only to Russell in terms of being labeled a culture changer) to a decent team turn them into a punchline? It doesn't add up. If pro sports organizations understood the secrets of character, culture, locker room chemistry, etc then they would understand how to fix it when it's bad. The problem is human behavior and group cohesion is too complex to model accurately. So what we end up with, at best, is a shaky exercise in Monday morning quarterbacking when describing how a team was able to put it all together or when explaining what was obviously lacking.
Larry Brown was just the right kinda guy to get all those a-holes to play well together in Detroit. Phil Jackson is a master at managing egos. Kevin Garnett brought an unrelenting will to win that infected an entire team. Tim Duncan and Greg Popovich are like a married couple, constantly learning from each other and demanding the most out of their own talents – the rest of the Spurs have no choice but to "buy in". Kyrie Irving isn't enough of a vocal leader. The Sacramento Kings are too young so naturally they don't "know how to win". You can deal with (and should even encourage acquiring) that one crazy guy – just look at Dennis Rodman. One loose cannon can bring down a whole franchise like "The artest formerly known as Ron."
The thing is, it all makes so much sense after you've digested the events. But how often are the culture predictions correct? I don't know the answer, but my guess is not as often as we think. Identifying culture and chemistry as the main drivers of success and strife stems from the narrative of sports (mostly manufactured) but it also reflects our own experiences with family relationships and work relationships. We know what a culture changer looks like – the good ones and the bad ones. And we value those people. Where professional sports are different, is that the execution of the mission is so focused and optimized, that I think our comparisons fall way short. I mean, sure, you can have a poisonous guy or two that can ruin an NBA/NFL locker room. But these teams are well-oiled machines operating at a level that no one in the world can achieve, so our general understanding of culture and group chemistry does not provide much insight into that of a professional sports team.
So yeah, I'm not convinced Deng is going to be a culture changer that magically transform the TT, Waiters, Kyrie platter into more than the sum of its parts. (Note: if he does, I reserve the right to wax poetic about Deng the "tone setter" in the future) I'm also not even convinced he is the best fit offensively for the Cavs, and "fit" is something they are sorely lacking. That being said, I've probably spent the hourly equivalent of a few days being terrorized by the reality that the Cavs just have to be the worst finishing team in the NBA in my lifetime. Deng's going to help fix that. And even if he "puts on a Cleveland jersey" he'll at least be falling from a very high place. ("Putting on a Cleveland jersey" is a figure of speech between me and my best friend that we used all too often during the LeBron James era to describe previously successful players that the Cavaliers acquired).
So what's my problem anyway? I've conceded Deng is a huge upgrade, why not leave it at that. Eventually, I'll prophesize a scenario for you that I find terribly possible. It's going to get very detailed but I promise you it is still very possible – down to the devilish details.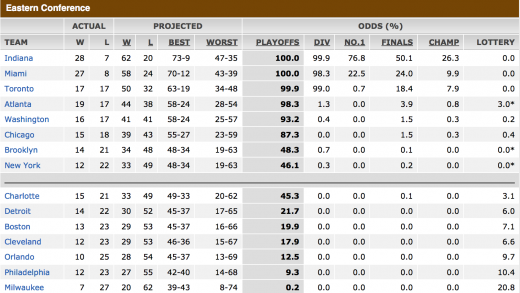 The Cavs, before the Luol Deng trade (and without any crippling injuries), find themselves the 3rd worst team in the NBA according to SRS, projected to win 29 games in Hollinger's playoff odds.  Luol Deng, in my estimation (based on averaging his win-shares per 48 and a half-season of health), is going to net the Cavs about 4 wins all by himself.  So if they were pacing to win 29, let's change the projection to 33.  Thirty-three and Forty-Nine.  As shocking as this sounds, that is likely a playoff team in the Eastern Conference this season.  That satisfies the directive from the owner.  The "get out of the lottery" directive.  And while being a playoff team is normally a badge of honor, 33 and 49 means only 2 things in 2014: a 4-0 embarrassment at the hands of the Pacers or Heat, and drafting no better than 15th in a draft projected to have at least half a dozen stars.  Abandon all pre-conceived theories about what being in the lottery "means". This is not a normal year.  The ninth seed in the West could win almost 50 games, in a difficult conference.  How does it make sense for that team to draft ahead of the Cavaliers?  Whose needs are more pressing?  Recall, the first filter in determining the lottery has only one differentiator – did team X make the playoffs?  That subset of teams is ranked by record.
If the Cavaliers looked even remotely competitive right now I'd feel less anxious.  But making the eighth seed in the East this year really only says two things about your team: you are a bottom 10 team in the league, and you allowed four or five teams to out-tank you.
The way I see it, the Cavs are severely lacking in talent.  They need more talent, much more of it.  If a bottom-10 NBA team (which is what I believe the Cavs are with Luol Deng) wants to miss out on the most talent rich (and top heavy) draft in a decade, it should be for a very good reason.  "Making the playoffs" is not a good enough reason when 33 wins in a conference full of tanking teams meets that self-imposed requirement.  There are five to seven players in the 2014 Draft class that if eligible in 2013 would have easily been the No. 1 pick.  Last season every lottery pick had some glaring weakness.  If it wasn't lack of skill or lack of size it was a chronic injury history.  This draft will feature ELITE (truly elite) athletes that are all bigger than their position and extremely skilled to boot.
Nate: 
To look at the counter-argument, one only need look at the current "elite" teams in the NBA. Hardly any of them built their teams through multiple trips into the top of the lottery.  Miami? Only Dwyane Wade was a lottery pick by them.  Indiana? They've no high lottery picks, just a set of prescient picks in the teens: George, Hibbert, Stephenson (ok, those are really good picks).  Atlanta?  Only Al Horford (No. 3). Tim Duncan, in 1972, is the only high draft pick on the Spurs. Portland? They do have Lillard (6th) and LaMarcus Aldridge (2nd), but their third cog is Nic Batum (25th).  The Clippers?  One high pick (Griffin, 1st).  Golden State is built around Steph Curry (7th) and Klay Thompson (11th), and a collection of players acquired through trades.  Phoenix is built around mid round draft picks and great trades.  Dallas did get their franchise cornerstone 16 years ago (9th), and we all know about Houston.  Only the Thunder successfully followed the script of multiple trips into the top (bottom?) five of the lottery and were able to emerge from the cesspool of losing.
The Cavs have four top four picks in the last three years.  Your argument is that those players and the last three drafts weren't good enough (in the case of Bennett, I might agree). But if the list above tells us anything, it's that developing players and developing a winning infrastructure is more important than drafting high. Might 2014 be one of the few exceptions, like 2007, 2003, 1984?  Maybe. Or maybe if Cleveland tanks, they end up with the next Sam Bowie, Greg Oden, Yi Jianling, or Hasheem Thabeet.  Heck, they already have the first Anthony Bennett. There are no sure things in life or the NBA Draft, as much as we like to think there are. Injury, circumstance, and poor evaluation mean every player is a risk, and players picked anywhere can develop into all-stars.  Even if Cleveland gets a pick in the high teens, that player might turn out to be the next Paul George, Nikola Vucevic, or Terrence Jones.
Furthermore, it's time for the Cavs to commit to the players they've drafted over the last three years, and the only way to do that is to field the best team possible, and help those guys grow into winners — and not to field a team with a giant hole in its roster at small forward.
Tom:
As to your argument about contending teams being assembled in lieu of top draft picks, that is an oft-cited argument.  However, exhibiting San Antonio and Miami makes no sense to me.  The Spurs haven't needed to be in the lottery since drafting Tim Duncan because Tim Duncan is one of the 15 best players in the history of mankind.  In other words, the Spurs acquired the franchise centerpiece that is the main reason they've been dominant for 16 straight seasons by winning the lottery.  The Heat acquired franchise cornerstone Dwyane Wade by drafting high.  Then, they colluded to get other franchise cornerstones.1 If you think Chris Grant is capable of this I may change my tune but I don't think this or the Clippers situation applies at all to Cleveland.  Golden State is just rife with high draft picks whether they drafted them or signed them in free agency like my boy Andre Iguodala.  We can go back and forth on this all day.  Adding an all-star, superstar, or top 50 all-time NBA player (Shaq, Duncan, Garnett, LeBron, Kobe, Wade, Durant, CP3) greatly improves your outlook.  You can certainly build a nice team and even a highly competitive one without such a player, but it makes no sense to abandon the draft when it finally becomes stacked, especially since the Cavs just aren't close.  Kyrie Irving isn't enough.  Kyrie Irving and Luol Deng aren't enough.
How talented is C.J. Miles? Is he 10-14 from 3 +31 in 30 minutes talented? Or does he just do that twice a season? Is Dion Waiters a 30 point a night threat? Or is he a guy that you would describe being "capable" of going off for 30 any given night even though he only actually does it two or three times a season like Gerald Green or Marcus Thornton? Is he D-Wade-lite or Monta Ellis-lite? How does one "learn" how to finish at the rim? And what does that have to do with culture? If anything, Dion Waiters has shown improved shot selection and improved outside shooting, a welcome sign. How he did that in such a vapid culture is a testament to…his own talents and work ethic? So maybe his inability to finish with the left hand (some guys never learn it, even the greats, like, ironically, The Big Fundamental) and his awful shooting percentages in the basket area have nothing to do with anything but Waiters' own limitations.
Are Tristan Thompson's shortcomings, mainly, rim protection and finishing ability cured by the influx of a culture changer? Or even a system shock? Does he seem to be any less likely to be blocked at the rim under Mike Brown than under Byron Scott? Playing with or without Varejao? Does he just need more experience? We've seen Tristan undergo more changes than any player in the league in the last two years. Not only has he switched shooting hands and completely changed his shot selection, but he's gone from a free throw liability to a guy you'd be comfortable gently front-rimming-in a pair with the game in the balance. And despite butterfly-esque changes, he's still not a power power forward, he doesn't alter shots, and he's not a stretch 4 either. Maybe it's more likely that even in the best situation his only elite skill will be rebounding.  It's possible Tristan Thompson will be a solid role player and fan favorite for a decade plus and that's all well and decent.  It's not enough talent.
I think the fact that almost everyone associated with the Cavaliers (front office, fans, bloggers) expected this team (the one without Luol Deng) to be competitive is a combination of overvaluing our own players and extrapolating based on the competitive play the Cavs showcased in early 2013. It was just way too easy to write off the first three months as "growing pains" watching Tristan and Dion fumble their way around, and equally tempting to dismiss the horror that ensued after early March.  Injuries were piling up and most Cavs fans believed Byron Scott was in cahoots with the #tankstrong campaign. (He wasn't). So that left us with that one six week stretch when Tristan and Dion flashed some swag and the Herculoids regularly blew out opposing teams' second units. Kevin and I engaged in a C:tDuels about this very topic, and (ironically) although my message at the time was that the Cavaliers should go out and get more talent, particularly to fill the gaping hole at SF (I wanted Iguodala and you guys all mocked me), my foreboding warning was that the winning was a bit of a mirage and would disappear if/when the Herculoids vanished.  My solution then was: drafting sucks, get a known talent like Iggy or Millsap and lock em up, so hopefully that paints me as someone with enough anti-tanking cred to make you realize this isn't a well I prefer to draw from.
So to recap, the Cavs made a much-lauded trade, played better, looked promising, and then let all those players go. And lo and behold, the core doesn't seem discernibly more cohesive this season, and the Cavaliers are often referred to as either a "dumpster fire" by Scott Raab or a "pu-pu platter of lack" by Robert Attenweiler.
Nate: So you're saying you're not sold on committing to the guys the Cavs have already drafted.  I get that. But the one thing you're forgetting is that these guys are super-duper, ridiculously, baby-faced young.  They're the second youngest team in the league, and they have the most players under 25. Dion, Tristan, and Kyrie would be seniors in college this year.  They're still growing.
Dion Waiters, in many ways, seems to be regressing, or at least changing.  According to vorped.com, he went from a player who was shooting .505 at the basket last year, to a player who's shooting .449. But weirdly, his elbow jumpers and his outside shooting seem vastly improved.
Can a player improve at the rim? Of course he can. James Harden did it between his rookie year, and some time in his second year. He can also regress, like Dion has so far this year. It's clear that Dion is still working on his game.  You, like many of the people who had high expectations for this year, simply underestimated how young this team is, and how players develop. Kevin wrote on Gotbuckets, that guards generally tend to "peak" offensively at age 27.  Dion, and the rest of "The Core" have a long way to go.
Tristan Thompson seems to me, to be a classic late bloomer.  When he stops adding facets to his game, and completely changing every summer, then I'll think he's reached his ceiling.  Until then, I'm giving him the benefit of the doubt. And the Cavs have a ton of future draft picks to keep adding talent.  But if you can add talent outside of the draft, and basically give up nothing but some second round draft picks, and a bunch of Dan Gilbert's cash to do it? You do it every time.
Tom:
Not every time. Under normal circumstances. This is not a normal season. And you are not giving up nothing. They gave up 3 picks for a player that is not signed after this season.  They want to win now, they see an opportunity to make the playoffs, and they are gunning for it. Under normal circumstances that makes perfect sense. I just don't believe landing well under .500 in the Eastern conference and getting embarrassed in the first round of the playoffs is worth it.  I truly don't.  Not this season.  It's not the kind of growth that makes Free Agents salivate at the thought of getting to come aboard.  When Milwaukee scraped their way to the 8 seed last year did it signify that they were prepped for greatness?  No.  How about when Charlotte earned a 7 seed and a 1st round 4-0 thrashing at the hands of the Magic? Again, no.
Getting away from the lottery is a noble goal…in a normal season.  If the Cavs looked like Atlanta right now I wouldn't be writing any of this.  They're not close, and they have a lot of problems.  Adding Luol Deng is a nice influx of talent, but the risk of missing out on a franchise-changing player is too high.  I'd probably feel differently if the Cavs situation with Deng right now was similar to the Warriors' with Iguodala.  But Deng might only be here for a few months, just long enough to propel the Cavs from the 9 seed in the East to the 8 – or roughly the equivalent of 7 draft spots.  Unrestricted free agents have a way of leaving or being significantly overpaid.  So here is the prophecy that terrifies me, the one that seems just oh so CLEVELAND.
Deng's existence coupled with some minor organic growth from the Cavs (gaining experience with their coach and with each other) propels the Cavs to 33 wins and the eighth seed.  Cleveland Vs. Miami game one is hugely anticipated, with all the Cleveland Vs. LeBron stories being churned out and magnified by the weight of the playoffs.  Cleveland leads Miami 21-17 late in the first quarter of game 1 before Miami goes on one of their runs and the Cavs never lead again in the series.  Moondog wears a "We Miss You, LeBron" T-Shirt to game 4 as the crowd turns from rooting for the Cavs to rooting for LeBron.  Feelings sorry for Dion Waiters, Jeff Van Gundy shockingly recommends that Dion learn how to flop, and suggests working with LeBron's flopping coach in the offseason.  The Heat sleepwalk through 4 double-digit victories while Dwyane Wade misses 2 games just to rest up for the eventual clash with Indiana.  Cavs go home, the Axis of Evil wins another title.  Luol Deng requests a max deal.  The Cavs are in a lose-lose situation.  They either succumb and make a potentially franchise crippling mistake, or they let him walk and have nothing to show for yet another mid-season "coup".  Foregoing their chance at a Wiggins (or a Parker or an Embiid or an…)  The Cavs last hope is to resign LeBron.2  He declines and realizes he can continue saying nice things about Cleveland, continue donating to St. V and the Akron Area, and little by little, Northeast Ohio Sports Fans will be so destitute as to proudly claim LeBron as their own, somehow.  Five of the top 10 players drafted become perennial all-stars and the Cavs do not add any of them.  Chicago does, brings Derrick Rose back, and fights tooth and nail with the Pacers for Central Division supremacy for an uncomfortably long time.
Now you tell me, is "making the playoffs" and "getting out of the lottery" worth all that?  ANSWER ME, NATE!
Nate:
Jeez, Tom… I thought I was a "glass half empty" kind of guy. You're apparently a "glass is half full of sulfuric acid that will permanently destroy your face" kind of guy. The truth is, no one knows what is going to happen. The risk Deng walks is real. I'd like to see the Cavs try to extend him, and soon. The more time goes by, the more I doubt that LeBron ever leaves Miami next summer.  Extending Deng most likely removes that distraction.  Three years, $42-$45 million would probably do it.  Do I think that's overpaying a bit?  Yes.  But it's not franchise crippling.  Deng is the kind of guy you want representing your city.
Plus, the Cavs may not be done trading. As "Tank Battle, 2014" unfolds, teams are going to be giving guys away. The Cavs could dangle a future first rounder, and Anthony Bennett – a player guaranteed to help your team sink like a stone in the standings – to get another quality player. If the Cavs can get to the sixth seed, then they can get to the second round of the playoffs. The Cavs young guys need this, if they're ever going to believe they can be a winner…  Or something like that. I don't even know if I believe all the happy crappy I am selling here. By the logic I just posited, the Cavs could turn their biggest franchise crippling mistake (Bennett) into an even bigger one…
OK. Resetting. Rechanneling positivity. I've made a conscious decision to try to be excited about this trade, and not worry about the future. I'm tired of watching a team find ways to lose. I want to see some good basketball. Hopefully Luol Deng leads to that. I've written about it time and again, but "championships" are a 20th century marketing ploy. Being in the moment, enjoying the process of watching these guys grow, appreciating each game; that's what I want to focus on.  I'm trying very hard not to kvetch about how much one trade affects the odds of a hypothetical championship shot. Fortunately, I'm a stubborn bastard. I refuse to give in to the notion that somehow the Cavs have to put out a crappy product to be a "contender" at some point in the future. Screw that. Desire to improve: that's the reason I love this team, and the reason I love Dan Gilbert. It's never a bad thing to do better, and I wouldn't want to support a team that thought it was…
And if the Cavs still stink, they get a lottery pick – so win/win, there.
Tom:
Bring it in, buddy.  [Bro Hug]  You know I could be way off here.  Kyrie, Varejao, and Dion could lose a significant amount of time to injury and the Cavs could still miss the playoffs.  And they might be able to keep Deng long term for a reasonable price.  Maybe everything will start clicking and they explode to 40 wins.  Still hard to predict.  Independent of that, I really do like Deng, he will probably fit right in and be the kind of player we'll love here.  On paper this is a great move, I just have concerns about the timing.  And yeah I'm ready to watch good basketball again too.  As to the characterizations of my psyche: a few weeks back I was watching The Browns and Patriots with some friends.  Even though the Browns led the entire game I kept on complaining about how they were going to lose.  My friends started getting a little bit irritated, as it made less and less sense why the Browns would lose.  After Josh Gordon scored to give the Browns a 26-14 lead with under 3 minutes to play they looked at me with eyes like "you owe us an apology for all that whining".  My response: "oh they're still gonna lose."  My friend followed: "You have a special kind of paranoia, don't you."  Can I have another hug?
Let's go to the cards, commentariat.  On which side do you fall?
1 Tangent Rant (Rangent?): If you want to talk about how good organizations commit to their players: the Heat committed to NBA Champion and Finals MVP Dwyane Wade by wasting the prime of his career shedding contracts and drafting Michael Beasley (don't call it a comeback…) so that they could enter the sweepstakes for a 60+ win juggernaut's best player and hometown hero. As it turns out said hero decided to suddenly and dramatically choke away 3 games after blowing out the opponent on the road beforehand, went on his own national recruiting tour, and then signed up to steal the spotlight from Wade so I guess it all worked out…but if you had asked Dwyane Wade what kind of commitment the Heat were making to him in 2009 when he led the league in usage, sported a PER of over 30, and they flanked him by dropping a splashy 4 million on James Jones?
2 Hopefully John Kasich refuses to participate in "The Prodigal Son" advertising campaign, unlike his predecessor. Where was this kinda effort for NCR, Ted?