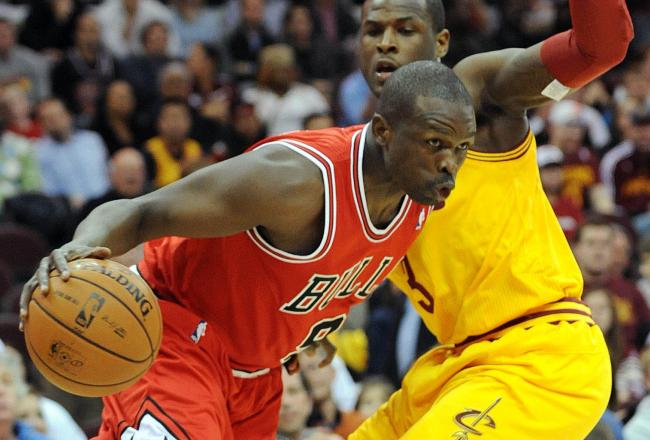 Some links to give everyone some context on Luol Deng…  First, Nick Friedell of ESPN Chicago, on the relationship between Luol Deng and Tom Thibodeau.
Deng put in an inordinate amount of time trying to hone his game and get his body in shape to play heavy minutes. As time wore on, it became clearer that Thibodeau trusted Deng more than any other player on his roster. The veteran coach loved that he knew what he was getting from Deng each and every night. Deng just loved the fact that he had a coach that he trusted.
More from Friedell
If I had to sum up Bulls' mood in one word after Deng deal it would be: sadness. Players and coaches emotional regarding fact Deng is gone.

— Nick Friedell (@NickFriedell) January 7, 2014
Next Sam Smith, Blogger for Bulls.com, and a long time beat writer for the Chicago Tribune, posted this piece on Deng's Legacy with the Bulls.
But Deng should always be remembered proudly as someone who gave every bit of what he had for the team, was a model citizen and someone who made you feel proud to watch and enjoy the NBA, a classy competitor who got as much out of his natural ability as maybe anyone who ever played for the Bulls…

Deng also has played the fourth most amount of minutes for the franchise behind Jordan, Pippen and Sloan, all of whose jerseys have been retired, and Deng ends up among top 10 franchise leaders in 10 other categories, including steals, blocks, rebounds and three pointers. This season was Deng's eighth consecutive opening day start, two behind alltime leader Sloan. And Deng was one of just 10 players in franchise history to play for more than one All-Star team. He was one of a dozen to be on an all-defensive team and was the only player in franchise history to win the league's sportsmanship award…

Deng, a refugee from Sudan who grew up in England, played for the Great Britain Olympic basketball team and has been the Bulls regular representative in the NBA's Basketball without Borders program that brings the game around the world and provides international help. Deng with his foundation travels the world in the summer doing clinics and charitable work. Even in recent days in Chicago he was awarding fans prizes for contributions to his work with Chicago food pantries. No one among the Bulls has ever been a more community and worldwide involved citizen. He's been honored by the United Nations, the league's community assist award and the Bulls Lubin award for community service.
For all of Deng's character, he was not treated very well by the Bulls organization, in fact, they literally almost killed him.  The spinal tap leaked, and team doctors traveled to Miami, leaving Deng in the hospital.  According to RealGM.com, this became an issue during extension negotiations.
The Bulls issued the spinal tap to test for viral meningitis, and sources at the time indicated Deng complained of his post-procedure care, which featured unfamiliar doctors, no visits from team personnel and the lack of a private hospital room.
— David Aldridge (@daldridgetnt) January 7, 2014
And yet, Deng forgave them and still negotiated in good faith with the Bulls. The Cavs would be hard pressed to find a better player to represent the team and the city of Cleveland on and off the court.
For Chris Grant, this trade may have saved his job.  SBNation's Tom Ziller writes that Luol Deng is the salvation or the death knell for the Cavaliers and Chris Grant.
In the trade game, Grant is strong: he landed the pick he surrendered for Deng by taking the Kings' now-retired GM Geoff Petrie to the woodshed…

But Grant has been so awful in the draft and free agency to date that his team has remained irrelevant. The Deng move is a last gasp to reverse that, to boost Cleveland into the playoffs this season and build enough goodwill to build on it going forward.
Also, this little nugget…
One consideration w/ Luol Deng is he's represented by same agent, Herb Rudoy, as Z. Cavs probably gauged his willingness to re-sign already.

— Probasketballdraft (@Probballdraft) January 7, 2014
Finally, the Plain Dealer is tweeting that the Cavs are trying to get Deng to town, but the weather and late timing of the trade are not helping. Regardless, Deng will not play tonight, but Kyrie Irving participated in the shootaround today.