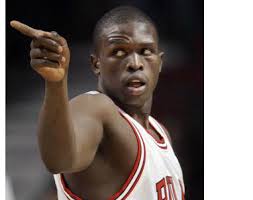 Well, that was unexpected. After an extended dance with the Lakers about a possible Bynum-Gasol swap, the Cavs have decided to trade Andrew Bynum's immediately erasable contract and 3 draft picks to the Bulls for Luol Deng and his $14.275 million expiring contract. I'm going to come right out and say it: This trade carries some long-term risks, but in the short-term, it's an absolute coup for Chris Grant, and just might save his job. Here are the things I like about the trade:
1) Defense, Defense, Defense
As long-time readers of this blog know, I have always been a Mike Brown apologist, and feel he never gets the credit he deserves for turning the Cavaliers into an elite defensive squad during his first stint with the team. As short-term watchers of Cavalier basketball know, Mike Brown has been an absolute disaster on both ends of the floor this season, and the team has only been league-average defensively while being an absolute nightmare on offense. This trade gives Brown another really, really good defensive piece to play with, which he desperately needed. Deng is still an elite defender — the Bulls are 2nd in the league in defensive efficiency and they're 4.5 points per 100 possessions better defensively when Deng is on the court. Having a stopper on the wing, as well as a high-profile player who buys in on defense, should help the Cavs tremendously on that end of the floor.
2) He comes from the right culture.
I alluded to this above, but I'll give it it's own paragraph here. Deng comes from the kind of team that the Cavaliers should aspire to be. They (were) built around a scoring point guard, they played brilliant, intricate, suffocating defense, and they out-worked their opponent almost every night. That's how they won the most games in the East during Rose's MVP year, and that's how they stayed competitive when Rose got injured. If Deng can get Cavalier players to buy into that mentality, it'll be a huge deal. (Short version: Luol Deng is the opposite of Rudy Gay.)
3) A target for Kyrie — on the wing!
Deng isn't the prototypical #2 guy for Kyrie on the perimeter. He's not a great shooter, he works in isolation a lot, and he generally likes the ball in his hands. Still, Deng is an above-average passer for a small forward, which is great considering he'll be playing alongside of Irving and Waiters in crunch time, he's a fantastic finisher at the rim, which is something the Cavaliers desperately need, and his combination of basketball IQ and toughness should be an absolute godsend after the parade of wings the Cavaliers have trotted out in the post-LeBron era. Deng's relatively weak outside shooting keeps him from being a traditional sidekick, but he's always found ways to score at a decent (if not thrilling) rate of efficiency, and there's no reason to believe that won't continue in Cleveland.
4) The only player the Cavs traded is one who they had banned from the team for the rest of time.
That sort of explains itself. So long, Bynum experiment.
5) According to the numbers, Deng is somehow not breaking down physically.
Deng has been playing "If he dies, he dies" minutes for the last few seasons, and missed time last season because of a BOTCHED SPINAL TAP. 28-year old male humans should not be needing spinal taps. That's a bad thing. And Deng, when not playing 37.4 minutes per game this season because I CAN FEEL A PULSE NOW GET BACK OUT THERE AND SHOW HARD ON THAT DAMN PICK AND ROLL, has missed some games with injuries. However, when he's played, he's somehow been having one of his best seasons in years. His PER is as high as it's been since the 06-07 season, and his TS% has only been higher in 06-07 and the year Rose was healthy and the league MVP. So, fingers crossed, we're not getting a Luol Deng running on fumes here, which was a pretty major cause with Pau Gasol.
6) Expiring contract!
If Deng does break down, or doesn't mesh with the team, or whatever, guess what? His contract is coming off the books after this season! It's all the same! There's no long-term risk financially here? (Again, I cannot tell you how thrilled I am that Deng is not Rudy Gay.) The only thing that's happening here is that Dan Gilbert will have to spend more money. And we here at Cavs: The Blog are always willing to spend Dan Gilbert's money in order to help the Cavaliers. It's just the kind of giving souls we are. And this means the Cavs will still have the flexibility to sign LeBron! (Note: the Cavs are not going to sign LeBron.)
7) No major assets were given up.
When I first saw that the Cavs had given up two second round picks, a first, and a right to swap for Deng, I thought Grant had gone into a Paxson panic and made a Jiri Welsch-esque "I'm fired if this doesn't work, so who cares about the future?" trade. However, the "1st-round pick" is almost certainly not going to be in the first round, since it comes from Sacramento and is top-12 protected. (One more time: THANK GOD FOR RUDY GAY.) In fact, the pick is top-10 protected through 2017, which means that the pick won't come back to bite the Cavs until Sacramento gets out of the cellar, which could take a while, or if Chicago hits the jackpot and finds a franchise-changing player outside of the top 10. As for the second-rounders, it's hard to feel too bad about them when the Cavs have one lottery pick who can't crack the rotation and another who shouldn't be in the rotation. TYLER ZELLER IS A RELATIVE SUCCESS AMONG RECENT CAVS LOTTERY PICKS. As for the pick-swap, that's pretty well protected too.
DOWNSIDES:
1) Spacing.
As mentioned above, Deng is a pretty poor shooter for a high-profile NBA wing. He's shooting 27.4% from deep, and he's not much better on long twos. Considering that the Cavs already have some pretty serious issues with spacing, that's a legitimate concern, especially since you'd love to see someone able to give Waiters and Irving more space to work in in the paint.
2) Deng is an old 28.
I mentioned this above, but it's concerning that Deng has been playing 38 minutes a night for the last few years, had a spinal tap procedure that almost killed him during last year's playoffs, has missed games this year, and was given up for a player who will not be playing basketball anytime soon willingly. I can't shake the feeling Deng is going to age like an NFL running back — one day, he's just going to be DONE, and some team will be stuck with a substantial bill. I just hope it's not the Cavs. That takes us to…
3) I am terrified of signing Deng to an extension.
As of now, I love this deal. The Cavs can get some pride back, some wins under their belt, make an actual run at a playoff seed, and feel like a real basketball team again. Despite the current theory that tanking is a panacea, that strategy generally works just as well for getting teams out of the gutter than bottoming out does. However, I will want to eat a compact fluorescent lightbulb if the team signs Deng at $15-17 million through his age 32 year, because he's not going to take the team any further than the first round and at some point his next contract will become an albatross. (Joe Johnson is currently 32. That should terrify you.) If the Cavs extend Deng immediately, I will go insane. If they extend him on the strength of a first-round playoff appearance and exit, I will also go insane.
Fortunately, they probably won't extend Deng right away, because they want to keep their slim hopes of getting LeBron alive (and honestly, LeBron is worth it, despite the odds), and won't extend him on the strength of a first-round playoff birth, because I still don't think the Cavs are making the playoffs. This trade will help, but the Hollinger odds have the Cavs with a 10.4% chance to make it in as of today. Only the Bucks have lower odds of making the playoffs in the East, and I don't think Deng is enough of a game-changer to completely turn it around.
The bottom line, though, is that this move represents a step in the right direction for the Cavaliers, and I look forward to them getting much more watchable in the near future. Things will get squicky for me when the time comes to decide on re-signing Deng, but until them I'm happy about this one. Until next time, campers.
Tags: Andrew Bynum, Luol Deng, trade