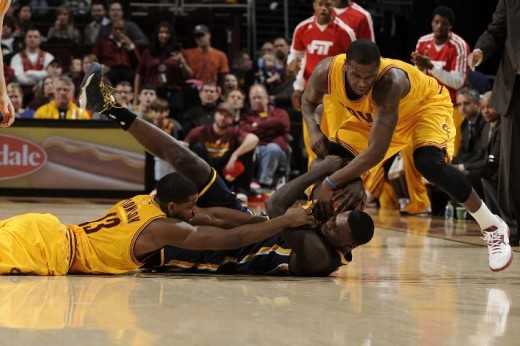 The story of this game changed quite a bit in the final eight minutes.  Through much of the affair, I lamented how Tristan Thompson, and even more so, Dion Waiters, were not establishing themselves in Kyrie's absence.  The two previous games were golden opportunities, against Orlando's front line of Jason Maxiell, Glen Davis, and Andrew Nicholson, and the Nets' fearsome injury riddled front line of Reggie Evans, Paul Pierce, Mirza Teletovic and Shaun Livingston, for both Tristan and Dion to attack and flash some dominance.  For the most part, they had not.  Tristan had flashes, and Dion's jumper was at least on against the Nets, but neither had anything remotely approaching a signature performance during those games.  It was a big bummer.  Of course, then tonight Dion scored nine points and dished two assists in about four minutes and the Cavs almost knocked off the 26-win, 6-loss Indiana Pacers.  Now, the overall performance of those two moves to "note" status.
Cleveland was missing Kyrie (knee contusion) and Jarrett Jack (bask spasms) tonight, and came out firing on one cylinder…CJ Miles.  He exploded out of the gate, tallying 8 points, 3 rebounds and 1 assist in the first quarter.  Everyone else shot 4 of 19, as the Cavs headed to the break trailing 22 to 18.
The start of the second was equally sad, as Bennett and Zeller were each called for offensive fouls; through the first 19 minutes, the Cavs were whistled for 14 infractions compared to the Pacers five.  Bennett made up for it with a huge follow-up slam dunk, and otherwise CJ Miles kept on trucking, rolling to 15 points on 6 of 7 shooting.   At one point, the Cavs had 29 points, and Miles had 15 of those.  Unfortunately, the Pacers forged a 16 to 6 run, as the Cavs could not match the Pacers size and strength.  Dion was guarding Paul George, and Zeller defend Roy Hibbert.  That is trouble.  It could have been worse than the 44 to 35 halftime score, as Varejao and Dellavedova both made ridiculous shot clock bailouts.  The Wine & Gold shot 34% from the field and 25% from three, with 8 assists and 10 turnovers for the half.  Besides CJ,  the rest of the team combined for 8 of 34, with none scoring more than five points.
Early in the second half,  Miles kept scoring off of cuts & drives.  Four minutes in, he tallied 21 points, as the Cavs pulled to within 48 to 45.  Sometimes it looks like he and Varejao are the only two Cavs that know how to play within a team construct.  Finally though, Tristan started putting it together, scoring nine points in a five minute stretch, as the Pacers called timeout leading 60 to 55.  Then BOOM!!  Delly with the long range bomb off the Miles assist, 60 to 58!  What comes next though?  Of course, a Pacers 7 to 0 run, to take a 67 to 58 lead to the fourth.
Then it got worse, with Indiana scoring another seven unanswered, forging a 74 to 58 lead early in the fourth.  Game over, or so it seemed, actually fairly reminiscent of last week, when Cleveland played the Pacers tight for three quarters only to then realize that Indiana had another gear.  But what do you know?  Anthony Bennett scored four straight points (Anthony Bennett?!?), then Dion stroked a three.  74 to 65.  Eight minutes to go.   The Pacers kept missing, and Dion kept canning jumpers.  One, two, three more, and suddenly it was 75 to 74 with three minutes remaining.  When Dion gets a hot hand outside, watch out.   Both teams tightened up, and with 1:30 to go, it was 77 to 76, when the Pacers missed!  Three Cavs in position for the rebound!
They fight over it and knock it out of bounds.
AAAAAAHHHHH!!
On back to back possessions, Dion drove and found a cutting Andy for dunks.  The Pacers hit one of two freebies, and it is 80 to 78 with 43 seconds to go.  Dion checked his hot hand from long range, but alas, after a few bounces around the rim, it bounced out…but falls into CJ Miles hands!  Timeout Cavs. 20 second to go.
The entire world awaits, what will Mike Brown draw up?  Would you have guessed Dion iso?  If so, you were correct. Paul George funneled Waiters into Roy Hibbert, forcing a ridiculously difficult shot.  It missed, and the Pacers grabbed the board.
At a second critical juncture, Indiana again only hit one of two freebies though.  Cavs timeout again.  What will they come up with this time?  If you guessed a near five-second violation, before inbounding the ball to a guy that had one foot out-of-bounds, well, you are amazing, and also correct.
The Pacers made one final free throw, ending the game with an 82 to 78 victory.
Notes:
Miles finished with 21 points, 6 rebounds, 3 assists and 3 steals.  The Cavs were +10 when he played.  For the season, the Cavs have played their opponents to a standstill when he is on the court.
Dion finished with 14 points, but on only 6 of 17 shooting, with 5 assists and 3 turnovers.  He was huge in the fourth quarter, but struggled for much of the game.  More on that below.
Andy grabbed 13 boards and the Cavs were +14 when he played.
Tristan finished with 13 & 10, on 52% true shooting.
Matthew Dellavedova forced a jump ball.  Are there league leaders for that stat?  I think he averages at least one per game.  Also, he drew Paul George into a technical foul.  Delly is awesome.
Alonzo Gee and Earl Clark combined to shoot zero for eleven.  Production like that from small forward makes it tough to win.
The defense was really solid, holding the Pacers to 36% shooting and only 2 fast break points and 22 points in the paint.  The Pacers also only grabbed 10 of 43 available offensive rebounds.  The Cavs defense definitely kept them in this game through some offensive struggles.
I really wanted to see more from Tristan and Dion in these three most recent games.  I touched on it briefly in the intro.  This stretch has been a rude wake-up call for myself.  I had high hopes for each.  Finishing at the rim (or the lack thereof) has been the story of the Cavs season.  During his last 30 games in 2012 – 2013, Dion shot 58% from 0 to 3 feet.  Tristan shot 62% from the same range.  I thought they were figuring "it" out; the game was getting easier.  Surely their career would continue trending upward, but this year, both are struggling mightily at the rim.  Also in most other regards, neither is better than they were from January through April of 2013.  Instead of the continually improving career arc that I was counting on, they appear to be settling in as relatively inconsistent, non-star players.  This is pretty damaging to the rebuild.  One of the most troubling aspects of the three most recent games has been Dion's shot charts…take a look, it's almost all jumpers.  Surely some will think, "well, they can't make shots at the rim anyways", but if Dion isn't getting to the rim, he certainly can't finish there.  And if he isn't doing that with regularity, his ceiling will always be as an inconsistent, non-star.  And as mentioned in the intro, the Orlando and Brooklyn games were completely ideal games for attacking the basket.  It was somewhat disheartening to just see a perpetual parade of jumpers.  Finally, I am not opposed to Waiters having the ball in his hands a decent amount, but he must get better off the ball; maybe talk to and watch what CJ does.  Miles creates a lot opportunities for himself cutting to the basket when his opponent falls asleep.  I swear that scouting reports on Dion must say "Don't worry about him when he is off the ball"…he never exploits an opportunity to get an easy bucket via cutting.  A couple of easy buckets could certainly help his finishing rate.  He also needs to figure out how to get to the free throw line.  Tonight he shot zero free throws on his seventeen field goals.  Much of this is on him, as only four of those seventeen came inside the paint.  Also, many times he tries really hard to go around the defender in mid-air, avoiding contact and hence creating way too difficult of a shot.  This is something he needs to get better at.  Finally, the referees are mean to Dion. They could give him another call or two every once in a while.