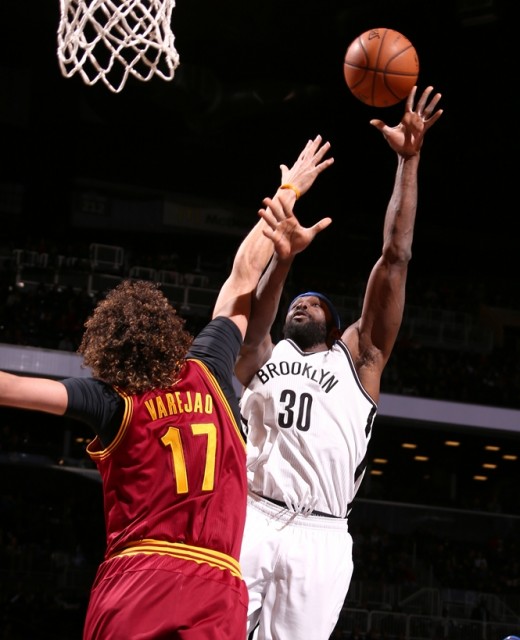 The Cavaliers and the Nets looked to take the chill out of the frigid air outside the Barclay Center with the kind of heat only a clash between two 11 win teams both riding one game winning streaks could create.
Before the game, Nets head coach Jason Kidd broke the news that Kevin Garnett would be held out of tonight's game (just a rest) which lined things up for such classic match-ups as Reggie Evans vs. Anderson Varejao and Paul Pierce against Tristan Thompson at the four spot. You could feel the heat all the way back in Cleveland.
First Quarter: Owning a clear advantage in the paint (you'd think), with the Nets missing both Garnett and the injured Brook Lopez, the Cavs start the game with a C.J. Miles three and a Jarret Jack long two, both misses. The Nets, meanwhile, rode the eternally hot hand of Reggie Evans (cough…cough) for four early points before the Cavs decided to do the same, working Earl Clark down low against the Nets' "small forward," Joe Johnson for their first bucket and a couple of jumpers from Tristan Thompson against fellow "power forward" Paul Pierce.
Neither team's ball handling was entirely devoid of slop and the Nets looked like they'd be content to kick it out to Johnson and Pierce for long off-target jumpers. But the Cavs decided that the best way to get the upper hand on this always-on-the-verge-of-giving-up Nets was to let Deron Williams get a little confidence. Williams drained a jumper after a nifty cross-over that left Jack a broken man. He later did the same to Matthew Dellavedova and Zombie Mob decided he'd foul Williams on the shot, just for good measure.
Evans continued to prove himself the most dominant post player in the game (well, in this game, anyway), constantly finding open looks and rebounds under the basket. Evans and Williams chipped in eight a piece and the Cavs were down 22-17 after one.
Second Quarter: There you are, Dion Waiters. Waiters kicked off the second beating the shot clock for three. Owning a clear athletic advantage against the likes of Alan Anderson and Shaun Livingston, Waiters still couldn't get to the rim with enough ease (I guess) and decided to warm himself up from deep. Waiters hasn't been on-target from three since returning from injury, but he went 2-3 from deep, part of nine first half points.
One two-minute sequence saw Thompson force up a wild push shot in the post (and here I never thought you could have a wild push shot…), get stuffed under the basket, and then unleash his frustration going at Mirza Teletovic for one of the most obvious offensive foul calls in league history. Dellavedova tried to buoy his team's putrid offense for a moment, but the Nets were consistently able to get easy shots at the basket and consecutive scores by Pierce, Johnson and Livingston at the rack, plus a Williams three, pushed the Nets out in front by 14. Even from where I was sitting on press row, Dellevadova could be heard shouting "I can only buoy one side of the court at a time!" (Note: that was probably not actually what Dellavadova was saying, but it might as well have been) The Cavs were consistently a step slow on defense and had to rely on the Nets missing open shots to get their stops.
After 28 minutes, the Nets did not miss enough of their open looks. 51-38 Nets.
Third Quarter: Miles and Earl Clark kicked off the second half scoring five points a piece and the Cavs found themselves back in it(ish) at 48-54. The Cavs started clearly looking for Miles to be the starting unit's offense, but what looked good early, soon became Miles launching a three just after the shot clock expired and having another jumper just graze the front of the rim.
But Waiters had worked up sufficient lather from outside and five third quarter points brought the Cavs back, allowing threes from Miles and Dellavedova to give the team their first lead in a while at 60-58. Waiters continued to bring it hitting long two after long two for nine points in the period. But Anthony Bennett gave up a wide-open three to Teletovic, and the Cavs wrapped up the third down 67-65.
Fourth Quarter: In a battle of one-eyed men, one man will inevitably lose his remaining eye rendering his opponent king. That's what watching this fourth quarter was like. Neither team played particularly well; one just had to lose that other eye. Tonight, it's the one-eyed Nets who are king. The Cavs may have officially gone blind when Matthew Dellavedova entered the game for Tristan Thompson at 6:50, and the Cavs's ran a lineup of Jack, Delly, Waiters, C.J., and Andy for the the rest of the game. Timely rebounds (go figure), another big Teletovic three when the Cavs were getting close, and Livingston with one of the game's precious few transition baskets pulled the Nets back out in front 78-69.
From there, it was scrap and scratch to a finish line that resembles respectability. The Nets won this one 89-82 shooting an allowable 43.7% and 33.3% from three, but the cap found the top of the Cavaliers' basket again. By game's end, the wine and gold had shot 36.7% from the floor which is only made worse by the fact that they were 45.5% from three.
The Cavs were led by Waiters 26 points on 9-18 shooting (including 3-5 from deep), but he managed only two rebounds and didn't notch a single assist. Miles willed himself to 19 points, but needed 19 shots to get there. Dellavedova chipped in a timely 13 points, including going 4-4 from three (meaning he missed every one of his two point shots) and Varejao, while having on off game offensively, with only 4 points, still managed to pull in 12 rebounds.
The Nets were led by Williams's 21 points on 7-10 shooting and Pierce's surprisingly invisible (but still applicable to the final score) 17 points.
The Nets were able to find execution and clutch shooting when they needed it, while the Cavs saw another winnable game slip through their fingers like … well, I'll get to that image later.
Notes:
Whatever the Cavs are doing on offense — There was a half-time show featuring teams of eight year olds who found the bucket with greater regularity than the Cavs did tonight. There were way too many tough-to-watch shots by Miles, Clark and Thompson. Clearly, a big part of this is that the team is missing their leading (and best) scorer, Kyrie Irving. This leaves Waiters as the team's best offensive weapon and he starts the first and third periods on the bench. Tonight showed (if we really needed showing) that Miles cannot be leaned on as a go-to scorer. He brings a lot of good to this team, but he'll also flaunt his flaws for you, if given the chance. At least in the second half, the Cavs seemed to have some idea of what they were trying to do on offense with their starters, even if it was only so-so, until Waiters entered the game. Brown is probably doing the right thing not re-inserting Waiters into the starting line-up with Irving out. That just makes the starters reeeeeeallly bad offensively.
When the ball is a greased pig — It's not just turnovers with this team. I mean, it's turnovers, sure. Waiters stepping out of bounds bringing the ball up the floor in the first. A shot clock violation in the third just as the team was starting to scrap back in this thing. Yeah, those sucked. But there was a general sense of the shots being taken wildly off the dribble, passers rarely delivering the ball in the right spot and an overall fumbliness of execution that only occasionally resembled professionally played basketball. The crunch time lineup smacked of desperation. C.J. miles spent about 20 seconds earlier this week at the center spot, apparently to prepare him for the almost seven minutes at power forward (you read that right), tonight.
The TT plateau — This was a tough game for Thompson. He finished with a pedestrian nine and nine, but shot 3-8 and chipped in three turnovers, two of them coming on offensive fouls. Thompson does not have the footwork on offense to hold onto the ball, make a couple of moves and set up his shot. He's also been streaky from his elbow jumpers and tonight was not a night where the push or hook shots fell. There have been times this season when all of the quirky elements to Thompson's game have been clicking, but too often you look at him (after, say, a game like this) and wonder what exactly he can become as a player in this league. His scoring is not instinctual. His defense does not protect the rim. He can grab rebounds with the minutes he's given. But, beyond that, sometime you scratch your head and wonder. You may not give up, but you wonder.