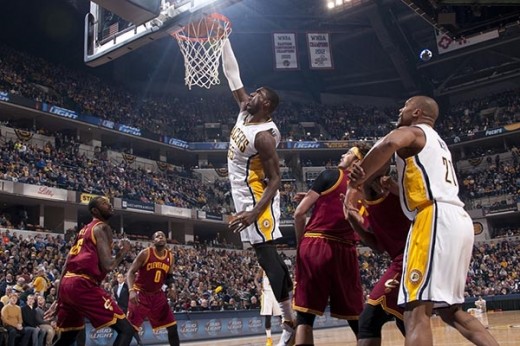 On a New Year's Eve afternoon that saw rumors surface that Chris Grant has been in discussions with the Lakers about flipping Andrew Bynum's expendable contract and pieces for former all-star forward/center, Pau Gasol, the roster as it is currently comprised tipped off for a holiday matinee against the best team in the Eastern Conference.
After a string of frustrating near-misses, all of which showed flashes of good, bad, then some more good, and then the ugly for the Cavaliers, the boys of wine and goldens tried to put a complete one together against a team that has beaten them seven straight times.
Overall, the Pacers came into the game winners of four straight by an average of over than 20 points.
Makes you really feel that New Year's optimism, huh?
First Quarter: Mike Brown's message to his young team as they prepared to go against the top rated defense in the league: pass, pass, pass and compete. The guards looked to initiate their offense by feeding Tristan Thompson on the block and Anderson Varejao just beyond the elbow. This made sure the ball didn't stick in Kyrie Irving's hands and a got the entire line-up contributing off good looks. After a Varejao hook shot over Roy Hibbert pushed the Cavs' lead to 15-9, Earl Clark flashed his ECL (Earl Clark Length) to bounce in a runner and then come back with a block of David West at the other end.
The Pacers kept working the ball to Hibbert down low or Paul George on the wing, though, and the Pacers cut the Cavs' advantage to 25-23 after one.
Second Quarter: The action starts off with a steal and transition dunk by Bennett.
I'll pause for a moment to let that last sentence sink in.
[Pause]
And we're back! For the Pacers, Danny Granger continued his journey back from "known best for his expiring contract" status with eight second quarter points. Sure, Granger may have been over-valued as a franchise wing by the time of his injury. He'd stopped doing much in the way of shot creation and seemed content to fire from deep, which he was more than capable of doing. If he's able to become, at this point in his career, essentially Paul George-lite, I might go so far as to pick the Pacers in a playoff series against the Heat. They're that good and that type of player would make that much of a difference for them in June.
Sorry… back to late-December action: Jarrett Jack was feeling it from his beloved long-two range and Tyler Zeller continued to show value in his return from rotation oblivion, flashing a solid midrange J and some refreshing activity on the defensive end.
Both sets of starters returned and the Cavs' offense stalled as they started to only take what the Pacers were willing to give — and quickly Jarrett Jack's beloved long twos became everyone's beloved long twos. It was long-two a-go-go for the Cleves when a George Hill three and a Granger lay-up gave Indiana the lead at 34-35.
But the Cavs didn't allow their missed shots to lead to a complete defensive meltdown, as they often have this season. They continued to make the Pacers "feel them" on D, played patient offense (I'm pretty sure Varejao set 700 picks on one possession. 700. Pretty sure.), and did not let the game get away from them. When Dion Waiters blew by Hill for a lay-up and the defense strapped itself to George forcing, instead, a last-second three by Granger that clanked iron, it kept the Cavs out in front 44-41 headed into the locker rooms.
Third Quarter: Consecutive buckets by Hibbert pushed the Pacers to a 47-44 lead and Brown called for a time-out. The Cavs coach, likely sensing that he needed more players on the floor capable of creating their own shot, subbed in Waiters early and the second-year guard responded with two quick buckets that got a little spring back in the offense's step. Cleveland had retaken the lead at 59-58 when Irving drove to the basket at the 4:01 mark, got tangled up on a drive against Hill and stayed on the floor holding his left knee. Irving was helped off the court and a collective groan was heard across Cavs Nation as visions of an Irvingless 2014 danced in everyone's head.
Hibbert continued his fine play — a block here, a dunk there — there wasn't much the Cavs could do to slow him when Varejao went to the bench. Still, both teams had to work hard for the buckets they could get to fall and the Cavs wrapped up three with a 66-65 lead.
Fourth Quarter: The Pacers started the quarter feasting off tapping the ball out of Zeller's hands, one time for an easy transition bucket and another to take away a key defensive rebound. Indiana took advantage of the extra possessions
Bennett hit a huge jump shot to bring pull the Cavs to 70-71. I'll pause again…
[Pause]
Back again — and so was Kyrie Irving!! Collective exhale … now.
Two straight turnovers by C.J. Miles, a Jack turnover, a three by George and … well, you know, other stuff just like that and the Pacers are up 10 at 80-72 with 6:30 left in the game. At that point, the game was basically over. The Cavs couldn't score enough against the Pacers' defense, couldn't rebound against the Pacers' big men and looked completely out of both gas and options. The Cavs finished the game shooting 3-16 with 7 turnovers, that promptly turned a spirited effort against one of the league's best clubs into a 91-76 Pacers win.
The Cavs were led by Varejao's and Waiters's matching 5-13 shooting afternoons (14 points and 11 boards for Varejao, 12 points, four boards and two assists for Waiters) while the Pacers rode George's 21 point/8 rebound outing and Hibbert's 19 points and 5 blocked shots to the win. Irving finished with 10 points on 3-9 shooting, but the big news is that he was able to return to the game.
The only Cavs players to hit field goals in the fourth? Jack, Zeller and Bennett.
[Pause]
Yeah. Happy New Year, Cavs fans.
Notes:
The story of this game will be about how the Cavs still can't put together four solid quarters of winning basketball, but in the moral victory realm most live in while following this team this year, there were encouraging signs. Save for about five minutes in the fourth (when, yes, the game was still on the line and winnable … and the whole point), they played solid defense, packing the paint but also not giving up disastrously wide-open looks from the perimeter. The Cavs actually out-rebounded the Pacers 48-41, but the Pacers got too many second chances when it counted. The fact is that the Cavs had to out-rebound the Pacers. They were only shooting 36.3% from the field!
Varejao vs. Hibbert: This was a fun match-up to watch (well, until the fourth quarter, of course). Varejao can draw Hibbert out of the paint, but also can bang around with him to scratch and claw away rebounds from Hibbert who, it should be noted, finished with only two boards on the day. Varejao also made a couple of ultra-high-arching shots over Hibbert's reach and just generally seemed like the type of player who will make Hibbert snap at some point. Any match-up where I think Andy could make the guy lose it at some point in his career is a good one.
Earl Clark: The "Earl Clark as offensive weapon" experiment hit another snag today with Clark going 2-11 from the field. His defense was solid, but when the three pointers aren't falling, it's tough to see why Clark and his ECL is much of an upgrade over Alonzo Gee (and his AG … uh, you make the acronym). Of course, maybe that's the whole point.
Passing off penetration: There was a key stretch in the second quarter where the Cavs were facing a familiar predicament: their opponent's defense had tightened and the Cavs saw whatever early offensive success they've been having dry up. While they still launched the long twos that the defense gave them, they also tried to generate offense close to the basket, as both Irving and Waiters seemed more intent on driving and then dishing off to a big when the defense collapsed on them. This is something that the Cavs should do much more, especially having players with the driving ability of Irving and Waiters. Now, these passes did not turn into assists today, but they will if the team continues to use the drive to set up their big men and three point shooters. Just because Irving and Waiters can score when they drive doesn't mean that it's the only thing a drive can produce. Good to see the Cavs coaches clearly pointing out this fact.