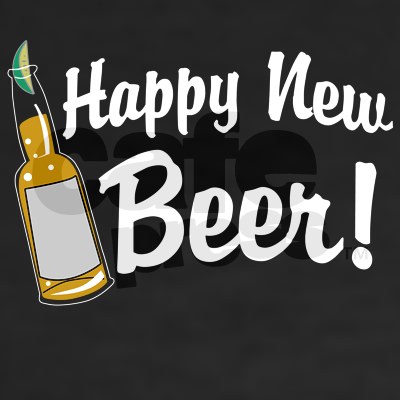 In the series Brews and Bruises: Life as a Drinking Cavs Fan, I'll playfully explore the mixture of pain associated with Cavalier fandom and the glory associated with drinking.  As always, drink responsibly (and legally, ya kids!)
Another year, another reason to drown our collective sorrows in a nice, cold, tall glass of beer.  Bynum is gone, the record stinks, Kyrie and Dion wont stop fighting, Mike Brown is still Mike Brown, and Cleveland is cold.  Lets face it: times are tough.  But with the arrival of 2014, we as Cavs fans can take solace (or hope) in potential improvement.  Right?  If not, what left is there?!
While the typical sports fan would expect improvement to come through the gym; ya know, hard work, tireless effort, etc. etc., I tend to look at things a little differently.  Maybe if our boys could find their magic elixir, their perfect beer, they'd be able to find their groove.
So what should our players be drinking to get their game up?  Lets discuss:
Alonzo Gee:  You're a "hard nosed defender" (ha) with a half-decent three pointer.  But it's time to up your defense game so I can remove those quotes.  Chances are this is the best Alonzo will ever be, but it couldn't hurt for Alonzo to down a few barley wines – big, strong beers that typically have some dark fruit, licorice, and booze notes.  Great fits would be Anchor's Old Foghorn and Old Ruffian from Colorado's Great Divide.  Whatever the choice, the bigger and stronger the better.
Anderson Varejao:  Look, dude, you've managed to stay healthy this year – congrats.  But every time you fall to the ground, we all hold our breathes.  Sometimes you look winded, gassed, and about to die.  Beer tends to be fattening (it's filled with carbs…) so my advice to Andy?  Drink up on a nice, light stout.  We're not talking those big bodied killer stouts – something nice, drinkable, and filling.  Stouts are also known to include a number of vitamins (because of unfiltered yeast), so there's that added value, too.  Think Schlafly's Oatmeal Stout, Sierra Nevada's Stout, or Anderson Valley's Stout.
Anthony Bennett:  Tony's had some issues this year, to say the least.  No shot, awful defense, and complete lack of conditioning.  That's not exactly the best way to stay in the league.  Bennett needs to take baby steps in getting back to the type of player he was at UNLV.  The best place to start?  A nice, balanced pale ale – the standard beer drinker's beer.  Anthony – if you can find it, gulp down as much Three Floyd's Zombie Dust or Alpha King as you can – they might be a little hoppy, but they're gold standards.  If not?  A Great Lake's Burning River, a fitting name if there ever was one for the start of your career.  Lets get this thing back on track!
Carrick Felix:  Get back on the floor and we'll talk about giving you a drink.
C.J. Miles:  We all know what C.J.'s problem's are, specifically his completely lack of consistency and clutch impact.  Miles certainly has the ability to turn it on, but seems entirely unable to do it on a nightly basis.  Forget the boozy, hoppy, and big beers – CJ needs to go back to the basics.  The kolsch is a wonderful, drinkable, totally overlooked beer.  While there's nothing remarkable about the style, it's a little sweet, a little hoppy, and entirely consistent.  Drink up on as much Captain Lawrence,  Stoudt's, and, if you're feeling internationally-minded, Reissdorf Kolsch as you possibly can.  Consistent drinking will yield consistent shooting – I PROMISE!
Dion Waiters:  No matter what I say here, someone will get upset.  Dion is easily the most polarizing player on this Cavs team – he gets everyone's blood pumping.  With the reports about locker room issues surfacing months ago, I've had it in my mind that Neon Dion needs to calm the frick down.  Dion, buddy, I know they're not in season anymore, but I'm certain you can find a nice Christmas or Pumpkin beer.  Something slightly sweet, slightly boozy, and definitely delicious.  Maybe a Fat Head's Holly Jolly or a Southern Tier Pumking.  If neither is around, go grab a Lindeman's Frambois Lambic.  That'll get it done…
Earl Clark:  Something is missing here.  Clark has been relatively consistent in that he continues to hit big spot up threes and play defense.  He's really a PF, not a SF like we hoped.  It's time to spice his game up and take it to the next level.  A good rye IPA beer should do the trick.  Like your typical IPA, rye IPAs have all the hoppy goodness necessary to kick Clark's game into overdrive, but with the rye is the added twist of some earthy, spicy tones.  All he needs is a nice twist to his game, which he can easily get from Otter Creek's Kind Ryed (Which I had last night, and was amazing) or Founders' Red's Rye PA.
Henry Sims:  I'm not sure big ol' Henry needs a drink.  Maybe a smoothie?  Or some OJ?
Jarrett Jack: Even with the whole Bynum situation, Jack continues to be the biggest disappointment this off-season.  He can't shoot, he can't defend, and, as far as I can tell, he hasn't been much of a vocal leader in the locker room.  What exactly is he doing to earn that huge contract?  Jack's issue is he's missing that sweet stroke that wowed everyone during his tenure on the Warriors.  Getting his consistent shot back is really all the vet needs.  Wheat beers are rarely considered spectacular, but are often the gateway into the craft beer world for non-beer drinkers, a trait that could translate to Jack getting back into the groove..  I suspect a couple sips of a Penn Weizen, a Cisco Grey Lady, or, if he's feeling wealthy (which he should be…), a Hitachino Nest White Ale should get him back to the basics and scoring in droves.
Kyrie Irving: He's finally getting his act together after a very, very, VERY slow start, but Kyrie still needs a nice kick in the butt to put everything together.  He still goes into ISOs too much, ignores open players, and gets some serious tunnel vision.  The answer?  A sour!  Unique and highly touted, like Kyrie, sours aren't you average beer.  Because of the wild yeast used to make them, sours can vary widely in flavor, body, and aroma.  But one thing remains consistent between them – they're funky.  All Kyrie needs to break his own funk with the ultimate funkiness.  The Bruery's Sour in the Rye (or, really, anything from the Bruery) or Westbrook's Gose (pronounced Goes-UH, and now available in cans!) will help clear Kyrie's head and wake him up!  Look out, league!
Matthew Dellavadova:  There isn't much to be said – Delly has been a total surprise for this team, and is probably performing to the absolute best of his abilities.  Take a bow, Matt – you've earned the pick of the litter.  Peruse this list and have whatever you'd like (might I recommend Heady Topper, which is definitely my absolute favorite, and Surly Abrasive or Furious, two of the best out there).  You've earned it, buddy!
Sergey Karasev:  Karasev is young and finding his footing in a league filled with vets, so the expectations have been pretty low.  Still, I think he could start lighting it up once and a while with that fantastic deep shot we've all heard so much about.  A couple hop bombs could help the youngest on his way – maybe a Lagunitas Hop Stoopid or Dogfish Head 90 Minute IPA.  Really, there are a ton of choices in American's new favorite style.  Whatever he picks should be fine as long as it's super-hopped!
Tristan Thompson:  TT isn't the most exciting player in the league – he doesn't really light up the stat sheet, he seems to have lost his ability to slam it home, and he's never going to drain threes like Kevin Love.  But you can't fault a man for being consistently good.  TT needs to continue down that path while taking notes from the great PF/Cs.  Old school toughness, determination, and perseverance are all TT needs to take his impact to the next level.  What better way to get there than with a scotch or wee heavy?  A little sweet, but largely rich in body and flavor, it's the perfect way to help TT find his old school game.  Oskar Blues makes the most readily available gold standard, Old Chub.  Other good choices would be Dark Horse's Scotty Karate (out of season, unfortunately) and international favorite Skull Splitter.  No matter what, it'll help his game, I promise!
Tyler Zeller:  TZ has shown massive improvement of recent.  I've been tough on the big man, but he seems to finally be finding his game.  He's been drawing offensive fouls like a mad man, rebounding well, and has even started hitting his elbow shot.  Really, Tyler just needs to toughen up, big fella!  There's nothing bigger or tougher than a Russian Imperial Stout.  Roasty, bitter, smooth, hearty, big, and totally opaque, the RIS is a beer drinker's dream.  You may not be able to see into the glass, but you're sure you're drinking something that'll leave an impact (and probably a headache, due to the high ABV) later on.  One of the best (and one of Kevin's all-time favorites) is North Coast's Old Rasputin.  Other excellent choices are two local Ohio brews – Akron's Hoppin' Frog's B.O.R.I.S. The Crusher and Cleveland's Thirsty Dog's Siberian Night Imperial Stout.  Dark, Delicious, and perfect for a skinny guy lacking toughness.
Andrew Bynum:  You're drunk, go home.
No matter what you drink, have a safe, happy New Year from everyone at Cavs: the Blog.  See you in 2014!