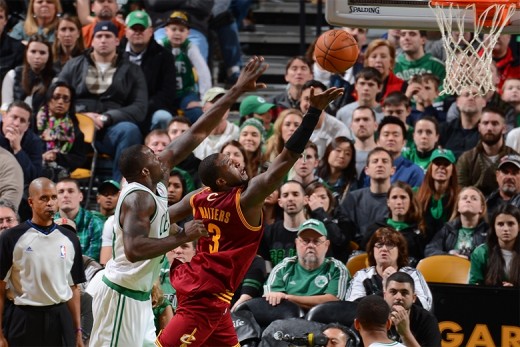 Fresh off a morale eroding last second loss to the Hawks on Thursday — well, in terms of my morale, anyway — the Cavs looked to show me that my morale was made of weaker stuff by showing up strong and confident in this early-afternoon contest against a beatable Celtics team that hadn't played organized NBA ball in nearly a week.
But, in order to really start the day on the right foot, they first had to suspend their starting center.
Yes, Cavs, it's my morale that's the problem. Clearly.
The Cavaliers started the game fast and looked dialed in, distractions be damned. They raced out to a 7-2 lead with a Kyrie bucket off some nifty give-and-go action with Anderson Varejao, a Tristan Thompson push/float/jumper and a Kryie triple. Irving looked relieved to have Varejao back in the starting line-up and they showed some flashes of their pick-and-roll chemistry from last season. The Cavs moved the ball well, getting contributions from everyone on the team not named C.J. Miles, and, even though they weren't stopping the Celtics, they were hitting enough of their shots to keep them competitive and spry… for all of one quarter.
The Celtics kept chipping at the Cavs' D with an incredibly balanced attack until the chips became chunks. The Celtics were led by Jeff Green and Jordan Crawford's 19 points a piece, but saw six players hit double figures. With the Cavs' ball movement stalled and even the easiest shots not falling (not to mention Cleveland's positively abominable perimeter defense), the Celtics stretched their lead to 22 points in the second half.
Then something strange happened in the fourth quarter: the Cavs remembered that they were a roster made up of mostly NBA-caliber athletes and began playing as such. Irving, who to this point was one Earl Clark away from being the only player in wine and gold able to put the ball in the basket, scored 12 points in the fourth. Dion Waiters continued his fine play with nine fourth quarter points. The Cavs started playing tough, physical defense, and a much more active, attacking offense … and they came all the way back to be within two points — at 100-102 — with under 20 seconds to play.
Oh, and they did all of this with Anthony Bennett on the floor. That's right, folks, the rabbit hole that is this season keeps getting deeper.
This afternoon, though, it wasn't Irving coughing up both the ball and the Cavs' chances of winning. In a shocking turn of events (well, maybe not that shocking), Waiters took the potential game-tying shot, only to see it cleanly blocked by Bass, and Clark couldn't get off the desperation three to tie it at the buzzer. Two chances to win and Irving did not even touch the ball.
Rabbit hole. Deeper and deeper and deeper.
Notes:
-What's that? You heard something about Bynum's moods being detrimental to his young teammates before today? That's right, you did. You heard it here.
– Had the game only been one half long, the story of that game (besides its refreshingly brisk pace) would have been Earl Clark. The Cavs looked to establish Clark as a scoring threat in his new/old role as starting small forward and Clark responded with 11 first half points. He hit threes. He put it on the floor. Earl Clark was a revelation!  But Clark only scored one point in the second half and was a team-worst -12 in 24 minutes.
-Just when it looks like Irving and Waiters might be figuring out how to play effectively together on the court, using each other as well as continuing to be aggressive individually, you have the end of the Hawks game and the end of this game. Waiters, who played a great second half on Thursday, didn't touch the ball in overtime as Irving just drove and shot and (usually) hit. This game, Brown (or Waiters) decided that the Cavs could use some crunch time diversity and gave Dion the green light to tie it up. That, of course, did not happen. How will Kyrie react to not getting his crunch time touches? How would have Kyrie (and Dion, for that matter) have reacted had Dion won today's game for the Cavs. Hopefully, he would have said, "Hey, Dion's a great player and teammate and I trust him in those situations." But would he have really…?
-In the middle of the third, after Bennett had missed his first two shots (a three and a long two) and committed a couple silly fouls, I jotted down "Bennett is having an awful game." Then he shoots 50% the rest of the way, plays most of the fourth quarter and leads the team with a +9 as part of the unit that got the Cavs back in this one. I really don't know what to think about this. On the one hand, this has to be a confidence booster for Bennett. Those could very well have been garbage minutes, if the Cavs hadn't made the comeback. But they did and  you have to respect Mike Brown for keeping Bennett on the floor as part of the only unit that was playing well. You could see Bennett trying to do less. Since he was running with Irving and Waiters, Bennett just set solid screens, rebounded and tried to defend.
On the other hand, Tristan Thompson just set himself on fire.