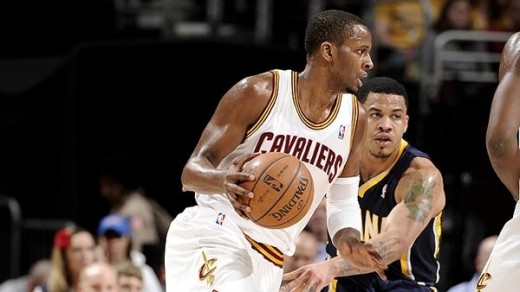 On Saturday, I posted a brief article opining on the team's severing of ties to Bynum as a potential first step towards turning the season around, saying "the pieces are there".  Today brings a qualifier.
After the team signed Bynum, I thought they needed to add two more pieces: a small forward that could make open threes, and another veteran center.  The rationale for the first being that with backcourts consisting of Irving, Jack and Waiters, the small forward would not be high usage, but needed to command respect from their defender to space the defense.  The extra center was needed in the event that Bynum and / or Varejao were not available.  Neither hole was filled, aside from undrafted rookie Henry Sims.  Hopefully via trade or off the free agent heap, the franchise can wrangle another big body… someone to grab rebounds, foul, and play defense; a bit more girth when Andy or Zeller misses time.  That's not the topic today though.
The lack of  small forwards in the Cavalier rotation is the throbbing pain on this team.  Through Saturday's game against Boston, the Cavs utilized lineups featuring three of Kyrie, Dion, Jack, and Dellavedova for a total of 380 minutes.  That is somewhat astonishing, considering all are  "combo-guards", not even the size of a prototypical "shooting guard", let alone being a "small forward".   In the Celtics game, announcer Tommy Heinsohn commented on taking advantage of Jarrett Jack switching onto Jeff Green.  Unfortunately, that was no defensive switch;  Jack, Waiters or Delly is routinely playing out of position.  Thirteen minutes per game, if you're counting.
Granted, this hasn't always failed; the pairings of Jack, Waiters & Delly and Irving, Waiters & Delly have outscored opponents by over 12 points per 100 possessions during their combined 140 minutes on the court.  On the other hand though, the 41 minutes of Irving, Delly and Jack have been an abomination (outscored by 22 pp100p), while the most used group of Irving, Waiters and Jack (198 minutes), while not horrible, is getting outdistanced by 3 pp100p.  That is losing, which ummm, is not the plan.
When the team signed Jarrett Jack, I viewed it as a good thing.  A pairing of Kyrie, him, or Waiters could be on the court at most times.  Having two guards on the court that can create offense for themselves and others is a fine thing, but with three of those guys on the court at the same time?  Well, there is only one ball.  The other benefit to the Jack signing was that if one guy missed time, the team could still permanently keep one on the floor.  So far that hasn't worked according to those ideals.   One reason being that Jack is performing at career worst levels.  And another reason is the reliance on one of these guys to routinely play "small forward".  Aside from a trade, what can be done to lessen that?
When considering the team's roster at the start of the season, C.J. Miles was my bet for the guy who would prove himself most worthy of minutes at "small forward".  Sure, he's not prototypically sized, but he is as big as Alonzo Gee, and can shoot.  To date though, Miles has seen only 148 minutes alongside two of Irving, Waiters, Jack, and Delly.  Why has Coach Brown been so willing to rely on the completely undersized Irving – Waiters – Jack lineups, while offering little opportunity to the only slightly undersized Miles at "small forward"?  The most used of these lineups has been Irving, Jack and Miles, and in those 71 minutes, the Cavs outscored their opponents by 8.1 pp100p.  It's certainly not the answer to everything ailing the Cavs, but it would be nice to no longer nightly witness Dion and Jack guarding guys five inches taller than themselves.
If Bynum is unable to be traded, after waiving him, the other opportunity is to audition free agents with the open roster spot.  That's a pretty precarious place to be in January, and personally, I am not scouring the D-League and Europe to offer suggestions about a diamond in the rough.  Here are two quick anecdotes though. 
James Johnson was the 16th pick in the 2009 draft.  He played a couple of average-ish seasons as a backup small forward for Chicago and Toronto.  Then he was traded to Sacramento, where careers go to die (other team's blogs likely assign Cleveland this status).  After one miserable season in north-central California, he found himself in the D-League this season.  He tore those guys up for a few weeks, recently Memphis signed him, and he's been a great addition to the Grizzlies.  Will his current level of play keep up?  Probably not.  Is he a veteran small forward that has NBA level abilities, but due to bad circumstances found himself out of the league?  That one is a "yes".  Is there another James Johnson out there?  Answering those questions may be all that Chris Grant can do to salvage his job.
In the article linked at the top of this; the end of the bench, floor stretching small forward mentioned was Luke Babbitt.  He's 6′ – 9″, is only 24 years old and was the 16th pick in the 2010 draft.  He made 37% of his NBA threes; Adjusted Plus/Minus and Win Shares considered him a reasonable NBA player; and he appears more likely to fit the Cavs' needs than Alonzo Gee.  He is in Europe right now, playing for a Russian team, and making 63 percent from deep in seven games in the Eurocup competition, as well as 50 percent from three as the team's leading scorer in seven games of the VTB United League.  So far, Earl Clark has been better than I anticipated, primarily because he is draining 44% of his threes.  Opposing teams aren't respecting him, are crowding the paint, and he is making them pay.  Wouldn't it be nice if the Cavs had two 6′ – 9″ guys doing that at small forward?  I wonder if Babbitt's contract has out-clauses…
That's it for today.  Hoping against hope, ideally in January 2014 the team can salvage depth at center, and shooting from the small forward slot, like should have been the goal in July.
P.S.  According to NBA.com, the Cavs offensive rating when Miles plays is 99.8.  Their defensive rating is 100.0.  They are basically a five-hundred team during his 480 minutes.  Of the team's top-20 most used two-man combos, only four have positive point differentials.  Three of those four include Miles.  The team loses by 8.9 points per 100 possessions when Miles sits on the bench.  He's seventh on the team in minutes, but second in made three pointers.  While certainly skewed by sample size, maybe the coaching staff should give a handful of Jarrett Jack's minutes to C.J. Miles.  Just sayin'.
P.P.S.  I never miss an opportunity to pump-up Derrick Brown.  While catching up on Babbitt's performance, I dropped in on my old favorite, Mr. Brown.  His Russian team has advanced from the first round of the Euroleague and into the round of 16, by finishing with 6 wins and 4 losses in round robin play.  The Euroleague is the Europe's highest professional basketball competition, which his team was promoted to after winning the Eurocup last year (second highest competition).  He is Lokomotiv Kuban's leading scorer, and also has a PER of 23.  I wish the Cavs had signed him two years ago.