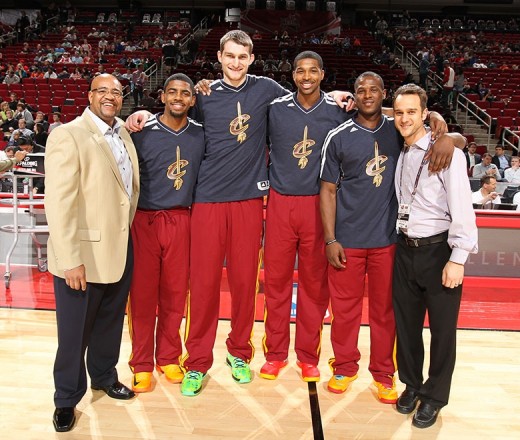 It was one year and one day ago, that I wrote a Young Player Profile on Tristan Thompson.  At the time, I felt Tristan was receiving an unfair shake.  He was contributing the little things, was still young, and was starting to show improvement.   As another calendar year rolls by, while not an All-Star, there is no doubt that TT can be a solid contributor in this League for a long time.
I have a somewhat similar feeling of optimism about the entire franchise right now.  Again, it feels out of place.  It is possible it is because I am dumb.  Hopefully not.
The Andrew Bynum era may be done in Cleveland.  If so, at least it went according to Plan B.  The team saw what they had, decided it wasn't going to work by January 7th, parted ways, and only sunk $6 million into the project.
It wasn't a success.  That was always a risk.  During the 480 minutes Bynum played, the Cavs were outscored by nearly 12 points per 100 possessions.  That is the equivalent of a 12-win team.  For the 942 minutes he sat, the team has only been outpaced by 3 pp100p.  That is the equivalent of a 32-win team.
That's not great, but it's a win or two from where the team is now.  And sans Andrew Bynum, this is the league's second youngest team, with the second lowest payroll.  That was always the risk with the Bynum acquisition; not spending the available cash on surer things, and potentially rolling with a very inexperienced, cheap team.
Oops.
But at the same time, there is something smoldering beneath the ashes.  Kyrie is beginning to look like the 20-year old that took the NBA by storm.  As noted above, Tristan continues growing.  Dion Waiters is undoubtedly improved from last season, and just turned 22 this month.  While certainly a small sample due to sitting behind Bynum, the same improvement appears true for Tyler Zeller.  Tonight's ferocious slams from Anthony Bennett were the first time this season that the guy thought to have been drafted started to show himself.  If this team was 12 – 17, and Andrew Bynum never existed as a Cav, with the NBA's youngest, cheapest team, how close would the panic button be?
It has been a very rough start to the season.   Parting with Andrew Bynum is an ingredient in the antidote.  The other part though, is for these guys to keep pushing and rally around each other.  Kyrie, Tristan, Dion, Zeller, Bennett, Jack, Varejao, Earl Clark…these guys all need each other to be successful.  The downfall of many a rebuild in part hinges on young kids turning against each other, and playing for their own individual interests.  Certainly easier said than done, but this group needs to believe in each other…realize they can all improve…that no one is a finished product, and it is all of their jobs to see that each of them gets there.  Annually, there is the "no one believed in us team".  A team that becomes so motivated by the doubters, they unite and become "all they got".  The pieces are there.  If this group of kids can find strength in each other, this Cavs team can be among that group.
Or maybe I am hopelessly dumb.