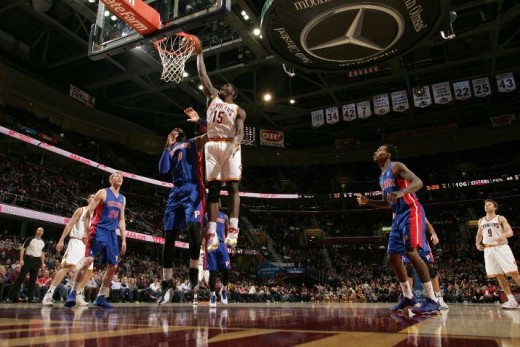 The Eastern Conference playoff picture is a mess.  Three teams are above five-hundred.  Cleveland, at 10 and 16, resides one-half game from the eighth seed.  The Cavs look much stronger lately, winning six of ten, with two narrow losses against Miami and Portland.  While Cleveland builds toward a better record than their current 31 win pace, several other Eastern Conference foes look poised to improve also.   Many of the assumed contenders remain on the outside looking in; Chicago, New York and Brooklyn all face varied messes.  Can the Gotham City teams stay this bad for 82 games?  Can a Bulls squad paced by Noah, Deng and Boozer really miss the playoffs in the East?  Other challengers for the final seeds in the East are hitting their stride.  Toronto won 5 of 7 since trading Rudy Gay, including two straight road victories against Dallas and Oklahoma City.  Washington emerged with three wins in a row, and sits amidst a 10 wins and 6 losses stretch.
And tonight's opponent, Central Division rival Detroit, has won half their games since a dreadful 2 and 5 start.  Many  of these teams will move towards the middle over the course of 82 games.  Tonight, at home, it would be delightful for the Cavs to build on recent successes, and forget the relatively awful outcomes of this past weekend.  Piling up victories in games like tonight will go a long ways in determining if the Wine & Gold head to the second season, or back to the lottery.
That said, hopefully you weren't gearing up for an extensive recap tonight.  It's a busy time of year.  So, here is a quick and dirty look at tonight's action.
No more talk about playoffs until further notice.  I can't let this ruin my holidays, so real quick, let's hit the downsides: No Dion Waiters for a third straight game; Andrew Bynum shot 0 for 11, as he, Clark, Miles and Jack combined to shoot 4 for 37; the Pistons scored 115 points on 48 / 42/ 72 shooting, out-rebounded the Cavs by 11 and committed 5 less turnovers.  That is a lot of suck from the Wine & Gold, and there will be no wins for Christmas when playing like that.
For bright-ish sides, Tristan looked good, scoring 17 on 61% true shooting, along with seven rebounds.  Kyrie's scoring was on point, with 21 points in 29 minutes on 67% true shooting.  Matt Dellavedova pitched in 10 points on 4 of 6 shooting, with 6 assists and a steal.  Plus, he's just a lot of fun.  Finally, although largely in garbage time, Tyler Zeller scored 13 points on 6 of 7 shooting, with 4 rebounds in 14 minutes; sometimes it is forgotten that the Cavs have a recent 17th-pick, seven-footer sitting at the end of the bench.  The guy runs the court pretty well and flashed a deft touch around the basket at UNC.
That's it for tonight.  This season continues to be fairly nonsensical.  As soon as the team started to turn a corner, three miserable performances in four nights send them into a short holiday break looking as dysfunctional as ever.
Merry Christmas!