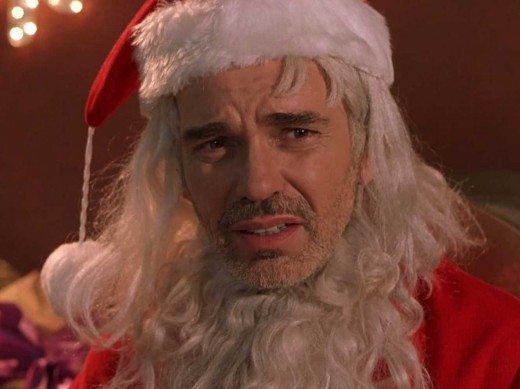 UGH. The Cavs made sure to get to the post office today, to mail this one in for Christmas. The Cavs brought their lowest energy level since playing Atlanta two weeks ago, and got their butts kicked in Chicago by a severely depleted Bulls team. I'm filling this recap with Christmas references to try to keep my spirits up, because that was the crap-crap-crappiest holiday basketball game since Bing Crosby played Danny effin' Kay. I'm pretty sure that Tom Thibideau put on his Grinch costume, and stapled a reindeer antler to D.J. Augustin's head.  D.J. played 46 minutes, dragging that sled up the mountain, and he picked up 18 points and 10 dimes for his trouble. Thibs took all the presents, and little Delly Lou Who caught him stealing the tree. Matt was helpless to stop him.  Cleveland clearly wanted to get home and get their Christmas shopping done on Sunday.
The Good:
Andrew Bynum tried to keep the the Cavs in this with some positive play in the post and at the elbow, with 19 points on 9-15 shooting, and 7 rebounds in 27 minutes. Give him a Santa hat. Tyler Zeller entered the game in the late third and played a solid 13 minutes, notching 6 points and 3 boards. Socks! That's my new nickname for Tyler. It's not the greatest present, but it could be worse. Socks ran the floor, hustled, played defense, and posted a +/- of zero which was better than anyone who played over 10 minutes. Yay mediocrity! Yay Socks!
The Bad:
Everyone else. I'm not kidding.  It's hard to pick who the worst Cav was tonight. Lets start with Tristan Thompson. On papers his numbers looked O.K. (10 points, 7 boards), but he gave his Christmas gift to Carlos Boozer early this year. The lack of physicality was palpable. Boozer met little resistance scoring 19 fairly easy points, with nine boards and four dimes.  Booze's backup, Taj Gibson threw in 15/5/5.  Anderson Varejao was a defensive sieve as well, and the Cavs were outscored by 22 points went he was on the floor. Joakim Noah's 18 boards might have had something to do with that. We thought we were getting Christmas Vacation, and these two were Chase and Quaid.  Instead we got Christmas Vacation 2: Cousin Eddie's Island Adventure.
The IMDB review of CV2 pretty much sums up Tristan and Andy's play tonight.
For the record, I did not expect it to be very good; I just thought it might be a slightly amusing diversion. Therefore, my high level of disappointment goes to prove just how bad this utter turd of a movie really was. It was mind-numbingly, jaw-droppingly, heart-stoppingly, head-explodingly terrible. Yet, somehow, I could not stop watching it. It's a sickness I have; I can't seem to walk out on a film or give up on a TV show before it ends. Nothing has ever made me want two hours of my life back more than this movie
Next up? C.J. Miles: four points in 22 minutes. The Cavs needed his scoring, and he delivered like a dead beat Dad on Christmas.
The ringleader of ineffectiveness? The Scut Farkus to C.J.'s Grover Dill? Alonzo Gee was bum rushed and pummeled by Tony Snell like Ralphie on top of a squealing bully. Snell kept punching the Cavs with three pointer after three pointer, finally finishing with 17 points, before Tony's mom pulled him off and took him home.  (OK, Snell played 44 minutes, and Gee played 17).  So yeah, the metaphor's stretched a little thin, but when your starting small forward goes scoreless, and your shooting guard gets four, the metaphor fits.
What can you say about Jarrett Jack. Well, one thing I can say is "STOP SHOOTING!" He was 3-9 on long twos, and he has stopped looking to pass off the pick and roll.  He was -17 in plus/minus, and was a central part of the Cavs' general defensive awfulness. Jarrett is kind of like Mr. Hanky the Christmas Poo. When he's on your team, you kind of wish he wasn't. Let's hope he continues his career trend and gets less stinky after the holidays.
In his defense, Delly Lou Who wasn't too bad, but you could see him get tired as the game went on.  His 29 minutes seemed a little out of his comfort zone. And he contributed to the Cavs' bad defense when closing out three point shooters.  The Bulls shot 10-15 from behind the arc for the game. Delly did move the ball, took smart shots, and finished with 10 points, four boards, and two blocks in 29 minutes. Kyrie and Jack could both watch some film of how Delly passes and gets his teammates involved unselfishly. Then maybe he could lead the Cavs in a rendition of, "Fah who for-aze! Dah who dor-aze!" Eh.  If only.  I'd settle for a circle of effort.
Finally, Kyrie Irving. As he goes, so seem to the Cavs, especially when Dion Waiters isn't available.  Kyrie scored 14 on 16 shots, and matched Delly's -17 for the game. And yeah, he got outplayed by D.J. Augustin.  Evil Kyrie was back this game.  He trailed plays on defense and stuck to screens like sweater fuzz to a candy cane.
The Ugly
Dellavedova had one of the nastiest shots I've ever seen go in: an aesthetically unpleasant shotput from the left baseline that hit the rim, the backboard, the rim, the rim, and then fell in.  The shot was emblematic of the ugliness of this game. It was the Star Wars Holiday Special of made basketball shots.
The Cavs were out-rebounded 49 to 36 and lost by 16 to a team missing Luol Deng, Jimmy Butler, Kirk Hinrich.
Hard to blame Mike Brown for much here, and his decision to empty the bench at the end of the third quarter was ugly, but somewhat effective, at least in terms of sending a message.  Socks and Karasev got some run then, and Sims and and Felix even got a little run in garbage time at the end of the game.  So Merry Christmas, there.