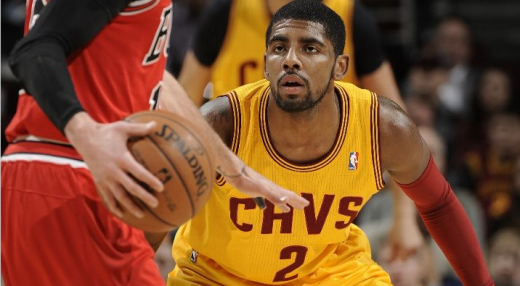 1. What is your biggest Cavs related takeaway from the first quarter of the season?
Kevin: I'll answer on a positive note, and mention the impact of Mike Brown on the team's defense. As of right now, the Cavs rank in the top half of the league for defensive rating (15th). That is almost unimaginable when comparing to the last few seasons. If they maintain that level, this season should still be a success, as the offense will continue to improve. One reason for that is that Kyrie has to improve from his first 20 games, right? At least Tuesday was a great start towards that. Take a look at Jarrett Jack's seasonal splits sometime, too…he has routinely been a poor November / December player, so hopefully he continues looking better as the season goes on. Tristan and Dion should continue to look better, too.
Nate: The biggest takeaway? It's hard to take away much from a team that is clearly drinking from the firehose when it comes to ingesting Mike Brown's offense, defense, and style. But the biggest thing that is apparent is that Anthony Bennett is struggling, and it's looking a lot like the Cavs made the mistake drafting him. The biggest mistake the Cavs made was not drafting an injured tweener who let himself get woefully out of shape. It was underestimating the pressure of being a number one pick, and drafting a player clearly not ready to handle that pressure.
Tom: My biggest takeaway is that Cavs are attempting to transition from a collection of discrete talents to a basketball team. It hasn't been a smooth process, with a new coaching staff and lots of roster turnover, but it seems, at least on the defensive end, that they are beginning to learn how to play together.
2. Can Kyrie salvage the second quarter of the season and salvage another All-Star game appearance?
Kevin: The bright side for Kyrie is that there isn't a lot of competition in the Eastern Conference. Looking at PER, the top six point guards in the League are in the Western Conference. In the East, Kyrie is 4th right now behind John Wall, Michael Carter-Williams and Jeff Teague. For the 2014 Eastern Conference All-Star point guards, the smart money appears to be on Wall and Irving.
Nate: Well, judging by yesterday's all-star voting count, Kyrie's going to be starting in his second all-star game in February. The East is pretty devoid of all-star guards with Rose's and D-Will's injuries. Dwayne Wade, Kyrie Irving, and John Wall are probably going to be the all-stars ahead of the deserving DeMarr DeRozen and Aaron Afflalo. As for salvaging the second quarter of the season, Irving will be fine as long as he keeps the ball moving, engages defensively, and stops over-dribbling. His decreasing turnover numbers have coincided with the Cavs recent success.
Tom: I dunno is Uncle Drew famous in China? Personally, I'd like Kyrie to miss the all-star game and feel "slighted". Anyone notice as soon as he "arrived" last season he started playing like crap?
3. Care to offer an updated wins prediction for the season? Why?
Kevin: I will slightly downgrade my preseason prediction, and say 41 wins. So 33 wins and 28 losses for the remainder of the year. As noted in a prior answer, the offense should improve, and the defense looks fortified. The one caveat is that the team had very good health to date. Hopefully that stays reasonably true.
Nate: Nope. I picked 39 wins, and that seems about right to me, given the improvement we've seen of late. I'd hope the could kick it up, and maybe make the 4th or 5th seed in the East, but that won't happen unless they trade for a quality starting small forward.
Tom: I predicted Mike Brown would continue his streak of making the playoffs, and I stand by that, despite the disastrous start to the season. I'll put the Cavs at 38 wins, and this is under the assumption that a significant injury befalls them.
4. Are the Cavs establishing an identity? Do you notice characteristic differences between the Cavs under Brown and under Byron Scott?
Kevin: The offense still tends towards supreme dysfunction, with limited off-ball movement. The play sets rarely create easy looks. Watching other teams generate easy buckets continually makes me ask, "Why don't the Cavs have plays that work"? There are so many variations of the pick & roll that teams run, certainly Cleveland has the personnel to accomplish one or two of those. Relatively complex plays involving more than two players have not been successfully implemented by Coach Scott or Brown teams. Little individual things, like diving to the corner when a guard drives, maybe off a back-screen, or noticing the moment that their defender loses focus and cutting hard to the basket…whether it's the teachers or the students, the team still needs work in those regards. Heading into the season, I anticipated Dion making strides cutting when he doesn't have the ball, but not much success there yet. Anyways, the short answer to the question is "Defense and Rebounding".
Nate: The Cavs are establishing an identity. Early on, the book on the Cavs was: be physical early and they'll fold. Now, they're starting to be the physical ones. The Cavs' identity centers around their ability to out-rebound anyone on the offensive and defensive glass. If they can be patient on offense, and keep from turning the ball over, they can compete most nights.
Tom: Absolutely. The Cavs have been a fierce defensive team at home this season. They are also starting to run an offense through Andrew Bynum and more recently, trying to establish early offense in the 1st quarter. Byron Scott wasn't able to imprint his identity (whatever it is) on the team, as they showed minimal growth as a unit during his tenure and always seemed to be less than the sum of their parts. Mike Brown may be facing the same issues on offense, but at least defensively, the team is competing. Also, Kyrie Irving, C.J. Miles, and Jarrett Jack have all seemed, at least at times, to be capable defenders. This would have been unthinkable last season.
5. Latest thoughts on #1 pick Anthony Bennett? Is it too early to count him out of rookie of the year discussions? The second part of this question is a joke.
Kevin: I hope that the Cavs are not so thoroughly mismanaging the first few months of Anthony Bennett's career that they have forever lowered his ceiling. He is not this bad. I don't know if the D-League is being considered as an option, but it should be. Send him to Canton and assign a positional coach fully to him for a month. Get him in shape, get his shot right, and rebuild some confidence. The small forward thing is not going to work right now; Jamal Crawford preyed off Bennett in the Clippers game. At this point in time, I don't know how anyone thought that was going to work. Someone, please, save Anthony Bennett!!
Nate: See answer 1. Recently in the comments section, we decided it's much more fun to think of Bennett as a giant Care Bear playing basketball. It makes watching him so much more fun. The question becomes, if he's a care bear, what Care Bear would he be? I chose "Oopsy Bear," but commenter, Ross came up with a better answer: Gum Drop Bear. The Cavs should make the gum-drop shaped Bennett a special Care Bear-style jersey with three gumdrops in the center, in place of the usual team name and number.
Tom: The Cavs shouldn't feel obligated to play Bennett at all if he's not contributing to winning. He could get 40 minutes a night for the Canton Charge if they feel like he needs more burn. If they are going to insist on playing him, he needs to change his approach. He's supposed to by a pole vaulting big man that gets out in transition. That's what he did in college! He has re-invented himself as a useless pick and pop big that can't shoot a lick. Here's what really stuns me – he can't dribble – at all. Every single time he tries to put the ball on the floor he looks like me when I don't play pickup for 18 months and then throw on the rec specs and try to go out and bang with the YMCA wonders.  He has no control over his dribble. You know what I do when I'm playing pickup and have no confidence in my dribbling? Yep, I stand in the corner space the floor.  Bennett needs to learn how to dribble again and stop shooting perimeter jumpers.  It's embarrassing watching him force garbage time buckets like he's going to shoot himself out of whatever hypnosis he's in.  Watch the DraftExpress video below, they point out his strengths as being one of the most offensively versatile players in college.  Right now he looks like Robert Tractor Traylor (RIP) minus the defense, rebounding, and pick-setting.  The Cavs should be working to extract as much defensive value they can out him and his 7'1″ wingspan.  I do take solace in the fact that anyone can find himself mired in a nasty slump, especially coming off an injury.  Example: C.J. Miles looks like a completely different player this year than he did to start last season.