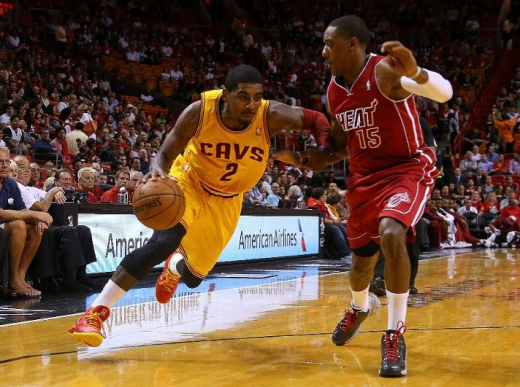 I plan on staying pretty brief tonight.  On the second night of a road back-to-back, the Cavs face a Heat squad on three nights of rest.  Let's see how it goes.
On offense, the Wine & Gold came out firing on all cylinders.  The O ticked like a swiss watch, and the shots generated were an analytics dream.  Through the first five minutes, their shot attempts were: three; three; three; free throw; three; 10-footer, with offensive rebound for a layup; three; 3-footer; three; 4-footer.  In 4 minutes and 47 seconds, Cleveland already ripped off 19 points.  Unfortunately, the team had zero answer for either Lebron or Wade.  Those two combined for 23 first quarter points, on perfect 10 for 10 shooting, along with five rebounds and four steals…Ouch.  Miami led 35 to 29 at the first break.
The second quarter started reasonably well, but continually degraded at an accelerating rate.  The Cavs still had no answer for Dwyane Wade; not Miles, Dellavedova, Irving, or Waiters.  In the midst of a Cavalier three minute long scoreless spell, the Heat pulled away, somewhat undramatically, just the methodical march of an elite offense.  Then sparks flew from a somewhat unlikely source.  Tristan coasted in for a layup, getting his shot blocked from behind.  Coach Brown clearly thought it was a foul…or maybe it was the culmination of the 17 to 5 free throw disparity…regardless, he exploded onto the court, chasing after and screaming at the referee.  I was glad to see that fire, but the team may have been too stunned to respond; the Heat perpetuated their run, scoring another seven unanswered.  Fortunately, Tristan briefly quelled the storm, scoring four straight against undersized Shane Battier, and Miami headed to the locker room ahead 68 to 52. Ridiculously, James, Wade and Bosh outscored Cleveland, tallying 53 points on 21 of 26 shooting.  Miami was a machine, rolling to 16 assists against 9 turnovers, compared to 9 and 14, respectively, for the Cavs.  Kyrie Irving paced the Cavs with eleven points and four steals, but also only one assist aside three turnovers.
To start the second half, Cleveland took advantage of their primary positional advantage: Tristan Thompson against the undersized power forward duo of Shane Battier and Rashard Lewis.  TT scored eight points in the first four minutes, as the Cavs mounted a 15 to 5 run.  The defense started tightening / the Heat actually missed a few shots, as Miami scored only ten points in the first nine minutes, as part of a 16 point quarter.  At the closest, the deficit narrowed to three, and heading into the fourth, Cleveland trailed 80 to 84.
The forward march continued, as a 28-footer by Earl Clark, corner threes by Waiters and Dellavedova, a floater by Jack, and a driving layup by Dion, forced Miami to call two timeouts in the first five minutes of the quarter.   Cleveland led 95 to 91 with a little over seven minutes to go.  Out of the timeout, Wade and Lebron both scored, tying the game at 95.  Dion attacked and scored four though, followed by an Andy free throw, again staking Cleveland to a two point lead.  Unfortunately, Tristan didn't check back in until a couple minutes left, and regardless of how much we love Dellavedova, a crunch time line-up featuring he and Earl Clark is probably in trouble against the Miami Heat.  In a little over two minutes, the bad guys raced to an 11 to 3 run, eventually escaping with their seven point win.
A win would have been ridiculously awesome, but it wasn't meant to be, on the road, playing on a back-to-back against the defending champions.
A few bullets:
Kyrie finished with 19 points on 54% true shooting, with 4 steals, 3 assists and 3 turnovers.  Certainly not his best effort, and he couldn't muster any late magic.  The steals were very nice, but to some extent, his entry in the fourth quarter stalled the offense.
Tristan scored 16 points on 47% true shooting, with 7 rebounds.  There were short periods where Tristan was able to exploit a mismatch, helping to keep the game from spiraling out of control.  I would have preferred to see him check back in sooner than three minutes to go in the game, and he only played 26 minutes.
Dion scored 16 points on 58% true shooting.  He had zero assists, but played an aesthetically pleasing game.  His shot chart was four three point attempts, five layups, and only two midrange jumpers, one of which was a make, and the other was a shot-clock bailout.  Several times he set teammates up with open threes, only to have the shot miss, and also netted TT some free throw attempts.  Some defensive lapses hurt the team's chances late in the fourth.
Anthony Bennett's uptick was only one game.  Seven minutes and his only stats were one turnover and two fouls.
Matthew Dellavedova is awesome.  I think he and Varejao are separated brothers.  Fifty-fifty balls become eighty-twenty in his presence.
Andy played a nice game.  6 points, 8 boards, 4 assists and a block.
Bynum was invisible.  Two shots in 18 minutes was a definite change of direction from recent games where the early offense flowed through him.  As discussed above, the early offense was really frickin' good this game though.
This is the Jarrett Jack that was hoped for.  14 points, 5 rebounds, and 4 assists, as combinations of him, Dion, Delly and Andy are a lot of fun as a second unit.
Cleveland turned the ball over one time in the second half.
Dion checked into the second half with eight minutes remaining in the third quarter.  He played the rest of the game.  This is actually a fairly common occurrence.  Are there other players in the NBA that play 18 – 20 consecutive minutes with regularity?  Should Dion, or does Coach Brown need to figure something else out?
Miami is damn good.  Lebron scored 25 on 76% true shooting, with 9 rebounds, 9 assists and 4 steals.