WHEW! This game had it all: defense, offense, half court shots, fans on the floor, dust-ups, a fourth quarter that would not end, and, most importantly, a victory over a playoff team.  The Cavs are 4-3 on Saturdays this year, including 3-3 on the second night of back-to-backs.  Tonight, they faced the Clippers who were off last night, but who were on the third game of a seven game road trip. After last night's debacle, Cleveland brought the energy and the defense, and got their first ugly, "Mike Brown" win. This game was beautiful like a scraggly dog.
The Defense: Cleveland held the Clippers to 32% shooting from the floor, and 20% shooting from behind the arc.  Despite 59 Clippers misses, the Cavs only gave up 10 offensive rebounds, and gobbled up 44 defensive rebounds (I know, I don't understand that box score math, either).  Blake Griffin, in particular, was bottled up by the big man Cerberus of Tristan Thompson, Andrew Bynum, and Anderson Varejao.  Going 3-12, for 10 points, 4 dimes, and 2 turnovers, Blake got into it with Andy with about 2 minutes left, and a veritable fracas ensued. After throwing a shoulder into Blake's grill, Andy flopped after Griffin pushed him back.  Varejao was grinning as he laid on the floor, with Griffin barking above him and the coaches and officials pulling everyone apart.  Wild Thing, going back the last few years, seems to know how to get under those ginger curls and into Griffin's head.
There was physicality, focus, and effort in the way the Cavs played defense tonight, especially in the half-court.  Cleveland's help and recover scheme stymied the Clippers, and Waiters and Irving did a good job of staying in front of the Clippers' guards, and an even better job of closing out shooters.  Waiters, in particular, had a great closeout on Jamal Crawford in the right corner with 1:12 left, which went a long way towards sealing the win for Cleveland.  To be fair, the Clippers miss J.J. Reddick and Matt Barnes, and Willie Green's start at two-guard helped the Cavs D.
Antawn Jamison had possibly his best defensive game in the Q, holding himself to one point on 0-6 shooting, with five "eff it — I'm shooting"  line drive three pointers.  Long time Cavs fans were nodding their heads while ducking.
Cleveland's lone weakness came when they didn't get back quick enough, which led to easy lobs for DeAndre Jordan. Also, the Clips' shot selection, 7-35 on threes, helped the Cavs, as did their inability to hit shots, but give Cleveland credit. They worked, and they played better D  than they have all season.
The Offense: This one wasn't pretty.  The good guys shot 37%. Outside of a 29 point first quarter, Cleveland struggled to get baskets all night.  What did work, was Andrew Bynum in the post.  Bynum scored 18 in 24 minutes on 8-13 shooting with 6 rebounds and no turnovers.  His bank shot hoot off the square from either block is getting as wicked as some of Bynum's hairdos.  A couple times, you could the shot going in before it even left his hand.  Still, those post-yps ragged offensive sets which just end up boiling down to clear-outs.  No one cuts hard, and Cleveland runs everyone to the opposite side of the court, making it easier to double Bynum, and guard the other side of the court with two rovers. But Bynum is so huge, and gets so low when he posts that even the double teams seem ineffective. Bynum saw no crunch time minutes, mainly because DeAndre Jordan got hurt, and L.A. decided to go small.  It would have been nice to see a post-up set for Bynum when the Cavs needed a bucket.
Tristan Thompson was a wrecking ball tonight, with 20 points, 13 boards (five offensive), four assists, and I don't think one point came on a set play.  Putbacks, dives to the basket, buckets in transition, and flushing dimes when the Clippers' bigs overplayed the guards: Canadian Dynamite was explosive tonight. His play was a big reason Cleveland won.
Anderson Varejao, similarly, was grabbing everything in sight, to the tune of 17 rebound (five offensive).  His elbow J is almost automatic right now.  It's so good, that it's almost unconscionable that the Cavs don't get him a shot from there at least five times a game.  He finished with 6 points on 3-7 shooting: a post hook, a dribble drive where he crossed over DeAndre Jordan and layed it in, and a patented elbow J.  At the end of the game, the Cavs' offense seriously stalled.  Cleveland went pick and roll with Kyrie and TT two or three times. Why Cleveland didn't run this with Andy was a head-scratcher.  His ability to pop or roll makes him so much more dangerous than TT, especially when Tristan can pick up the trash on a miss.
Kyrie Irving bounced back, somewhat, from his horrible night, Friday, with a 6-15, 20 point performance.  He had six dimes, but also seven turnovers, almost half of the Cavs' 15.  He put a beautiful spin move on Willie Green in the second quarter, but then seemed to get caught up in a playground game with Green and Chris Paul, and the next time down air-balled a 26 footer from the left wing that was an example of hero-ball at it's most ill conceived.  He also kept dribbling to the corner, and taking angles that were too close to the baseline on pick and rolls.  Mike Brown needs to take the baseline pick and roll out of the Cavs playbook until Kyrie proves he's better at it.  But Irving's 7-8 shooting from the stripe helped ice the game, and KI didn't look like he was "pouting" tonight.
Dion Waiters had one of his best games as a Cav, and only scored 3 points. OK, I'm exaggerating, Dion's shot selection reverted to awful, again, tonight.  He was 0-7 on long twos, though several were at the end of the shot clock.  He was 1-2 in the paint, and missed his only look from three.  However, Dion had one of the biggest plays of the game when he collected the rebound off his own missed free-throw with 21 seconds left, one of six rebounds in the game (3 offensive).  He also was looking for his teammates, and had 2 dimes, and a few more passes that led to open looks and free throws.  As A.C. said, Dion's ability to contribute and keep his head in the game when his shot wasn't falling, was a key to the Cavs' win.  His contributions, especially on defense, transcended the box score.
Jarrett Jack had a nice game with 11 points, nine boards, three assists, and two turnovers, in 32 minutes.  He also had a one of the games biggest plays: a 39 footer to close the third quarter, after the Clippers had gone on a 9-2 run.  It cut the lead to one, and really blunted the momentum the Clippers had gained after the Cavs had pissed the lead away. Jarrett Jack might be the best small forward on the roster…
Speaking of small forwards, Anthony Bennett had another comical turn.  In  the space of 37 seconds, he had a "who the hell are you passing to?" turnover, and was twice matched up with Jamal Crawford. Bennett's slow footed panic-D made me wonder if he was wearing galoshes.  After two quick AB fouls, and five Jamal Crawford points, a Kyrie Irving substitution quickly followed.
Alonzo Gee played nice defense in 16 minutes, but needs to stop doing anything other than taking corner threes and shots at the basket. When he puts the ball on the floor, bad thing happen.
Earl Clark is so much better at backup power forward than he is at the three.
C.J. Miles is still struggling.  He was 1-7 in 19 minutes, and it's clear he's not one hundred percent yet.
Miscellaneous: Some chuckle-head with a "KYRIE DON'T LEAVE" T-shirt ran onto the floor at 3:09 in the 2nd.  He was quickly escorted off.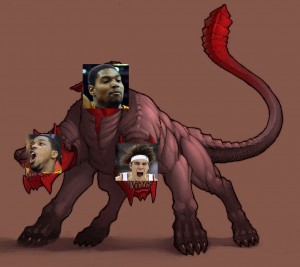 Cleveland has the worst collection of wings in the league right now, but with their front court and their back-court, when they defend, the Cavs can compete with anyone.  They have a very good three guard lineup, with three players who can get 20+ points on any given night.  Similarly, the three headed monster in the paint can out-rebound anyone in the league, and can score with the best of them.  Any one of those heads can get 15+ on any night, be it rebounds or points.  This was the best team the Cavs have beaten all year. Despite an awful outing Friday night, the Cavs have won three of four. Somebody pinch me.