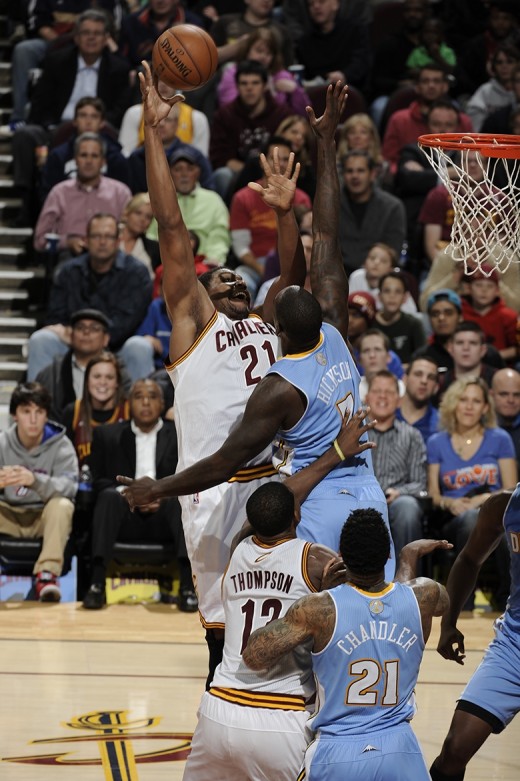 The Cavaliers rode a balance of front court dominance and Kyrie Irving… er, Kyrie Irving-ance to put some scuff on the gleaming Denver Nuggets. The Nuggets, winners of seven straight heading into Wednesday night's contest and one of the league's fastest paced teams, were held to 39.1% shooting. Their leading-scorer Ty Lawson was bottled up scoring only four points on 1-13 shooting, more than 16 points below his season average. For the Cavs, Irving led all scorers with 23 points, but the key to Cleveland's first relatively stress-free fourth quarter was the trio of Tristan Thompson, Andrew Bynum and Anderson Varejao, who combined for 49 points and 41 rebounds.
Cavs' First Winning Streak of the Season Bullets:
-Okay, let's get this out of the way. What is going on with Varejao's facial hair? I mean, that's all any of you could think about during the game, right? It wasn't Andy rediscovering his bolting cuts to the basket, his post game or his continually money elbow jumper. It was whatever that bizarre thing he's got going on in the upper-lip/chin region. I know. I get it. But, please, trust me. If you look past some of the poorest manicuring decisions this side of Drew Gooden, you'll see Varejao's first full game as the Andy of old. He was active and incredibly effective offensively to the tune of 18 points (on 7-9 shooting) to go along with 13 rebounds, three assists, three blocks, two steals and only one turnover. No, this man is not just a collection of mismanaged facial follicles. When he's playing like he did tonight — like he played in his abbreviated tenure last year — he is one of the most intelligent, entertaining players in the league. Period. But, seriously. Shave.
-Thompson followed up his solid 14/14 game against Chicago with an even more impressive 17 point and career-best 21 rebound game. He added three blocks (which, we all know by now, is gravy when it comes to a solid TT outing) and went 5-6 from the free throw line. For those of you scoring at home, Thompson is now hitting 75% of his free throws. That's a 15% increase from last season. Thompson also showed an increased understanding of where he should be to grab rebounds when Bynum shoots the ball. Sure, the Cavs front line was matched against the mostly undersized Nuggets starters of Kenneth Faried (6′ 8″) and former Cavalier heartthrob J.J. Hickson (6′ 9″), but that was the same mostly undersized Nuggets front line that ran the very tall Brooklyn bigs into a wall the night before. We should all take this game with a grain of whatever, but two above-solid games from Thompson against the active bigs of the Bulls and the Nuggets can't be anything but a good sign (yes, unless, of course, it is no sign at all…).
-Bynum was effective again going for 14 points and seven rebounds in just 20 minutes. He was showing some very nifty moves against both the smaller Hickson on the somewhat equally sized Timofey Mozgov early, but Varejao was just so effective against this Nuggets team that Mike Brown had the luxury of leaning much less on Bynum than he did on Saturday against the Bulls.
-We'll probably want to mention Dion Waiters. After coming off three straight 20-plus games, Waiters took a backseat scoring the ball, hitting only 2-8 shots for five points. But he did grab four rebounds and dish out six assists (against only two turnovers). Outside of his first touch of the game, a long two-pointer off a rare feed from Irving that missed just as we all knew it would, Waiters looked to manage the game more this time out. He passed up several chances to drive to the hoop choosing, instead, to try to set up one of his teammates. What you have to wonder with Waiters, though, is is there anything in between? Can he be a consistent scorer in this league while also being a player who can handle the ball, manage a tight game and make his teammates better. He's shown us he can do both, but rarely can he do the basketball equivalent of walking and chewing gum at the same time (okay, okay… yes, that's extremely reductive of the ability it takes to do all of the things I've just listed on an NBA level. Maybe, walking and… damn, that's the best I've got.).
-I don't have a ton to say about Irving. He got his 23 points on 9-20 shooting, but only shot three free throws (he hit all three) and dished out four assists. We're getting close, Kyrie. But, like with Dion, there's a certain roundness to the game that's eluding many of your performances this season. Your bigs get 49 points, but you only get four assists on those? Still, Irving's understanding of setting the pace of the game seems to be his biggest step forward in the last several games. We saw it against Miami and again against Chicago. Irving's trying to speed up this team and, so far, it's led to the team's most competitive stretch of the season (yes, Boston excluded).
Ten Words or Less:
-I could get behind Jack-Waiters-Bennett-Thompson-Varejao unit.
-Miles is a more complete player than given credit for.
-Thompson had nine rebounds in the first quarter.
-Cavs roster versatility finally showed up tonight.
-Only 12 turnovers makes Mike Brown defense look good.
-Next up: Hawks on Friday. [Note: Thanks to readers for catching the previous mistake.] [Other Note: Notes do not count against my ten words, in case you were wondering.] [Third Note: I know you were wondering.]