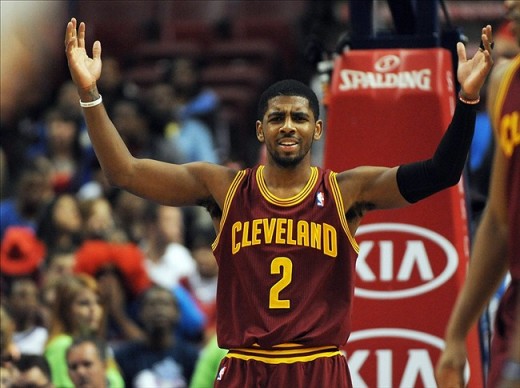 When the first half ends against New York on Tuesday, the initial quarter of the 2013 – 2014 season will have transpired.  It wasn't frequently pretty, featuring plenty of blown leads, runaway defeats, and miserable individual performances.  But as this period of the season draws to the close, the Cavs ride a three wins in four games streak, against opponents with a combined 43 – 38 record — with two of those wins on the second night of a back-to-back.  Recently, at least, individual performances reach or exceed the thresholds expected for the season.  A sampling…
In his last four games, Tristan averaged 15 points and 14.8 rebounds, with more assists than turnovers and league average 53.7% true shooting.  In the 145 minutes he played, Cleveland finished plus-12, while in the 37 minutes he sat, the Cavs plummet to minus-11.  This is the borderline All-star TT that flexes his muscles periodically.
In 24 minutes per night during these four tilts, Andy is averaging 8 points, 10 boards, 2 assists, and less than 1 turnover.  If he can play at that minute limit threshold, and provide that production for the next two years, that would be perfect.
In 28 minutes per night, Bynum tallied 18 points, 9 boards, and 2 blocks, with stellar 58% true shooting.  Still a bit slow on defense, the Cavs were outscored by nine points when he played compared to finishing plus-10 when he sat, but if he can stay healthy, I did not dare dream for much more from Bynum than this.  As a bonus, the big men totaled 22 assists against 14 turnovers during this stretch.
Over Dion's most recent six games (including the losses against Miami and Boston), in 31 minutes, he averaged 17 points, 4 boards, 3 assists and 3 turnovers on 56% true shooting.  He turns 22 on Tuesday, and his defense has improved from last year.  Keep upping that defensive performance, knock those turnovers down by one per game, and that line looks totally acceptable for production during his prime (let's say age 24 to 30).  This has been one of those encouraging stretches, when he looks so close to "getting it".  In the 185 minutes he played, the Cavs lost by six points (minus-1.5 points per 48 minutes).  In the other 103 minutes, the team suffered a 21 point defeat (minus-9.8 per 48).  When the shot isn't falling, Dion, keep your head up…there are other means to help other than shot-making.
So, Tristan, Andrew, Anderson, and Dion are playing reasonably well.  Now a drumroll, please…the second, lightning strike #1 pick to hit the Cleveland Cavaliers in ten years…one of the most magnificently efficient 20-year old scorers in history…2012 NBA All-Star…Kyrie Irving!!  His four game averages from the recent team-wide uptrend?!?!  In 34 per minutes per game…
15.5 points, 5 assists and 3 rebounds on 42.6% true shooting.  Huh?
I'm not highlighting a unique item here.  This is a topic of frequent conversation, and it's quickly overtaken the early locker room drama as the story of the early season. What is up with Kyrie?  It's not just these four games.  For the season, he is shooting 39 / 30 / 78.  Since last year's all-star break, in nearly half a season (37 games), his 19.8 points per game come on 41 / 31 / 82 percentages (49% true shooting).
Suddenly last February, Kyrie Irving became a run of the mill, volume chucker.  That 41% field goal percentage and 31% from deep is identical to Dion Waiters' first year.  I like Dion, but you don't want to shoot with the efficiency of his rookie annum.  Why is Kyrie shooting like this, and how will it correct itself?
I don't have answers.  Perhaps last year's All-Star break filled his head with delusions that he was bullet-proof, and he started taking a couple of unwarranted shots every game.   Maybe the added muscle has affected his stroke.  There's a possibility that he clashed with Coach Scott towards the end of last season, and / or Coach Brown this season.  Related, perhaps he doesn't enjoy Cleveland, or his teammates, and these factors are affecting his play. Feasibly, this is just a slump; a half-season long slump.  Maybe his hugely successful All-Star run, lead him to decide he "made it", and not work enough this summer.  Conceivably, maybe his all-star fame lead to too many connections with out of town women, and he's hanging out with gorgeous model girlfriends as he makes his first post All-Star rounds of every NBA city.  Now I'm just randomly throwing stuff at the wall, but his road splits are 18 points and only 4.8 assists, on 45.6% true shooting…maybe that last idea is on to something.
Again, I don't know the answer to what is plaguing Kyrie.  I know two things though.  First, in his initial 93 games, the NBA saw enough to know that Kyrie Irving has the skills to be an elite talent for a long time.  Second, while continued strides from Tristan, Dion, et al., are vital, the pinnacle success of this rebuild rests with Kyrie resuming superstar trajectory.  Whether internal to his head and habits, or a franchise-wide failing, hopefully someone figures out the solution soon.