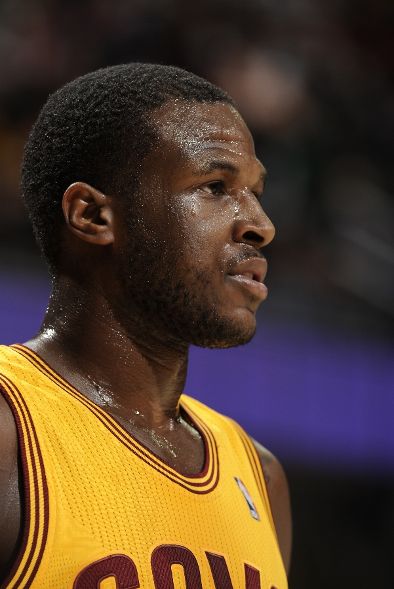 First off, I am firmly in the camp that believes the Cavaliers should not trade Waiters. This year's Cavs offense has been 10 points per possession better with Waiters on the court, and he is part of the most efficient Cavs lineup. Since ESPN reported that he was being hawked on the open market, his play has been stellar. Scoring has ticked up, but what's been most impressive is how he's improving his shot selection towards the mostly-layups-and-threes prescription and reducing his tendency to fire away from midrange.
You could examine this cynically and come to the conclusion that he is seizing the opportunity to audition for the rest of the league. There are some rumors (which feel pretty true given the soap opera of the past two weeks) about the iciness of his relationship with Kyrie Irving. Signs may point to his desire to get out of Dodge, but punting the most dynamic player of a frustrating Cavs team would be a mistake. He gets a lot of flak, mostly based on his propensity to shoot everything all the time and who the Cavs passed on to take him, but he has shown noticeable improvement. Waiters' ability to slash through multiple layers of defense provides precious movement for a stagnant offense. There aren't any other players on the team besides Kyrie who can impose their will to the degree Waiters can, regardless of his deficiencies. He likely has a way to go as a player, and it feels as if he is on the path to realizing this potential, be it as a sixth man (my money is on this) or as a starter.
A lot of athletes say winning cures all ills, and while this statement is more about papering over cracks than genuinely mending fences, there is an element of truth to it. Chemistry is vitally important, particularly now as NBA offenses grow more and more sophisticated by the year. If Waiters presents a chemistry concern, then that's probably the biggest reason he sits on the trade block. However, jettisoning young players who are fiery and vocal too early misses the point that they can improve as teammates as well as players. Look no further than DeMarcus Cousins. Waiters doesn't have nearly as far to go as Cousins did, and the Cavs starting to play better basketball would help a great deal in getting everyone back to feeling warm fuzzies. Teams will be looking at both who Waiters is and who they think he'll be, and the Cavs need to consider both with any players to look at as well.
Which means that any trade involving him would need to replace that hypothetical uptick in future production. Getting into trade projections is a really messy business which can obfuscate the alchemical collective element of successful NBA basketball. However, it's not an impossible thought exercise, and if the rumors are true, it can prove a valuable window into guarded lines of thinking about the team at organizational levels.
The three main names that have popped up in reports are Luol Deng, Evan Turner, and Iman Shumpert. All three are varying degrees of available and all roughly approximate the skillset of Waiters (less so in the case of Deng). However, there are problems with all three, and none would be sufficient return on the potential of Waiters.
Luol Deng: With a trade for Deng, the Cavs would be doubling down on this current core as ready to win now. Deng is a veteran former all-star, chiefly notable for his defensive abilities and shooting. The problem there is that Deng has been beaten into the ground by Tom Thibodeau, leading the league in minutes per game this year and in the top five in most other years. As John pointed out on Monday's podcast, he is the league's oldest 28-year old. From a basketball perspective, he would be a massive upgrade over all of Cleveland's other starting small forwards. Mike Brown would love his defensive and shooting abilities, that is, if he could figure out how to use him properly. The biggest problem with Deng isn't fit, but the future. His contract for 2013-2014 is for $15 million and he will be a free agent after it expires in June. Best case scenario for the timeline involving a Waiters-Deng swap is that he re-ups for cheap after he helps the Cavs to the postseason. Prospects are murky, and a far likelier case would end with Deng's departure to a contending team in the summer. Lot of risk for a still-developing 21-year old.
Evan Turner: Turner's fast start has turned him from someone the Sixers were looking to dump into a player the Cavs are maybe inquiring about for the 2012 fourth overall pick. He hasn't replicated his college dominance at the pro level, but he does play a similarly balanced game. The problem there is that often 'balanced' is code for 'nothing special', which is true in Turner's case. He can play all three backcourt positions, which again is a slightly coded way to say he isn't going to present any significant problems for defenders at any of those three given matchups. In the podcast, your Cavs: The Bloggers referred to him as a Swiss Army Butter Knife, which, yep that's right. On the Cavs, he wouldn't make sense. I mean he would, in that he kind of approximates a collage of a few Cavs bench players, but he isn't nearly as good a player as Dion, and is closer to his hypothetical ceiling. His numbers are up this year, but the Sixers play the fastest pace in the league (via Basketball Reference) and this tends to inflate numbers. Also, the Cavs struggle greatly with spacing and he is a career 31% shooter who averages 0.5 threes per 36. His improvement isn't as substantial as it seems, not worth the risk.
Iman Shumpert: Nope. There is a Knicks effect in play, where Shump's value is perceived as higher than it actually is because of how much exposure he gets. Plus on that team, anyone who plays competent defense will be lauded. His defensive rating was 214th in the league last year, sandwiched between J.R. Smith and Tornike Shengelia. Perhaps this is a bit unfair, since as the only decent (eye test) guard defender on the Knicks, he was asked to guard superior players. That being said, he is not the elite defender many perceive him as. Which is a problem because his offense is bad. He is a decent three-point shooter, but his career field goal percentage is 40% and he had negative offensive win shares as a rookie, a season in which he played the majority of his career minutes. His defense would be a blessing for a Cavs team that has regressed back to 21st in the league in defensive efficiency, but the tradeoffs on the other end would only exacerbate the issues of an very bad offense.
However, returns on trades involving Waiters are not necessarily restricted to this trio. These are just names of players the Cavs have inquired about. Now that Waiters' availability has been made known, interested teams can pitch Cleveland, thus expanding the pool of available options. While I am pro-Waiters on the Cavs, there are a few dudes whose acquisition I would support. The problem is that most of these players are unattainable (Nikola Vucevic, Terrence Jones, Nic Batum) or slightly redundant (Reggie Jackson, Vucevic again, Steven Adams to a lesser degree). An intriguing option is the Magic's Arron Afflalo, who is seemingly available as the Magic gear up for some serious tanking. He has been a borderline all-star this season, and would replicate Waiters shooting (he's almost at 50%) and bring in slightly superior defending talent and playmaking ability. He is 28 and his contract has 3 years and $23 million left on it. Another player all Cavs fans would be thrilled to acquire is Milwaukee's Giannis Antetokounmpo. He fits a position of need, can play defense but jajajajaja, no way that's gonna happen.
So, assessing the options, at least the given ones reads as a big fat 'DO NOT SELL.' Waiters is still improving and any returns would be less-skilled, more crystalline players. We'll have to wait and see what Chris Grant does.