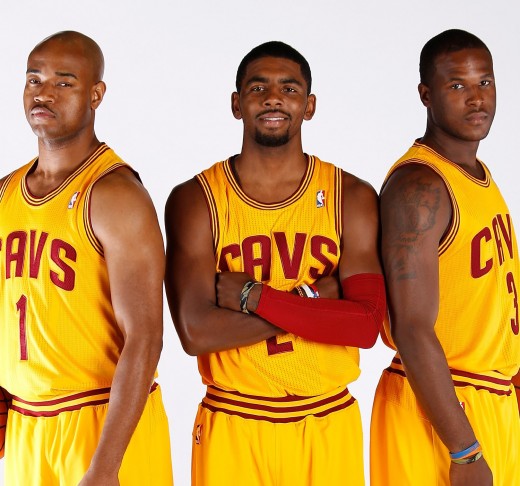 Many areas plague the early performance of the Cleveland Cavaliers, particularly on offense.  Those include poor individual play, a lack of team chemistry, potential redundancy of skills between various players, limited implementation of an offensive system…this list could extend for a while.
Today, I will briefly look at two of those problems.  First, the combination of Kyrie and Dion in the backcourt, then the impact of the 2013 free agency haul of Andrew Bynum, Jarrett Jack, and Earl Clark.
Certainly some people question the compatibility of an Irving – Waiters backcourt as it relates to their style of play.  Basically, they both need the ball in their hands, which makes it hard for the pairing to work.   To investigate this, I looked at the top performing offenses of the first month of this season (through 11/29 games).  How reliant are those teams on their backcourts?  Can it tell Cavs fans anything about the Wine & Gold's tandem of 21-year olds?
The list below includes the two highest usage rates from a guard or wing that had played 400 or more minutes on the NBA's top-ten offenses of this season.  Granted, it's only one month,  but is worth a look.  The usage rates are from basketball-reference, where they define the stat as the sum of a player's shot attempts, free throws (multiplied by 0.44) and turnovers divided by the sum of their team's totals in those categories.
Miami – Lebron James (30.1), Dwyane Wade (27.8)
Houston – James Harden (26.9), Jeremy Lin (21.9)
Portland – Damian Lillard (24.7), Nic Batum (17.6)
LAC – Jamal Crawford (25.6), Chris Paul (24.0)
Dallas – Monta Ellis (27.6), Vince Carter (22.1, 384 minutes), Jose Calderon (14.9)
New Orleans – Tyreke Evans (25.1, 379 minutes), Eric Gordon (23.9), Jrue Holiday (23.3)
San Antonio – Tony Parker (27.3), Manu Ginobli (22.2, 372 minutes), Kawhi Leonard (19.9)
Denver – Ty Lawson (24.8), Randy Foye (17.4, 393 minutes)
Phoenix – Eric Bledsoe (26.5, 341 minutes), Goran Dragic (24.1), Gerald Green (22.3)
Minnesota – Kevin Martin (26), Corey Brewer (18.0), Ricky Rubio (15.5)
At at #28, your Cleveland Cavaliers, with Kyrie Irving (31.6) and Dion Waiters (26.9).
The most prevalent item of note is that none of these squads have a guard / wing duo with a higher combined usage rate than Kyrie and Dion…not even Lebron and Wade.  None of the players listed above has a usage rate higher than Kyrie.  Dwyane Wade is the only second banana more utilized than Waiters.  It is ridiculous that Dion Waiters has the same place in the Cavalier offense as James Harden does in Houston, with Kyrie 5 possessions per 100 above that.  Does this mean the two young Cavs can't co-exist as part of a strong offense?
Possibly "yes", but the answer isn't automatically "no".  Underneath the unattainably lofty perch occupied by Lebron & Wade and Durant & Westbrook (#11 ranked offense, with combined usage exceeding Kyrie and Dion), five of these teams feature backcourts with a high usage backcourt tandem combining for approximately 50%.  In addition, Golden State and Detroit rank 12th and 13th in offensive rating, with similarly high usage backcourts.  My prognosis for this backcourt to work for the Cavs: both players need to shoot less, and pass more willingly; this isn't a one guy or the other thing.  Actually, Tom Haberstroh recently wrote an article that perfectly supplements this; Kyrie is the NBA's 10th worst "ballhog", while Dion rates as the 10th most obnoxious "blackhole".  Fun stuff.
Kyrie's usage has increased each year, now among the highest in the NBA, with his shooting efficiency decreasing every season.  Instead of 31+, maybe 28% usage is his sweet spot.  Certainly there are opportunities where Kyrie finds a shot, when a pass would prove more advantageous.  Same story for Dion.  Coming out of Syracuse, one of his strengths was court vision from the shooting guard position.  We have certainly seen flashes of that, with Dion averaging 3 assists per game last year, with a 1.5 to 1 dime-to-turnover ratio.  This year the former is down, the latter up, and both of those trends need righted.  Rather than 26 – 27% usage, can Dion dial it back a bit, and involve teammates better?  Moral of the story; none of the best offensive teams of this season rely on one player as much as Cleveland does on Kyrie; and only Miami and OKC rely as much on a backcourt twosome (let's not compare Kyrie / Dion to them); but over half of the top teams feature a backcourt duo that is "high usage" (approximately 50% combined).  For team offensive success, both guys need to move the ball better, maybe finding a niche in the combined 50 – 53% usage range as their careers progress.  Plenty of teams are making their offenses hum with backcourts similar to that level.
Part of the problem for the Cavs though is, who do they pass to?  Of Cavs with over 250 minutes, only Varejao's offensive rating of 114, eclipes a depressing 101.  Average NBA offensive rating is 104, with the ten teams listed above all at 107 or higher.  As a general rule, an individual's offensive rating will decrease with the more possessions that they are forced to use.  Essentially what that means for the current Cavs, is they have only one player that should be completing more of the team's offensive plays than they currently are (Andy's usage is a paltry 13.5).  Forcing the ball to anyone else for more shots just results in them taking additional inefficient shots.
To wrap this story up, the offense is a ridiculous mess.  The fault does not completely lie at the feet of a mis-paired backcourt though.  Kyrie and Dion probably need to shoot less, taking better shots, while passing a bit more, hopefully to Andy on a pick and roll.  CJ Miles is now healthy, and is again available as a target; let him shoot, too.  Tristan needs to score more efficiently and carry some  slack.  But wait…didn't the Cavs add their largest contingent of free agents since 2005?  Those guys should offer some offensive relief, right?  For this season to not spiral into disaster, the free agent group of 2013 needs to show what they can bring to the table.  Let's start with Earl Clark:
Earl Clark
He came with the lowest expectations, and also with the lowest risk: a contract with only one year guaranteed at $4.5 million.  Through November for Clark, there is good news, as he made 46% of his threes.  There is also bad news, as he converts only 35% from inside the arc, and has only shot eight free throws.  Is there anyone that beats the 11% three-pointer to two-pointer differential?  Add it all up, and his true shooting percentage ranks 48th of 59 qualified small forwards.  His rebound and assist rates dropped significantly from last season.  Not that this is a shock, but he is not a good offensive player, never has been, and probably can not provide any reasonable relief value for the guards.   A big missing piece of this Cavalier puzzle is still finding a reasonable offensive option at small forward.  That should help relieve offensive weight from Kyrie and / or Dion, but will also help at the defensive end.  Cleveland's defense has been 4.5 points per 100 possessions better when Clark plays, but way too frequently the alternative has been Waiters playing small forward.  Hopefully with Miles' return, we see less of Dion manning up with Lebron, Luol Deng, Jeff Green, Gerald Wallace, etc.
Andrew Bynum
The bright side is that the former All-Star seven-footer is healthy and playing!!  I am not sure anyone expected to see 200+ minutes in November.
The down side is that those minutes have generally been very bad.
Prior to Saturday night, his field goal percentage was 37%.  That is hideous for a big man, especially considering Cleveland has made a priority of feeding him the ball; his usage rate ranks third on the team behind Kyrie and Dion.  For the most part, the team has looked worse at both ends of the court while trying to acclimate to their new big man.   Even after Saturday, with Bynum on the court, the team is 6.5 points per 100 possessions worse on offense and 2.7 points worse on defense.
Of course in his most recent effort, he offered a fairytale line of 20 points, 10 rebounds, 5 blocks and 3 assists.  That was on the second night of a back-to-back, playing in his seventh consecutive game.  The offense looked smooth, with the ball swinging out from the post, then around the perimeter for open shots.  I don't want to get overly excited about one game, but strong play from Bynum is an absolute wildcard that provides an additional offensive option, and helps in the effort to turn around the season (with Saturday night as Exhibit A).
To some extent, the next two weeks are critical for the Andrew Bynum experiment.  On December 15th, free agent signees from this summer can be traded.  Hopefully, his play  starts to more frequently resemble the game against Chicago (please, please, let this happen).  If not, shopping his non-guaranteed contract and some draft picks may be Cleveland's best-valued trade piece to gain some help from any team looking to tank, shed salary, etc.
Jarrett Jack
This was the signing with the highest stakes from last summer.  Four years and $25 million ($19.4 million guaranteed) for a guy that turned 30 two days before opening night.  The hope was that he would be a combo-guard forming a solid three-man backcourt rotation with Kyrie and Dion for a few years.  Perhaps towards the end of his contract, a big dropoff would be expected…but to bring free agents to Cleveland, the team needs to pay one year too many, right?  Such is life as a small market.
So far, his contract looks like four years too many though.  Jack's PER is at a career low, as are his Offensive Win Shares per 48 minutes, thanks to career-worst Offensive Rating and lowest usage since 2009 – 2010.  His rebounding rate is at the second lowest of his career, and his ratio of free throw attempts per field goal sinks to all-time worsts.  His assist rate is lower than the past two seasons, while his turnover rate and assist-to-turnver ratio hit career worsts. Finally, the Cavs offense has been 8.3 points worse per 100 possessions when he plays (For those counting at home, all three of the $23 million crew of free agents have resulted in the Cavalier offense performing worse when they have been on the court this season).
Jack's shot chart is ugly, taking only 14% of his shots close to basket, compared to last year, when he took 21% of his attempts from that range.  Last year, this chart included only one zone that was not green or yellow.  This year, there is a lot of red: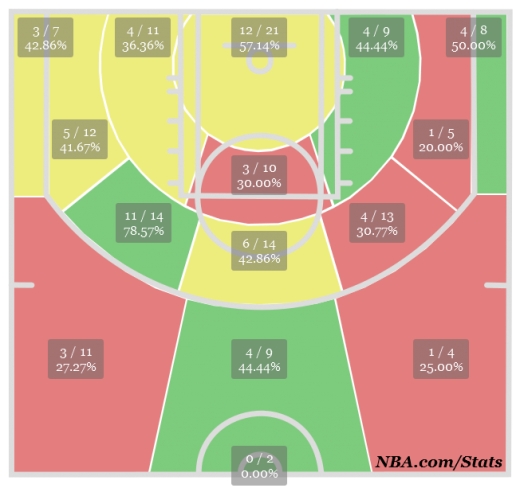 What if Jarrett Jack just inked his "sign and retire" contract?  A struggling 30-year old combo guard with four years remaining on his contract is fairly immovable.  If Jack plays like this for four years, the Cavs got hosed.  Amongst the other things, Jack has to step up.
Wrap-up
It is hard to find answers when there are so many questions.  The Cavs offense is putrid.  This is due to many things.  Some of it is an over-reliance on Kyrie and Dion.  Whether this is the planned offense, or completely of their own doing, I don't know.  In an ideal scenario, they both start passing more frequently.  Unfortunately, to whom?  Almost no one on the roster has been reliable, including the $23 million worth of veteran free agents brought on board to stabilize the club.  Small forward continues to be an offensive dead spot.  I am not sure what the answer is, but hopefully Mike Brown, his assistants, and the players do.
*according to the NBA player tracking, Bynum is averaging 0.2 secondary assists per game.  That means he has 2 or 3 on the season.  I think two of those were on Saturday night, for an indication of the ridiculous contrast between the way the offense worked off him from his first twelve games, compared to his thirteenth.