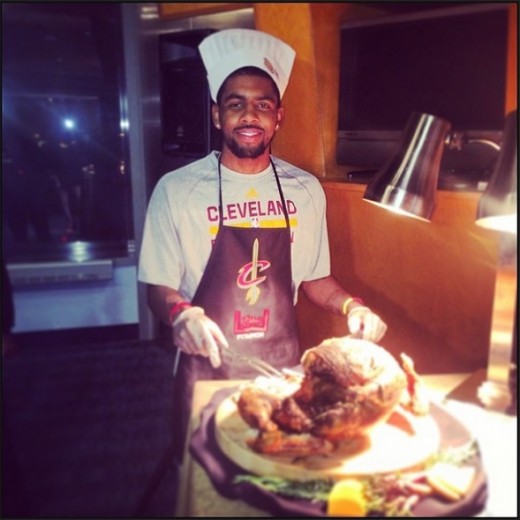 Happy Thanksgiving, fans. Sorry for the lack of content this morning, that roundtable wore us out, and we're all trying to get all our cooking done before T-Day. John Krolik will have the recap tonight. Enjoy the game, everyone, and please have a wonderful and safe holiday.
To the links! First off, in case you didn't hear it, a former Cleveland hero is returning to town tonight. That's right, Norris Cole is back in Cleveland.
Brian Windhorst was on the Really Big Show with Tony Rizzo and Aaron Goldhammer on ESPN850 this morning. Highlights include:
The LeBron James/Cleveland detente.  There's definitely a "thaw."  People are "letting go of the fear and hatred that existed two years ago."
"The Heat's grip on LeBron has never been tighter than it is right now… LeBron is going nowhere right now… but, it doesn't matter where things are right now.  It matters what happens in July."
Dan Gilbert is "steaming mad.  He expected this to be a much improved team. I know he stomped out of the arena the other night after the latest home loss, red faced."
Cleveland is going to make a trade this year. The Kings pick could actually end up out of the top ten, which means it would go to the Cavs, because the East is so bad.
On Chris Grant, "His drafts are under fire right now.  But, you can't change his draft. So you have to see how his players play out. And you've got to give him the opportunity to make adjustments during the season… Firing the general manager in the middle of the season is a terrible idea."
"Kyrie has to prove that he is a max player… he's not showing leadership." But, he is the only "untouchable."
"The Cavs have too many power forwards… they have to turn one into a small forward… and they have to bring in more talent."
"It would really help if some of their young players would play up to their potential. Some of them aren't."
Luol Deng "absolutely" will be available in Febuary, and the Cavs have the assets to get him.
Jacob Rosen of WFNY has a nice article entitled "Making Sense of Dion Waiters' present and future." Noted in that article is that Dion is much better at catch and shoot than he is on pull-ups. From NBA.com: Dion's effective field goal percentage 64.6% on catch-and shoots (he almost exclusively shoots threes in catch-and-shoot situations) vs. 33.1% on pull-ups and 38.2% on drives.  Notice Dion's shot chart. He's 7/10 from the corners, 19/55 at the basket. The Moral? Dion should should be camping out in the corners and the wing, and moving for catch-and-shoot opportunities, and putting the ball on the floor less.
Anderson Varejao believes LeBron could come back some day.  "It could happen… Bron is from Akron. Akron is not too far from here. Eventually in his career, he probably wants to play at home."
The Beacon Journal's Marla Ridenour on the Bring Home LeBron movement, highlighted by the addition of 2012 court stormer, James Blair.
Before the Cavs host the Heat, Raggi, Blair and supporters will pass out 2,000 bright green T-shirts at three tables outside the Q from 5:30 to 7:15 p.m. Those who take a picture wearing the shirt and tweet @ComeHomeLebron will be eligible to win 2014-15 Cavs season tickets.
Kyrie Irving says the Cavs are "in high spirits," in this completely unconvincing video.  "Every time not only myself but my teammates get a chance to play in front of the hometown crowd, it's always exciting for us." Let's hope Kyrie is replaced at press events by the Kyrie-bot 5000 with inspiration mode.  Come on Kyrie, it's Thanksgiving! Everyone needs to smile at Thanksgiving! Like in the picture!