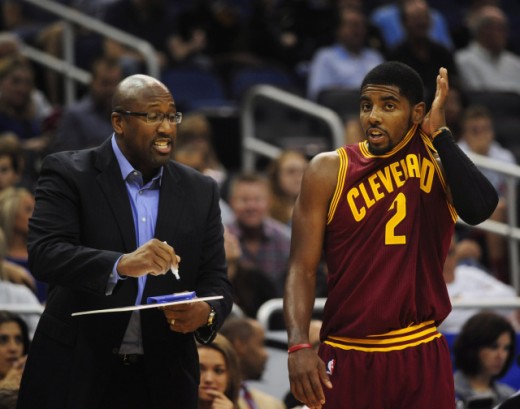 Question 1: What's the most surprising thing about the Cavaliers' season thus far?
Tom: Everything about the Andrew Bynum experience has surprised me.  I'm surprised he's already playing, surprised at how depressed he seems despite playing (and being on track for all his contract incentives), surprised at how serious he seems (I thought he was going to be goofy in a Manny Ramirez kinda way), and I'm surprised how little his presence is moving the needle for the Cavs.
John: Kyrie's ineffectiveness. I thought people were prematurely anointing him as a top-10 player before the season (I'm not a RINGGZZZ guy, but I do think you should have played on a team that wasn't terrible to be considered one of the NBA's elite), but I had no idea he'd struggle like this. He's barely shooting 40%, and while his assist ratio has remained about the same as it was last season, it certainly looks like he's pressing a lot more and looking to pass less. The offense has been a disaster, and the biggest problem is that the team's star point guard doesn't seem to be on the same page as anyone else on the floor. And he's been playing waaay too much hero-ball in crunch time — I know he's developed a reputation as a closer, but he's been hurting the team by putting the blinders on late in games.
Patrick: How bad they've been. In the season preview podcast, most everyone picked them to make the playoffs, or at least hover. With the East as awful as it is, it's still possible but the team just looks dreadful across the board. Defensive improvement has been heartening at least.
Robert: I'm trying to think if anything beyond "shocking number of ways in which this team is a smoking train wreck to start the season" qualifies as a surprise. Clearly, we're all surprised by the extent to which we've been force fed alternating waves of nausea and disappointment while watching this team. But, really, I think the fact that Andrew Bynum is playing as regularly as he has been since the season's start is actually more surprising than the team's struggles. Bynum is learning how to play as a 25-year-old 45-year-old and the team is learning how to play with a significant (if only intermittently effective, right now) post player, but if you asked me before the season if it was more likely that the team would be 4-10 at this point or if Bynum would be playing in back-to-back games … well, I've watched enough Cavaliers basketball in my life to never be too surprised by 4-10.
Nate: This is probably everyone's answer, but they're just so… bad.  It's not just that they can't shoot, dribble, defend, etc..  It's that they look so poorly prepared for every game, give no effort, and seem to have no ability to make reactions to changes in real-time.  Awful in-game adjustments have long been a Mike Brown staple, but that failure has reached new lows this year. Given such a young team, if the opponent they're playing doesn't run their plays according to the scouting report, then Cleveland seems helpless to counter.
Kevin: Anthony Bennett.  I know he's a rookie who had shoulder surgery this summer, but his shooting percentages are: 26 / 13 / 33.  After eleven games and 122 minutes, how is that possible?  There certainly exists a contingent of fans & media that didn't like this pick, but surely no one predicted that level of fail. I don't know what ability the team has to influence players over the summer, but there is no way he should have arrived at training camp as unprepared as he did.
Question 2: There's been rumors of off-court drama with the Cavs.  Very few details, but lots of whispers of deeper problems than their point differential.  Do you think there is anything to this?
Tom: Maybe – but the Cavs seem to have a collection of high character guys.  I doubt they are fighting with each other – or at least I doubt it's unhealthy.  It's more likely they are depressed and shell shocked.  Brian Windhorst used to say something like: Winning covers up a lot of warts (in the locker room).  This kind of losing is going to put an electron microscope on any blemishes.
John: No idea. Rumors are rumors. What I do know is that the 5 guys on the court seem to have 5 ideas of what's supposed to happen, especially on offense.
Patrick: I hope not, but it seems probable. When you have a team that adds an all-star and is stocked with young talent theoretically ready to improve and that team falls on it's face immediately, there will be a fair bit of tension. Expectations can be tricky like that.
Robert: I'm having a very difficult time liking this team right now, so it wouldn't shock me if some of them don't care too much for each other either. If they start winning and the rumored drama-stoker, Dion Waiters, is playing well, even if he's coming off the bench, look for that to go away. But, it can't be fun to play on a team where the player tasked with getting you the ball in your favorite spots to score resorts to an And-1-dian display of dribbling excess and only seems willing to pass to that tall Brazilian guy and, only then, as a last resort.
Nate: The off the court stuff is mostly benign.  No one is going out and getting DUIs. This isn't Jason Kidd and Jimmy Jackson fighting over Toni Braxton.  This is a bunch of guys sick of getting their butts kicked, and being ticked off about it. I wish they were ticked off about it on the court, but other than that, what are we going to do?  We're not privy to the day-to-day interactions of the players and coaches, nor would I want to be. Dion and Kyrie both want the ball. I don't know why they don't like passing to each other, but if I was Brown, I'd be making public comments about it or call time outs when it happens. Maybe he should do what my Mom used to do to me and my brother: make us write 1500 words about what we like about each other, or make us hug for five minutes every time we fought over the T.V. (the brotherly equivalent of freezing each other out on the court). The Cavs could really use a "team Mom." Maybe Donovan McNabb's Mom is free since she's not doing those Chunky Soup commercials anymore.
Kevin: I definitely do not think anyone punched anyone else.  Through 14 games though, we've seen Kyrie blow off Coach Brown, the team hold a players only meeting, and some efforts that have been downright lethargic.  I have no idea to what extent, but there has to be some level of poor kindredship and communication hindering the team.  These guys are definitely not having fun right now.
Question 3: What is most ailing the Cavs?  Lack of talent, lack of effort, lack of chemistry, or lack of execution?
Tom: Lack of effort.  The Matthew Dellavadova saga is all the proof we need.  During the travesty that was the home game against the Wizard's there was a sequence with 5 minutes left in the 1st quarter that summed up the Cavs defensive woes.  After a John Wall rebound the Cavs packed the paint and refused to contest any 3-point shooters.  This has been a maddening trend, and I assumed Martell Webster would can the wide open 3 that he was gifted.  He missed, but Marcin Gortat flew in between 4 (FOUR!) Cavalier defenders that were all inside the painted area to secure the rebound.  (Again, FOUR guys!) Seconds later, Webster cut to the hoop, received an unimpeded pass and threw down a dunk (with the 4 Cavaliers still planted in the paint).  I'm not sure any Cavalier touched any Wizard during this sequence.  It seems like this should be a difficult feat against cardboard cutouts, much less organic beings with movable appendages.  The lack of effort by the majority of the roster in the game was egregious.  It may not be an intentional lack of effort (can you really quit on your coach 2 weeks into his tenure?), but it's impossible to compete in the NBA playing with such little intensity.
John: Like I mentioned above, complete lack of cohesion. Nobody is making anybody better in any fashion, and whether that's the offensive system (or lack thereof) failing to put the players in positions to create for each other or the players' unwillingness to create for each other making it impossible for there to be an offensive system, it's not good.
Patrick: Probably talent, but there is a glaring cohesion problem. The Cavs look mediocre on paper and even worse on hardwood.
Robert: The only thing this team seems not to lack is things to lack. This team is like a pu pu platter of lack. But, if I had to pick the tastiest morsels from the platter, I'd say that the effort and execution questions are very much linked. I don't believe that the team is quitting on Mike Brown or that any of its players think they are not giving effort. But, as Austin Carr pointed out during the broadcast of the Wizards' loss last week, "Sometimes guys think they're playing hard, but they're not actually playing hard." The perception of overall team effort, though, is dampened by the the team being completely in their own heads when it comes to executing the defensive or offense (I know, I know … such as it is). Five guys on a string? Right now, we're lucky to get two guys on a string and maybe one other guy who those two guys met once at a work party a couple months back and don't think is entirely lame. If the team can weather this learning curve that has made a punching bag of their collective confidence, we should get a more accurate sense of who is actually playing hard, who plays well with whom, and who won't be around in 2014-15.
Nate: Effort: as I wrote Friday, when you work for someone who makes arbitrary decisions that don't make any sense, and you see someone being favored over you for no good reason, you're going to have a very hard time working hard for that person (Ahem, Mike Brown). When Anthony Bennett is playing awful because of lack of conditioning, talent, effort, etc. and then Henry Sims comes in and completely outclasses him, and the Bennett comes back in for no reason, it has to be really hard to want to try. NBA players aren't blind or dumb. If I'm an employee and some idiot suit from marketing gets promoted because he was the CFO's hire, and not me, then what's my motivation to work harder, rather than do just enough to get by? There is none. Further, this begins and ends with Kyrie. If the best player on the team isn't going to try hard: work to get better, get his teammates involve, hustle, and play defense, then the team's not going to get better. When Kyrie gets to play after he's played no defense for the last three quarters, and Dion is on the bench taking the brunt of the criticism, that sends a clear message that there's arbitrary hierarchy within the Cavs organization. That's what is most ailing this team: it doesn't seem like a very fair meritocracy. The Saturday before last, against Washington, Kyrie was the up-and-coming star we'd thought he'd be. This last weekend against the Spurs, he and the Cavs' players took a dook in the urinal of the executive washroom.
Kevin: The last three things (effort / chemistry / execution) are all intertangled, and from my couch, I can't separate them.  Regarding execution, I am not sure if the players are not doing it, or if there just isn't a very good plan to execute, particularly on offense.  A lot of bad offensive habits are being manifested.  If it can be harnessed, the talent is there to be the 40-win team that was expected.
Question 4: If the malaise continues, does it make sense for the Cavs to be "buyers" and try to improve their standing this season, or accept their fate and take a gamble on a stacked draft?
Tom: The Cavs have tried to draft players with high upside.  Unfortunately, despite a cache of draft picks the last few seasons they've never had the luck to select a can't-miss talent.  Seems like there are a handful of can't-miss prospects in the upcoming draft.  The Cavaliers are desperately missing an overwhelming wing player that can create offense.  Their current offensive talent is small and incapable of making passes that force defenses to rotate.  The Cavaliers need to acquire a player that can – and they may need to do it through this draft.
John: Accept their fate. As bad as it sounds, the Cavs are EXTREMELY lucky to be 4-10 right now. 2 of their wins have come in overtime, and their other two wins have come by 1 point and 4 points. Meanwhile, they're getting blown out in most of their losses. Their record makes it look like they could maybe try and make a run at the 8th seed, but if you look at the point differential, they're one of the three worst teams in the league. I'm not looking forward to another tank through the season, but if this type of play continues, any thinking that the team is a trade away from the playoffs is completely deluded.
Patrick: I think the Cavs should tank. It's certainly a risk with Kyrie's contract situation looming, but if there was a year to punt and seek more talent, it's this one. The East is awful, and a playoff spot isn't out of reach just yet, but with the way this team looks, the ceiling may be a seven seed and a first round bounce. Of course, this ignores the LeBron James scenario, but the Cavs current basketball woes and organizational ennui look fairly preventative on that front.
Robert: The organization would be foolish to try to force fit the playoffs on this team, especially now that we've gotten a chance to see some of the top players start to play some college ball. If things don't improve, it will be because our young "core" has not improved enough — has not shown that they are ready to be consistent winners at this level — and, as Kevin pointed out, that will make trades involving those players much less appealing. Trading Varejao is probably on the table whether we're rounding into playoff shape or not, but if the team's problem is about the overall talent level, I'm not sure there's a trade out there that will bring a better infusion of it than having a good pick this year.
Nate: If the Cavs continue to fail, it only makes sense for them to be "buyers" if they can get guys who they feel can help the team long term. It doesn't make any sense to pick up short term fixes to claw to the eighth seed in the playoffs. Omer Asik is an example. His contract skyrockets to $15 million next year. That would be a player not worth bringing in. On the other hand when there's guys around like Thaddeus Young, Luol Deng, Wilson Chandler, etc., it might be worth giving up some future assets to plug a hole with a positive +/- who may be underrated around the league. The problem is, I no longer trust Chris Grant to make these decisions. I don't know what metrics he's looking at, but as a whole, his decisions seem poor. To give Earl Clark four million dollars when Demarre Carroll is making 2.5 is madness.
Kevin: I'll answer your question with questions. Who is the team selling?  Andy plus draft picks?  Some of the youngsters?  What can any of that produce that pays a long term dividend? It's a question without an easy answer, because the value of many of the players is not ideal right now.  I think the answer to whether the team is a buyer also depends on the answer to the previous questions.  How real and / or irreconcilable are any chemistry issues?  If those are not imaginary or can't be patched, a locker room shakeup may be needed. Tanking doesn't sound like a good outcome this year, because that basically requires that Kyrie, Dion, Tristan, Bennett and Zeller don't improve…then we get to hope that the next 20-year old is the answer.  This rebuild will turn into a 6-year plan really fast.
Question 5: Any good news to report?
Tom: Andrew Bynum's health seems to be progressing.  Even if limited, an active Bynum is someone to help score some easy points and prevent a layup line.  Also, despite what you've read on twitter and in the comment sections (or from Nate) Mike Brown is an excellent coach.  In time he will right the ship.
John: I could say something about Matthew Dellavedova or give a bronx cheer to Anthony Bennett for essentially doubling his career points total in garbage time against the Spurs, but the answer is that this has been the worst start imaginable for this team. At least this is a loaded draft, and the Cavs would "deserve" one of the coveted top-3 spots in the lottery if it went by Hollinger ratings and was held today.
Patrick: Dion Waiters has been okay!
Robert: There's stuff out there… statistical proof that Mike Brown has already improved the team's defense, Bynum, the fact that they can't possibly play this poorly over an entire season (could they?). But none of that really passes the smell test right now. There may be good news to speculate on, but to report? No, gang. Sorry. Bleak.
Nate: There's good news and bad news. Good news: First, This is all fixable. Look at Portland. They were completely directionless last year. There was talk of trading Aldridge, and now they're 12-2. Look at Atlanta.  They're third in the East right now at 8-6. Both these teams made moves to improve by adding players that were eminently gettable. Portland added Robin Lopez. Atlanta added DeMarre Caroll, Paul Millsap, and Gustavo Ayon. All of these players have a positive adjusted plus/minus. Bad news: Chris Grant and the Cavs aren't using APM or any other system that is having good results. They're not getting players that are helping them win. They're losing at Moneyball to guys like Danny Ferry. Good news: Andrew Bynum seems like he's rounding into a solid center who can play 25 minutes a night. Good news: Cleveland is a game and a half out of the playoffs, and there's plenty of time for improvement, but they have to stop tolerating half-assed effort, and start rewarding players who are exhibiting effort with playing time.  And if they don't, next year's draft is stacked — so that might be good news, right?
Kevin: The team still has a lot of cap space and draft picks.  Tristan is making 75% of his free throws.  Andrew Bynum has played in 10 games already.  Andy is back.  It's pretty limited right now, but those have all been good things.
Commentariat, how would you answer these?