The title quote comes from my wife, who does not watch the Cavs most nights and had to sit through this abysmal game. Now she knows what it's like to root for the Washington Generals.  26 minutes in, Cleveland was down by 43 points. They had no chance, and they played like they knew it.
The Starters
The Spurs shot 24 three pointers and made 16 of them tonight. The Cavs's defense is predicated on a "help and recover" system, and the Spurs used crisp ball movement to use that system against Cleveland and get wide open shots. Most of the the offense in the first half involved San Antonio running their standard playboook: drag screens in transition, baseline screens for shooters (see the "zipper" series), and random post-ups for Duncan. Danny Green ran Kyrie through all those off ball screens, and Kyrie got stuck — a lot, and Green was very open — a lot.  When that wasn't happening, San Antonio would run pick and roll or post action on the strong (usually right) side, wait for the Cavs' off ball defenders to suck into the middle and  instantly swing the ball to the weak side for wide open three from either wing or the left corner. It was viciously effective. The Spurs were persistent running in transition. Tiago Splitters' hook shot was unguardably ugly yet effective. Tim Duncan was quietly efficiency from the left block. And the Spurs, as usual, were unselfish passers. It was a bloodbath.
Tristan Thompson and Kyrie Irving finished -28 for the game. Thompson finished 1-8, his lone bucket coming on a dunk. Everything else was a hook shot or pull-up from inside the key that was either blocked or rushed. Defensively, he was invisible. Irving finished 7-17, and while he was competent offensively, San Antonio generally gave him little room, and as noted above, his defense was an abomination. Danny Green finished with a game high 17 in 21 minutes. Kyrie and Tristan don't get physical at all. I wouldn't mind seeing Irving getting a holding call or two when he's chasing guys around, or Tristan Thompson knocking a guard down when TT's man is setting an off ball screen. They tend to just let their men do whatever they want — getting to their comfort zones at will.
One of the few bright spots was Andrew Bynum, playing in his first back-to-back of the season. Bynum scored 16 and grabbed 6 boards in 21 minutes, with spry legs and an effective jumper from 10 to 20 feet.  Alonzo Gee was invisible, with one steal, one turnover, and no points in 16 minutes. More on Delly later.
The Bench
The starters got behind early, and then the bench came in and combined with them for a putrid second quarter, when they were outscored 35-11.  Once the Spurs had so many easy threes to start the game, the rhythm was there, and the rest of the threes poured like water. It didn't matter how open or covered guys were. The threes went in. Bonner, De Colo, Bellineli, and Patty Mills all had multiple three pointers off the bench.
Defensively, The Spurs were very active, and took away the Cavs primary options. San Antonio goaded the Cavs into bad shots, and Irving, Jack, and Waiters all were guilty of throwing up stupid long two pointers early in the shot clock. I don't think they realized that the Spurs were giving them those shots on purpose.
Andy had a decent game, offensively. He was 4-5, mostly around the post for 9 points and 6 boards in 13 minutes. Go Andy. It would be nice if your team gave you the ball more since you are the most efficient scorer on the team right now.  Jarret Jack was mostly awful and left the game after tweaking his neck.  He was complicit with Kyrie and Dion as they played, "bet you can't guess who I'm guarding!" most of the night. Dion  had a couple of "no-no-no-no… yes!" jumpers, but he got completely shut out at the rim. He finished 4-9 with 11 points. His game looked worse than his box score. Earl Clark is tall, but he's not very good.
The Scrubs
This was really two games, the first 28 minutes when the main guys did their Generals impersonation and Tim Duncan threw a bucket full of confetti at the ref, and the next 20 of extended garbage time. At least AB15 got some run.  He finished 4-5 with some decent looking jumpers, a dunk, five boards, and five really bad turnovers, but this was far and away his best shooting game as a pro.  He looked like he wasn't thinking too much, which is both good and bad.  Zeller played again, so that's something. Sergey Karasev looked solid, going 4-4 from the line with 8 points and 5 boards in 21 minutes, maybe he should play more. Carrick Felix got into his first game, and I'm intrigued. He looks like he's taking off from a trampoline every time he jumps.
Delly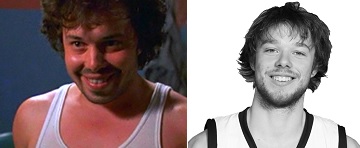 Matthew Dellavedova looked like a player this game. He stole the ball on the opening tip: one of four steals he had in the game. Matt was on Parker to start the game. He got beat a lot, but at least he looked like he was trying. Tony Parker is a pretty tough guard, especially for a guy playing in his third real game. Delly stepped out on pick and rolls, tried to pressure the ball, and most importantly, didn't settle for bad shots.  He tried get the ball to the inside, but the Spurs did a good job of cutting off his angles. Delly didn't get flustered, but would pass and move.  He and was the primary ball handler when he was only the floor, and outside of a couple bad passes, he did a decent job of getting the team into the offense. Delly was also the only starter who got minutes into garbage time. I don't know if that was a statement by Mike Brown, or if he wanted to just get Matty-D time to help his development.
I'm not going to say that the guy on the team making the least money  is playing harder than everyone else. When you get beat this badly, everyone deserves part of the blame, but there were few things I liked this game, and Delly was one of them. The Australian seems to improve a little each time he plays.  Tonight, he got inside for a couple layups and finished 6-8 and 1-2 from behind the line. He works when he's on the floor, and there's a headiness to his game that is uncommon in a rookie. Plus, he kind of looks like Booger from Revenge of the Nerds, which is awesome.
Coaching
Plain and simply, Cleveland looked poorly coached. If I can find the San Antonio playbook and film of it online, then it's a sad testament that the starters in this game were lost and completely unprepared for San Antonio's offense. I guess they don't have Google and YouTube. I do get that this is the second game in two nights on the road, but the Cavs looked bad. They were unable to do simple things. They had an in-bounds pass stolen after San Antonio made a bucket.  They had another play where they threw the ball away after a defensive rebound. It's not fair to compare Mike Brown and Gregg Popovich, but San Antonio appears to be among the best coached teams in the world, and the Cavs looked like a struggling mid major.
The Cavs are consistently running an offense that makes no sense. Their offense holds firmly to concepts of basketball developed in the 1920s: get down the floor and jack up a shot as fast as you can, and don't worry about the percentages. Don't move the ball, don't set up shooters in the corners as release valves, and only let two or three people move at once.
Defensively, Cleveland seems incapable of making obvious adjustments. For instance, Kyrie might consider pausing and going over the screen when Danny Green is running off the baseline to the wing or the corner, instead of letting himself get picked every time. Also the Cavs might consider, not sagging to the middle every time the ball moves. That means they would have to play better one on one defense. That's a better alternative than wide open threes.
The Spurs are possibly the best team in basketball right now, and asking the Cavs to beat them on their home court on the back end of a back-to-back is a tall order. But as my wife alluded, they should at least look like they are paid professionals. That's on the players and that's on the coach.  Mike Brown seemed far too pleased to be in San Antonio with his old boss, and was all smiles most of the game. One should not be smiling when one is losing by 40. That is the sign of a team that is ok with losing. His team looked ill prepared, uncaring, and uncompetitive. Heck, even Austin, Fred, and Allie were all yuks for most of the game.  If I was Dan Gilbert and I was paying these guys millions, I wouldn't be happy.