0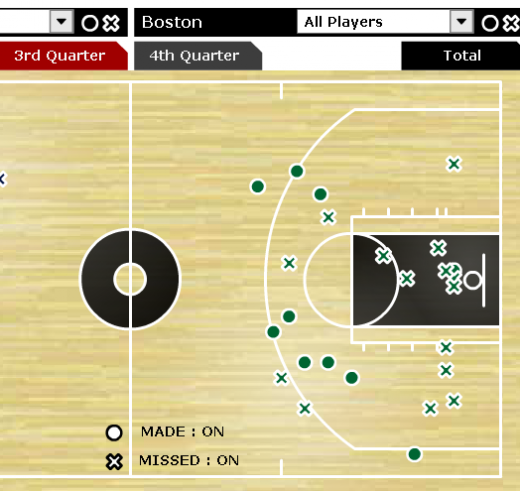 With the full assortment of Cavs:the Bloggers wrapped up in varieties of travel and holiday festivities, no one volunteered to recap tonight.  That is probably for the best.  In the first half, the Celtics hit easy shots.  In the second half, they hit tough shots.  I included their third quarter shot chart above.  Of the four three-pointers, two were by Jared Sullinger, and one was banked in by Brandon Bass at the buzzer.    Almost everything else was a long two.  Sullinger hit four three pointers on the game, adding to his previous ten career bombs from deep.
This was not the Cavs night.  Cleveland was frequently a perverse comedy of errors.  Players falling down.  Airballing three pointers.  Banking in three pointers.  Throwing the ball to unoccupied space.  Fighting each other for rebounds and losing the ball out of bounds.  
Cleveland started the game behind on a 22 to 4 run, as the Andrew Bynum thing is not working.  He was minus-25 in 15 minutes.  The first half highlights involved Kyrie going off for 15 points, and Varejao nearing a double-double with 8 & 10. Cleveland trailed 39 to 55 at the break.  The second half included even fewer positives.  Dion got aggressive and did some damage, but much of it in relative garbage time, as after Boston scored the first bucket of the third quarter,  the deficit never got closer than 18.
Kyrie finished with 17 points on 7 of 16 shooting, with 3 assists and 4 turnovers.  Dion tallied 21 points on 7 of 18 shooting, with 6 assists, but also 6 turnovers.  Andy finished with 10 & 12 and wins MVP for the night.  His energy level was solid, and the Cavs actually outscored Boston by three points during his 26 minutes.   No one else did anything noteworthy, at least not in a positive sense.
I don't know if the plan is to sit Bynum tomorrow against Chicago, but maybe it should be.  Until then.