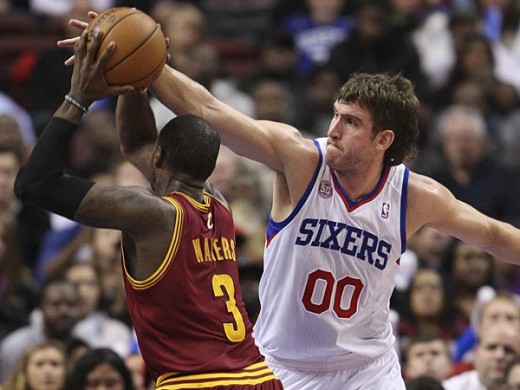 It is possible that Saturday night's effort by the Cavaliers makes this whole article a waste of my effort, basically only serving as a means to process my own fears & anxieties about the Cavs.  If the performance against the Spurs didn't reinforce this enough though, make no mistake, the early parts of this season are horrible for the Cleveland Cavaliers mission to build a contender.  This early stretch of games has seen a regression during key developmental years for all of the Cavs' core youngsters.  Obviously that doesn't help the on-court product, but it also hinders the franchise's ability to find a way out, destroying trade values and disintegrating hope of a reasonable 2014 free agent haul.  A vast deterioration of player development and player compatibility, on and off the court, is at hand.  Things need to get better.  Fast.
I say this as someone from whom, if there was a spectrum of "optimism / patience" from Cavs fans, I estimate my presence in about the 75th percentile for "don't panic; give this some time".  Right now though, I feel really stupid.  The team is currently on a 23-win pace.  And that is with Kyrie playing every game, Andy trending towards 2500 minutes, and Bynum looking to hit the 1000 minute threshold.  With those outcomes, one month ago, every Cavs fan would have been saying, "Playoffs, here we come (and not because 30 wins might do it in the Eastern Conference)."
On a slight tangent, I attended the Pacers – 76ers game in Indianapolis on Saturday night, instead of viewing the Cavs get steamrolled by San Antonio.  What I saw from Philly contradicted many of the remaining reasons that are given for patience with the Cavs.  The Sixers are young, not having suited up a player older than 25 this season, and were sans Thad Young and Spencer Hawes on this particular night.  Featuring a new coaching staff, their squad deals with implementing a new system.  Their primary 2013 lottery pick still sits on the shelf.  On Saturday night against the Pacers, aside from Evan Turner, their entire rotation had played 4023 NBA minutes prior to this season.  That is roughly equivalent to Tristan Thompson.  And this team has six wins, on Saturday night playing tough against an Eastern Conference elite.  On the road.  On the second day of a back-to-back.  When the first night went to overtime.  In a similar situation, Cleveland was annihilated.  Embarrassed in San Antonio.  If play doesn't improve next week from the Wine & Gold, this team definitely moved beyond the realm of patience and reasons, and onto excuses.
Every aspect of the young core that seemed promising last season has regressed.  Dion's 104 offensive rating, on 26 usage, from January through March of last season?  Tristan's per-36 minute averages of 15 & 11.3 on 52% true shooting from his last 50 games?  Remember when Kyrie was an absolute beast on offense, a 20-year old among the most electric closers in basketball?  And then the team adds Anthony Bennett: an explosive, multi-faceted forward — a guy throwing down one-handed dunks from outside the paint.  He converted 38% of his NCAA threes, and despite being an offensive focal point as a freshman, of 128 power forwards in the DraftExpress 2012 – 2013 database, Bennett ranked 20th for points per possession used, and also 27th best for least turnovers per possession.
These were all real things that happened.  Concrete indicators that the prior youngsters were developing, with hope that a dynamic new addition was coming aboard.  With another year of improvement from those building blocks, the addition of Jarrett Jack & Andrew Bynum, and reasonable health from Anderson Varejao, the 2013 – 2014 Cleveland Cavaliers looked primed to make noise.
Instead, through one-sixth of the season, each of the youth have regressed mightily, and the team is in complete disarray.
Through 14 games, Tristan's per-36 minute numbers average 12.5 and 10, with 50% true shooting.  His offensive rebounding and block percentages decline for the third consecutive season, with an assist rate also plummeting to career lows.  I like to think Tristan's issues are tied to the team wide dysfunction, and with a better system engineering good looks near the basket, he will resume last year's gains.  Regardless of left-handed, right-handed, or under-handed, this start to 2013 – 2014 makes Tristan's likely ideal role consist of converting opportunities created on the boards, or by others.
On similar usage as last year, Waiters' offensive rating sits at a ridiculously low 90.  Instead of building on his promising, pre-injury 33-game stretch from last winter, everything beside his three point shooting has been a regression.  Last year, he continually showed increased propensity for getting to the basket and converting while there.  This season, neither of those is going well, and his assist rate is declining too, as turnovers increase.  The diminished ability to create for others and at the hoop are particularly alarming, as these two items will always be important for Dion to be an efficient second scorer.  The fact that he appears to be learning nothing about off-ball movement is also concerning; getting an easy layup or two that way would go a long ways towards improving his scoring efficiency.  If he can combine the attacking ability from late last season, with his three-point shooting from this November (38%), while also realizing that he is allowed to move without the ball, Dion can be what the Cavs need him to be.  At this point, that just seems very, very far away.  And that is fairly alarming.
Part of why is because right now is when perpetual improvement is expected.  Currently, Tristan and Dion are in their age-22 seasons.  Recently at gotbuckets.com, I have been looking at player aging.  As a gross rule, on offense, age 22 and 23 are the final seasons of sharp improvement.  These early years are when the noticeable improvement from last winter for Dion and Tristan could have been reasonably expected, and continued growth would be hoped for now.  Instead, it has been the opposite.
Regarding Bennett, he has been an unmitigated disaster through fourteen games.  His PER is 2.4.  On pedestrian usage of 19%, his offensive rating is unfathomable 60.  He clearly came into the season out of shape after rehabbing his shoulder injury and has no business playing in NBA games.  A short D-League stint appears pretty reasonable until he increases his fitness and re-finds his explosiveness.
Finally, there is Kyrie.  This was supposed to be the year that he made the leap.  Instead, the early portion of the season has to be a disappointment.  By any discernible measure, his play suffers: PER drops from 21+ to 19; Win Shares per 48 minutes nearly cut in half.  He is now the NBA's third highest usage player, and compared to his prior model of efficiency, his true shooting percentage ranks 211th of 316 NBA players.
And what of his clutch play?  As a rookie in the final five minutes of games separated by five points or less, he was a maestro, a magician.  Scoring 40 points per 36 minutes, with blistering 65% true shooting, he exploded into the league amongst the game's most dynamic clutch scorers.  His usage rate was a mind-blowing 47%, combined with offensive rating of 109; the stuff of dreams, and magic always felt possible.  Last season, he was still exceptional, with usage increasing to astronomical 52%, and still producing 40 points per 36 minutes on elite 58% true shooting.  Those numbers are crazy talk, and it was hugely exciting.  At the end of games, when everyone dials the intensity up a notch, Kyrie was still the best player on the court!  And he was 20 years old!!  How could Cleveland experience this good fortune so shortly after Lebron leaving?!?
Chinks began to show in that armor though, as he showed a tendency to get sloppy with the ball, turning the rock over 27 times compared to 18 assists.  In those "clutch" situations, that amounted to 7.5 turnovers per 36 minutes, and definitely a few losses were cemented by Kyrie over-dribbling.  This season in the early going, things have gone off the rails in crunch time.  Still with sky-high 46% usage, his offensive rating has plummeted to 88.  The baskets aren't falling, and when the game tightens up, the Cavs look brutal.  Last season's epic 20 point unravelling against the Pacers looks vaguely common place, with Cleveland routinely blowing double-digit leads in the waning minutes.  It's been one of the most unnerving aspects of this early season.  When the opponent buckles down and kicks it up a gear, they are frequently able to destroy the Cavs; at those times, the young Clevelanders don't look they belong in the same League.  Against a team that relentlessly executes, like San Antonio, Cleveland isn't even playing the same Game.
So what's wrong?  Each of the core players previously  showed sustained stretches somewhere between "holy shit that guy is good (Kyrie)", to "that is encouraging performance from a 21-year old (Tristan and Dion) to "I don't know why we drafted another power forward, but hey, he's explosive, dynamic offensively, and can stretch the floor".  Presently though, we are watching each of these guys massively regress.  Why?
Were the  sustained flashes of potential from the past two seasons a mirage?  I don't think so.
Is it implementing a new coach's system?  As described briefly about Philly, lots of squads have new coaches, and most are not floundering as dramatically as Cleveland.  Is it Coach Brown?  I really hope not, because that deal is sealed.  After several years of watching Coach Scott led teams appear to lack an offense, this is worse than ever, primarily because Kyrie isn't acting superhuman.  Very few of the players understand what to do or where to go when they don't have the ball.  The team remains poorly versed in making the extra pass, and at practicing a shot diet light on long twos.  Have you seen this article from Ian Levy?  Based on shot location, and expected points per shot from each place on the floor, the Cavs quantitatively grade out as the team with the NBA's worst shot selection. How much of this is the fault of the players, and how much is a crisis of poor development and teaching?  As we speak, for the second consecutive week, the team resides amidst a three day break, hopefully instituting an offensive scheme.   Ideally the break involves much discussion, and understanding, of what all five guys need to do on offense, including a crash course in "Finding Your Team the Right Shot 101″.
That is, unless the problem is that several of them dislike each other, or the coaches.  In that case, perhaps Dan Gilbert brought in a contingent of relationship counselors yesterday.  Let the guys hug it out for a few days.  What can't a hug help, right?
Anyways, I don't know the answer.  Watching Kyrie, Dion and Tristan not improve from their prior seasons, while Anthony Bennett mildly struggles with conditioning, would have been a disappointing development, jeopardizing the legitimacy of the rebuild.  Watching each member of that familiar trio worsen, while Anthony Bennett resembles waiver wire fodder, with Dion and Tristan approaching their primes, is a complete disaster that leaves this franchise in a massive bind.
In the ideal scenario from one month ago, the Cavs follow their 42 win playoff berth by offering Kyrie a 5-year max extension.  With Tristan continuing his strong progress, the team offers him a reasonable extension, which he accepts, securing his future from injury without the Wine & Gold exposing a core player to restricted free agency.  With those moves, Summer 2014 is also the time for a free agent strike, with the new extensions starting in 2015 – 2016.  Forget Lebron, but find a strong free agent who wants to play with Kyrie, on a budding playoff team.  That isn't happening though, for a 28 win team.  And trades?  With the current situation, almost no one has trade value equal to what their worth should be if Cleveland could just figure out how to appropriately develop further on the skills they have shown in the past.  Almost everyone on this team is at all time lows for trade value, and that will not fix itself without greatly improved play…at which point, there could be no need for a trade.  If the issue is mainly one of player compatibility, perhaps the team needs to sell low on a guy or two.  Obviously, that is not a good outcome either.
Time to wrap this up.  This week, there are three games: Miami in Cleveland, and the Cavs with three-days of prep time; then a trip to Boston to play the 5-win Celtics; finally, a home affair against Chicago, sans Derrick Rose (sad face), on the final night of the Bulls' six game "circus road trip".  All of those are games that an up and coming, soon to be contending, team should fair reasonably well in.  If the Cavs do not, an adjustment to rebuilding expectations may be in order.