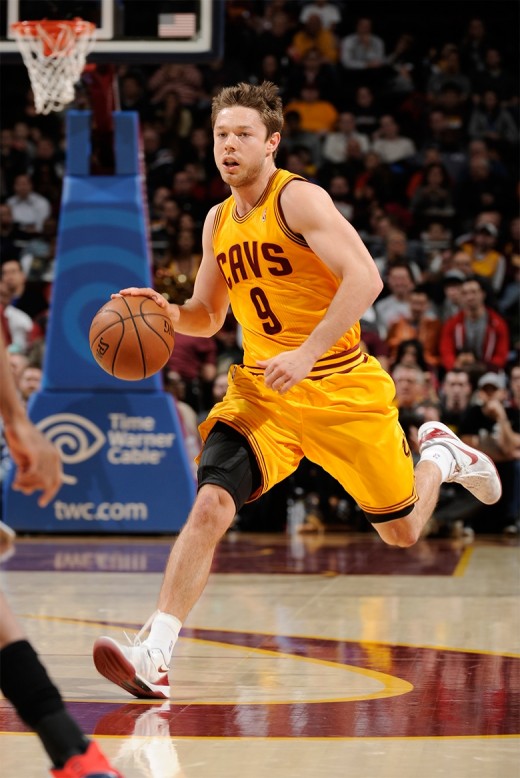 On Saturday night, Mike Brown seemed optimistic about his team looking ahead to the coming week. And he should have been. Not only did the Cavs spend their Saturday in Washington knocking off the Wizards in OT, but the victory took the team into a very rare clear patch in the schedule. Three whole days off, Brown said, meant that the team would actually be able to get some much needed practice time in.
Personally, I expected this game to be a whole lotta Andrew Bynum, Kyrie Irving and Dion Waiters never being on the court at the same time, and Waiters exploding for 25 points in a "This is why I should be a starter!" off-the-bench performance.
For those of you who don't know me, I'm almost always wrong about things like this.
What three days off got the Cavs was some embarrassingly languid play that led to a 27-point deficit early in the third. Oh, and a new folk hero for Cleveland. Take a bow, Matthew Dellavedova.
1st Quarter: The game starts off reasonably enough with the Cavs' first scores coming on an Earl Clark three ball and a baby hook by Bynum. Get one thing straight: Mike Brown is going to try like hell to make this whole Earl Clark thing work and there are some signs that the Clark experiment may come together, only in much less satisfying ways than we may have hoped for.  Clark finished the game with a +/- of -14, which was actually second best among the Cavs starters behind C.J. Miles. Miles, of course, had a +/- of 0 as the "C.J. Miles as starter over Waiters" Era lasted all of 2:32 before injuring his calf and forcing Brown to make the uncomfortably early Waiters substitution. But don't worry, I told myself, Waiters is going to blow up this game. Waiters promptly committed a turnover on a fumbled drive. That's right, I reminded myself, you know nothing. Wizards' forward Nene (and pretty much anyone who cared to join him) abused the Cavs inside, while Bradley Beal and Martell Webster swished open looks from deep and the Cavs, showing very little fight and allowing Washington to shoot 50% from the field, were down 30-19 at the end of one.
2nd Quarter: Here's all you need to know about the first three quarters of this game: during the second quarter, Austin Carr said some variation of the phrase "They just can't seem to get out of their own way" about 72 times. That's some serious repetition, even for AC. Cavs turnovers lead to easy Washington transition points. The Wizards finish the half with 19 assists and the Cavs are only able to stay in relative shouting distance at 56-38 because of Jarrett Jack's 12 points on 5-6 shooting. In fact, the only offense the Cavs are getting is coming from Jack and Anderson Varejao. Not Irving. Not Waiters. Not Bynum. And definitely not Tristan Thompson, who followed up his 15 point/12 rebound game against Washington on Saturday with an absolute disappearing act tonight.  Thompson finished the game with two points and four rebounds in 23:31 and a team-worst -28.
3rd Quarter: I'm starting to wonder about this whole Bynum thing. In what became a game decided by rebounding and points in the paint, Bynum played 12:33 of nearly invisible ball scoring two points and grabbing a rebound. I really thought the Bynum-Gortat match-up would be a nice chance for Bynum to gas up his mojo a bit because … well, one thing I was right about is that Marcin Gortat is not particularly good. If you would like to add his name to the pile of "guys who killed us on that 2009 Orlando team who are now either terrible or completely out of the league," go right ahead. But, then, just after the boos started raining down following a John Wall drive and dunk, all while going completely untouched, something strange happened. The Cavs found their line-up that was going to compete… and, man, was it weird. Going with Dellavedova, Jack, Waiters, Henry Sims and Varejao the Cavs start their steady and scrappy climb back into this otherwise putrid affair. Dellavedova hits a three. Sims scores six points as part of an 11-2 Cavs run. Waiters consistently (and finally!) attacks the basket and consistently gets to the line where he'd go 7-8 for the evening (thank god, because he wound up only 2-13 from the floor). After three, the Wizards were still up 80-59 … but (assumes best Nicholson Joker voice) wait until they get a load a' Delly.
4th Quarter: Dellavedova steals everyone's heart and refuses to give them back. Let me back up for a second. Mike Brown has always listed as one of his main tenants of defense "Make them feel you." When the Cavs were busy giving up uncontested threes and lightly contested Nene baskets in the paint (or, for that matter, Nene's later series of unguarded 15-footers, which he nailed) no one felt anything from the Cavs. No Wizard player, certainly, felt anything. And those of us who usually feel things from the Cavs without them really having to do anything (like, say, an irrational commitment to), even we didn't feel anything. But, darn, didn't Dellavedova get himself up in some Wizards tonight! The quarter started with Delly (I'm sorry, I didn't want to do this … I'm just so worn out from typing his full name) soaring for a rebound then hitting a three on the other end. Another three and the Cavs are within 80-67. After that, Irving took over much of the scoring and the entire team, sparked by Delly's ultra-physical perimeter defense that actually caused Beal to miss a couple of shots (gasp!), slowed down the flawlessly efficient thing that was the Wizards' offense making it into something more … Cavalier (sigh…). There was even a moment when I thought They're actually gonna pull this comeback off but, for those of you who don't know me… The Wizards finally rediscovered the basket in the games final minute and the Cavs rediscovered their own penchant for bad decision making. Wizards 98, Cavs 91 and the home team Cavs fall to 4-8 on the season.
Very, very quickly:
-It's great that there are guys like Dellavedova and Sims on this team who are willing to play with the type of energy and hustle that it takes to consistently be a factor in NBA games. Unfortunately, when Dellavedova and Sims are your difference makers… well, things are less than ideal.
-There was an Anthony Bennett sighting in the third quarter! He promptly fouled Nene and then air-balled a three causing the crowd to boo him and me to hug my TV in lieu of distance and security allowing me to do the same to Bennett.
-Gortat, I'll repeat, is not particularly good. Nene, though, looks tough (for the 50-odd games he plays this season).
-The Cavs can defend when they want to. Of course, you might be saying, so can every NBA team. But this team has the depth, length, athleticism and coaching to actually do a good job of stopping the other team. Look at the last quarter and a half of this game. Sometimes teams just hit tough shots. Sure.  Too often, though as was the case early in this game, the Cavs are just not trying hard.