Matthew Dellavedova has stolen our hearts. Maybe he should have been the No. 1 pick.
Could the Cavs just save themselves a lot of money and heartache by using the DraftExpress top 100 prospects list to run their draft every year?
Kyrie Irving has to be embarrassed that Matthew Dellavedova has played better defense in two games than Irving has in any game in two seasons, right?
Matty D should get a start tonight. Though, I'm not sure our perception of his defense against Washington wasn't amplified by the fact that he was the only one playing it. Also, Randy Whitman helped more than a little.
Watching a Brown/Whitman coaching duel is like watching kindergarteners play Stratego.
Subway's sponsorship of The Hunger Games: Catching Fire makes me more than a little queasy. <Insert Sriracha joke here>
This Dellavedova thing could break two ways: the Cavs players could give him a sock party for spoiling their plan to quit on Mike Brown after 11 games, or they could elevate him and follow his lead. If he's ostracized, then it's time to blow this team up.
Judging by point differential, the Cavs are the 28th best team in the league.  They are also one game out of a playoff spot in the East.  It's looking like a bad year to try to tank, and the Cavs aren't even trying to tank (I think).
The return of the MST3K Thanksgiving Marathon made my week.  If we could flesh this out with 18 solid hours of Magnum P.I., I wouldn't leave the house over Thanksgiving weekend. (Hey. I may be old, but I sure am nerdy.)
Do you think Chris Grant is keeping his office extra clean?  Is he early to every single meeting these days?
How long and how many turnovers do you think it will take Orlando to figure out that Victor Oladipo is not a point guard.
I swear, this isn't a Bill Simmons "ramblings…" column.
Does it make any sense that all the talk after the draft was about how the Cavs didn't need another guard, and now they look their best when Kyrie is playing off the ball?  How great would a big point guard like Michael Carter Williams look with Kyrie? It's been heresy to think of the Cavs drafting another point guard in the lottery over the last two years, but wouldn't a Lillard/Irving or MCW/Irving back court look better than or at least equal to Irving/Waiters?
The Cavs are the youngest team in the league. The Cavs are the youngest team in the league. (Or second youngest, depending on whose charts you're using). Young NBA teams get thrashed.  It's just the way of it. I have to keep reminding myself of this. ]
Anthony Davis may be the best player in the league in three years… or by the end of the season. I really hope he doesn't get his first quadruple double tonight.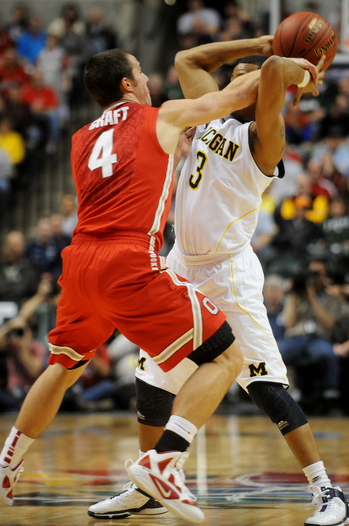 Doesn't Delly proves that an NBA team could bring in Aaron Craft just to annoy the crap out of the opposing guards for 15 minutes and six hard fouls a night?
Is it me, or has Jan Vesely finally realized that he is 7 feet tall and that his arms go down to his knees? Now that he's realized it, someone needs to tell Dion Waiters.
Speaking of… does anyone know where to get Blocks Against stats? Cause Dion has to be among the league leaders.
The Cavaliers' effort from night to night doesn't seem to be improved at all under Mike Brown. Byron Scott just nodded his head stoically.
That whole starting lineup shakeup and internal drama has seemed to sap the entire team's energy. Why? Because when you have a leader who consistently makes what appear to be stupid, arbitrary decisions, it's very hard to respect him. No one seems to know their roles. Bennett is playing and Tyler Zeller is inactive?  That doesn't make sense for a team  trying to win games.
I think it's time to pull my Saint Weirdo t-shirt out of mothballs. Neon Dion had settled into a nice pace of only three horrible shots per game, recently.  Wednesday, his bad shot pace accelerated to ludicrous speed.
It would be nice if someone on the Cavs would cut from the weak side  anywhere during a post-up. At least once per half would be an improvement.
Luke Walton just took a job with the D-Fenders as a player development coach.  Marreese Speights is barely playing and posting a 7.56 PER for Golden State. Wayne Ellington is similarly posting a 9.01 for Dallas.  Shaun Livingston is posting the best value contract in the league, playing for the veteran minimum and sporting a 20.33 PER — a rare bright spot for the underachieving Nets.  Cleveland could use Walton and Livingston's veteran presences for sure.  I miss the Herculoids.
AB15 could come to synonymize a new draft term, "catastrophic downside potential." Chad Ford is trademarking as you read this.
Watching Dallas/Houston right now.  This game is so good. It's a reminder of how far the Cavs are from being a competent team.  Kudos to Dallas for turning Monta Ellis into a winning player.  Both these teams do a great job of putting their players in a position to highlight their strengths and minimize their weaknesses.
I figured out what the Cavs' problem is: too many boring haircuts. Andy needs to mix it up, or they need to sign Boobie so he can shave "commitment" into his noggin. Karasev looks too normal. He needs to let those locks flow Euro Style, or go full on Ivan Drago. Maybe Dion needs to grow a Ro' Blackmn stache.
Cleveland likes long two pointers like Jeffrey Beaumont likes Heineken.  Everyone knows that shots at the rim and three pointers are the Pabst Blue Ribbon of NBA offenses. (OK, I tried to explain this comment in editing sessions, and everyone just said: PBR Sucks. This reference proves that I am significantly older than my fellow bloggers, who don't know that Blue Velvet is an all-time masterpiece, and also that it used to be really hard to get decent beer. Oh, and that PBR link is R-Rated).
It's time to trade Dion Waiters, right? I like Dion, but it appears that he and Kyrie hate playing together. I get tired of watching both of them eschewing the pass when the other is wide open. When C.J. Miles was hurt the other night, and Waiters had to come in, everyone in the arena must have been thinking, "Wow.  This is awkward." Don't underestimate their toxic chemistry as a major contributor to Cleveland's epic fail that game.
Dan Gilbert owns 8 million square feet and counting of real estate in downtown Detroit (there's really no point to that, I just think it's cool).  At last count he was worth $3.9 Billion.  How much of Mike Brown's 5 year, $20 million dollar contract do we think Gilbert will eat?
If the playoffs started today, Toronto would be a fourth seed in the Eastern Conference with a 5-7 record, since they currently lead the moribund Atlantic division. This is a stupid rule.
Other recent apples off the Gregg Popovich coaching tree, Mike Budenholzer, and Brett Brown seem to be killing it so far, exceeding expectations in Philly and Atlanta (though Philly's been swooning lately). Jason Kidd?  Not so much.
To plagiarize Rick Pitino, Brad Daughterty's not "walking through that door, fans."  Mark Price is "not walking through that door." And Larry Nance is "not walking through that door." And, oh yeah, LeBron James isn't walking through that door, either, at least not to play with this team.
If anyone picked Steven Adams and Michael Carter Williams to be the two best rookies in the league so far, then someone needs to search them for a copy of Gray's Sports Almanac, 2050 edition.
Coaching in the NBA is a lot like playing quarterback in the NFL: you've either "got it," or you don't.  And if the five guys in front of you suck, you're doomed anyway. Aaron Rodgers and Sacramento's Michael Malone can attest to this.
Andrew Wiggins, Jabari Parker, Julius Randle, Joel Embiid, and Dante Exum ending up in Utah, Sacramento, Denver, Milwaukee, and Atlanta has to be a David Stern/Adam Silver nightmare, right? Remember, Denver has New York's pick, and Atlanta has Brooklyn's.  Somehow I think Boston or the Lakers will have their envelopes frozen. If Cleveland ends up in the lottery again, will there will be a riot if they get the top pick?
Has the time come to trade Varejao? Some nights he looks old and slow, and some nights he looks like a crafty veteran. He's shooting career highs from the elbow, but he is not rebounding, defending, cutting, or finishing like he used to. It's hard to tell how much of this is Andy, and how much of this is the Cavalier malaise.  Would you trade him for Asik? How painful would it be to watch that Cavs team? Yeah, I'm not ready to trade Andy yet either.
Colin McGowan quietly announced this week that he is moving on from Cavs the Blog. He will be running The Rotation a blog at Sports on Earth. If I had to pick my three favorite Colin McGowan CtB pieces, they would be On Hate, In Anticipation of Saint Weirdo, and Your Stupid Town. Best of luck, Colin. (OK, now that I re-read those, I've decided the Cavs should never trade Dion Waiters.)
I don't think Andrew Bynum enjoys playing basketball.
The Canton Charge Opener is Saturday the 23rd, in case you were wondering where Kevin Jones went. I'm debating a ticket. Their mascot, Pozzie, may have sold me. Is anyone else disturbed/delighted by the fact that that Pozzie looks like the unholy spawn of Moondog and Sir C.C.?
Cleveland has hamstrung themselves  because of a method of thinking that I call, "LeBron James, the magical free agent unicorn." Now, I don't agree with Mallory that the team is a bunch of "young kids running an asylum." But the team has put themselves into a Catch 22 (all praise be to Joseph Heller). Cleveland is not going to attract a magical free agent unicorn if they're not a good team.  And they're never going to be a good team if they sit around doing nothing while waiting for a magical free agent unicorn to come fill the gaping hole in their lineup at small forward.
At what point will people start using Anthony Bennett as a verb/cultural touchstone for complete and total flops? I see Bill Simmons pushing this hard. For instance, I'm a Will Farrell fan, but Anchorman 2 has some real Anthony Bennett potential. Also, my wife has been Anthony Bennetting my lunches for the last month. She's like 2-19. Broccoli quiche is the airball three-pointer of bad lunches.
The Cavs are the youngest team in the league. We and Dan Gilbert may have had unrealistic expectations.