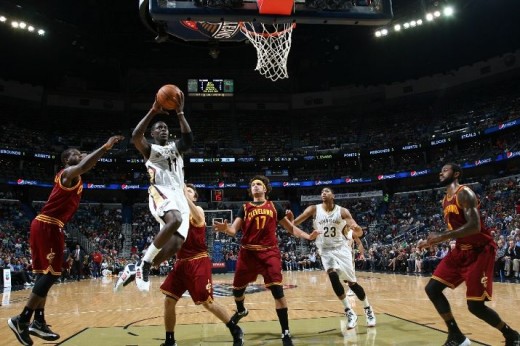 Tonight offers an opportunity for Cleveland to rebound from a mostly embarrassing midweek tilt against the Wizards.  And what do you know?  The one player that wasn't a complete disaster in that game gets to start.  Undrafted rookie Matt Dellavedova supplants injured CJ Miles and Dion Waiters…remember, I compared him to Steve Nash* first.  Now, onto tonight's affair against the vaunted New Orleans Pelicans.
The starting lineup varies greatly from game one, with Dellavedova, Gee, and Bynum differing from October 31st.  Cleveland came to play, as the fabulous frontcourt tandem of Thompson and Bynum dominated early.  When the Pelicans called timeout after six minutes, Bynum tallied 8 points, while Tristan notched 4 & 5 as part of a 16 to 6 run.  Substitutions came early, as six minutes in, Bynum, Dellavedova and Gee already hit the pine.  Somewhat amazingly, Cleveland played eleven players in the first quarter (??), and the revolving group of backups struggled mightily; turnovers on three straight Cavalier possessions, combined with a Pelican layup line, fortified a 13 to 2 New Orleans run.  The Wine & Gold headed to the first break trailing 20 to 21.
Early in the next quarter, the second string settled down: Jarrett Jack hit a floater; Dion drove for free throws and found Karasev for a corner-three; then Jack found Sergey for another long range bomb.  I can get used to corner threes from the Russian rookie.  Cleveland forged a solid run, retaking the lead 34 to 27 as Kyrie checked back in with a smooth drive and easy layup.  Thwarting a New Orleans mini-run, Dion Waiters flashed his best offensive spurt of the early season, scoring nine points in 90 seconds, behind a driving layup, a corner three, and an and-one & another pair of free throws from attacking the basket.  Nine points…all from drives and threes…drives and threes?  Watch this stretch in your spare time, Dion.  Cleveland's defense remained sturdy throughout the quarter, and the good guys ventured to the locker room ahead, 51 to 42.  Waiters closed the half with 14 points, 3 rebounds and 2 assists on 76% true shooting.  Tristan piled up 8 points and 6 rebounds on 4 of 6 from the field.  Somewhat perversely in a leading effort, the Cavs turned the ball over 11 times, compared to only seven assists; even in a solid effort, the offense still revolves around individual heroics.
The second half started with the two teams trading baskets.  One noteworthy item included the advent of "Cleveland successfully running the offense through Bynum in the post"; the big man tossed three dimes in the first five minutes.  This early stretch of the quarter also involved some, "oh my goodness, Kyrie Irving is a sick man", as a swooping, crossing the basket, and-one helped the Cavs maintain a seven point lead when the game went to timeout with 5:35 left in the third.  All good things come to an end though; the platoon transition from starters to bench again produced flailing offense and discerning D.  Riding a three pointer, two layups and two free throws, New Orleans pulled within one, 64 to 63 at the three minute TV timeout.  As the quarter pulled to a close, the lead remained one, with Cleveland up 71 to 70.
Thanks to two Jarrett Jack jumpers and an assist, the Wine & Gold leapt to an early 79 – 75 lead early in the fourth when Kyrie checked back in.  Who needs Mr. Fourth Quarter though when you have Jarrett Jack?  The wily veteran continued his onslaught…draining a three…then a long two…then an assist to Varejao for a layup…and a dime to Clark for a corner three!  Can the Cavs get a road win against a Western Conference team?  It looks like yes; 93 to 81, less than five minutes to go!
Nothing comes easy in Cleveland though.  Three turnovers and a couple of Kyrie misses, counteracted by an Anthony Davis dunk and a clutch Jrue Holiday bomb, and the lead withers to three with three minutes remaining.  I slap my head and can feel an ulcer forming.  Next time down, Kyrie drains a pull up, and I can breath again…until Ryan Anderson strokes a deep three.  After another hero ball, isolation set results in a difficult shot for Irving…the Pelicans run the other way, Anthony Davis scores on a putback, and the game is tied, 95 to 95 with two minutes left.  I shed a lone, mournful tear.  Kyrie though, balances a Tyreke Evans drive with a free throw and a driving layup: 98 to 97, Cleveland leads.  Impending dread subsides for a moment…but for no reason.  Everything is for naught; life is garbage, as Jrue Holiday finds Eric Gordon for a corner three.  Cavs trail by two with a minute left, and the rest looks familiar.
After the Pelicans called timeout with 4:48 to go, Cleveland was outscored 23 to 7.  Kyrie Irving used 9 of 12 Cavalier possessions.  Two of the others were Varejao and Clark turnovers.  The Cavs had zero assists.  Four Pelicans scored three or more points; four of their six field goals were assisted, with another off an offensive rebound.  That was complete garbage.  Cavs lose 100 to 104.
New Orleans grabbed 19 offensive boards, turned the ball over 12 times to the Cavs 19, and benefitted from a disparity of 17 attempted free throws.  Tough to win that way.
Some assorted notes:
That end of game hero-ball offense was completely frustrating.  Time after time, the play call appeared to be, "Let Kyrie dribble into three guys at the rim".  He didn't get many calls, and the final five minutes were a mockery of planned offense.  Irving finished with 22 points, 2 assists, 4 turnovers on 45% true shooting.
Where did Tristan go?  He played solidly, with 12 points and 8 boards, but sat out most of the second half.  He logged only 23 minutes.
Dellavedova picked up two fouls in the first four minutes.  The first guy off the bench?  Jarrett Jack, relegating Mr. Waiters to 8th man status on this night.  On the scale of "energy level", I don't think Dion has been the worst, and thought that was Coach Brown's criteria for playing time…hopefully the message to Dion is, "shoot less long twos off the bounce".  If so, the message worked early.  Dion played eighteen straight minutes in the first half, probably his strongest of the season.
Dellavedova also racked up two personals in the initial four minutes of the second half.  Let's just say that Eric Gordon gave him some issues.  Karasev came off the bench first this time.
He picked up a fifth foul after 42 seconds of the fourth quarter.  The energy level needs reigned in.
Carrick Felix got playing time.  Unfortunately, on his first NBA touch, he stepped out of bounds.  On his second touch, the ball was stolen from him.  Lesson learned: Don't take tips from Anthony Bennet on how to start an NBA career.
Jarrett Jack did Jarrett Jack things, and didn't have a bad night. He hit some floaters, drained some long twos, and generally helped the second unit score buckets while Kyrie sat.  He finished with 19 points and 4 assists.
Dion had a great first half, but a lousy second one, shooting 0 for 2, with three turnovers.  Robert mentions this frequently, but several of the Cavalier youngsters are probably still learning the level of focus and competitiveness that needs brought every quarter of every night in the NBA.
Earl Clark keeps taking open threes and making them.  With a 3 for 5 effort tonight, he resumes his 50% rate for the season.   No way in hell he keeps that up, but it's nice while it lasts.
In some: "not specifically related to tonight, but things on my mind" bullets.
It seems there is a lot of talk about how Kyrie and Dion each need to be playing "on the ball", or "off the ball", and which respective skills they need to be developing.  It's an easy answer: both, for both.  Almost any good offense will feature more than one player .  When Durant and Westbrook play together, is one the "on ball" guy and the other "off ball".  Is Dwyane Wade just an "off ball" guy with Lebron around?  Irving and Waiters need to develop each set of skills (although Kyrie is already pretty damn good "on ball").  In addition to playing off Kyrie, Waiters needs to continue developing a repetoire that gets him to the rim off the dribble (he was a lot more solid in that regard in the second half of this season than he has been in November 2013), but he also needs to…
Quit gravitating to a spot 35 feet from the basket when he doesn't have the ball…that is so irritating…it drives me crazy.  Nothing positive will come standing halfway between the three point line and half-court!  Poor off-ball movement is epidemic to most of the Cavs.  When watching the league's good offensive teams, cutters routinely expose the split-second when their defender loses focus.  This rarely happens for the Wine & Gold (early in the second half, Gee cut for an open dunk off a Bynum post up, then Tristan did, too…it was awesome).  It definitely won't happen for a player standing ten feet outside the three point line.
There has been a decent amount of talk about Andy's regressed energy level.  He almost died last year, right?  At age 30?  Hopefully, I am being overdramatic, but if he is never the same high-energy basketball player again, that seems reasonable.  A mindset can change when confronted with a reality like that.  Andy scored four points tonight, and despite nine total rebounds, didn't grab an offensive board.
*This sentence was tongue in cheek…mostly.