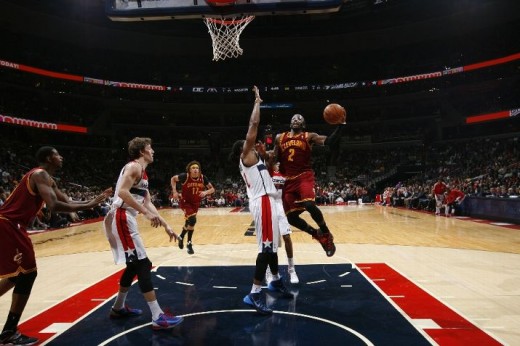 Author's Note:  This article was conceived on Saturday morning, for publishing early Monday.  I hadn't started as of 7:00 pm Sunday though, as Mallory inquired about posting the podcast Monday.  I replied, "Absolutely".  Some of the discussion / questions below about the players only meeting and aftermath are slightly dated.  Time moves fast in a basketball hot-spot like Cleveland.
After the fifth game of the season, Dan Gilbert tweeted that if the season were a game, nine minutes remained in the first frame.  Now eleven games in, not much more time ticked off the clock.  Unfortunately, six minutes and twenty-six seconds into this analogical game, the Cavs initially falter 18 to 11.  A Kyrie turnover netted the opposition a transition bucket, as did a long rebound off a Dion brick.  Largely invisible for the first half of the quarter, Earl Clark subbed out for CJ Miles, who mercifully drained a long three.  Other than that, a Tristan put-back, and-one serve as the only highlights.  In this hypothetical game, down ten midway through the first, Kyrie called timeout, where a small tussle appears to break out on the Cavalier bench; upon returning from the brief hiatus, Kyrie spell binds with a dizzying dribbling display into a deep trey.
And now this game reaches the present.  Still battling from behind and definitely not looking sharp in the early going, Kyrie's most  recent highlight comes with mixed reactions.  Yes, Kyrie from deep in the Q!  But what the hell just happened in the huddle?  And did Dion get sent to the locker room because of his recently tweaked ankle…or the bench shouting match?
Enough of that one game similitude to the current season; time to embark on a meandering, disjointed, rarely cohesive post…in honor of the early 2013 – 2014 Cavs campaign.
I have relatively little idea what to make of the players-only meeting.  The most extreme innuendo is pointing to an altercation between Dion and Kyrie.  Hopefully no one is buying that vague rumor.  The best overview of recent events comes from Jason Lloyd, who indicates nothing of that sort.  Some reports state that the meeting was contentious, and Dion was involved, but both of those things seem very reasonable; it was a meeting held after a 30-point asskicking…and Dion is a player, so why wouldn't he be involved in a players only meeting?  And why are some commenters / tweeters linking  Kyrie's  "minimially displaced right nasal fracture" with this meeting, when Kyrie obviously headed to the pine that night  due to a nasty elbow from Corey Brewer?  The takeaways that are undoubtedly true from this mess: players are frustrated because the team stinks; there was a heated meeting last Wednesday, and Di0n Waiters missed the last two games.  Anything beyond that appears to be baseless speculation.  Unless Dion is traded by Wednesday.  Moving on…
Other rumors focus on Waiters losing his starting job, and him being upset.  Two thoughts on this – the first one isn't specific to any individual.  Hopefully the Wine & Gold settle into more lineup staggering and better floor spacing in general.  Unless Earl Clark maintains his 47% three-point shooting (not going to happen), a starting unit with Waiters, Clark, Thompson, and Varejao undoubtedly didn't have enough shooters and / or distributors to work.  Second, Dion should not be upset about playing as the sixth man.  It's a role he played and thrived in at Syracuse, beginning the game on the bench, but closing on the floor.  If there are thirty minutes per night available, it shouldn't matter either way.  Combining the two ideas above, I'd like to see a alot of different lineups, big and small, combinations of Kyrie and Dion in the backcourt*; Kyrie and Miles; Jack, Waiters and Miles; Varejao and Bynum frontcourts; Clark as a stretch-four; maybe some periodic small ball with Tristan at the five, and Bennett at the four.  A few times this season, can the team roll out Kyrie, Dion, Karasev, Bennett and Thompson?  Anyways, there shouldn't be any shame in sixth-man status for Dion.  If that's the role he is assigned, relish it and prove who deserves to finish the games.
One thing for certain about the first eleven games is that it is way to early to give up on the season.  I see people talking about tanking, and that drives me crazy.  Early in 2012, I wrote a series titled Building a Winner, really my first substantive contribution to NBA blogging.  The general thesis was that it rarely worked to embark on a period of prolonged tanking to acquire multiple stars.  The Thunder are an aberration; construction of the vast majority of highly successful teams came in other ways.  Sometime this year, I will update with a Part Six: the recent rise of the Pacers, Rockets, Warriors, etc continues the trend of not requiring a barrage of top-five choices in the lottery to field a contender.  Drafting multiple superstars represents a path to  a championship, but there are better means to success than multi-year sucking.
Can a superstar-less team win a championship again?  The last occurrence of that feat came in 2004, via the Billups – Hamilton – Prince – Wallace Brothers starting five.  Last season though, two of the NBA's final four were superstar-less.  The Pacers and Grizzlies greatly resembled those 2004 Pistons.  Arguably, current day, 36-year old Tim Duncan isn't a superstar on the level of in-their-prime Lebron James, Kobe Bryant, Kevin Garnett, or Duncan; ESPN's #NBARank considers him the league's 16th best player.  Three of last year's final four teams put themselves in near position to win a championship without a current #NBARank top-ten player, and with a few lucky breaks (or maybe more appropriately, a sprain, perhaps to Lebron's ankle) could win one this season.  As a team in a market like Cleveland — similar to Indy or Memphis to some extent — isn't that the target to build towards?  Other than Kevin Durant, recent "superstars" in a non-marquee market have bailed on the franchise that drafted them.
So where is this barely cohesive article taking me?  A vague thought-exercise on the value of Kyrie Irving.  As a preface, I am not panicking.  I do not think this eleven game stretch and one locker room incident is reason to tear everything apart.  This is more of a philosophical discussion…something to consider over the next few months or even years.  If this season continues to disappoint, should the Cavs ever consider asking, "is there a better way to build in Cleveland than around a megastar point guard?"  The NBA has developed a strong track record of superstars demanding or deciding to leave their small market squads.  And while "three quarters for a dollar" trades frequently get panned, for the teams that were able to trade their star (instead of losing the guy via free agency), it frequently hasn't worked out poorly.  Until their weird teardown, the Nuggets were an up-and-comer after trading Carmelo.  The Grizzlies rebounded from trading Pau Gasol. The Thunder will continue to contend for another decade while staying below the luxury tax.  Orlando is stocked with young talent (but no superstar), and is competitive early this season in the weak Eastern Conference.  If the season continues to flounder, could or should Cleveland consider the ultimate shocking twist to the rebuild?
Perhaps building around a contingent of 21-year old, sometimes petulant, high lottery picks fronted by a supernova talent isn't everything it's cracked up to be for a franchise like Cleveland.  Currently, the team's shelves are stocked with "assets" but with the vast majority of those assets being more highly valued by Cleveland than any other team.  One asset sought league wide…Mr Irving.  Follow me on a brief hypothetical here.  Cleveland has witnessed LeBron scurry away, and this past summer heard vague, non-substantiated rumors on Kyrie's (non-Cleveland) plans for the future.  What if the near term continues to resemble the past for the Cleveland Cavaliers?  Mini-dramas of spats between players and coaches, internal battles among teammates, the occasional whisper that Kyrie seeks greener pastures?  Perhaps consideration should be given to selling while the Wine & Gold still hold the leverage.  What if Houston called, wanting to work on a trade involving some combination of Chandler Parsons, Omer Asik, Jeremy Lin, Terrence Jones, Patrick Beverley, and draft picks?  Instead of  an improbable quest to emulate the "Oklahoma City Model", the Cavs rebuild could turn focus to stout defense, strong ball movement, and a 9 to 10 man deep crew of above average players.  A grit & grind approach if you will, reminiscent of the Pacers and Grizzlies.  It sounds non-traditional, but if this season turns towards 34 wins and dysfunction, the discussion is warranted.
This is probably all crazy talk though.  I am certainly not advocating that the Cavs go out of their way to trade Kyrie.  The start of the season has been frustrating, for management, players and fans alike.  Hopefully any drama from last Wednesday is overblown and overcome, the wins start piling up, and it becomes easy again to envision the NBA contender being built on the shores of Lake Erie.  If not, though, hard questions will need to be asked, one of which could be, "Do you sell high and buy low"?
*All lineup considerations involving Kyrie and Dion assume that they are not archenemies intent on hurting each other.