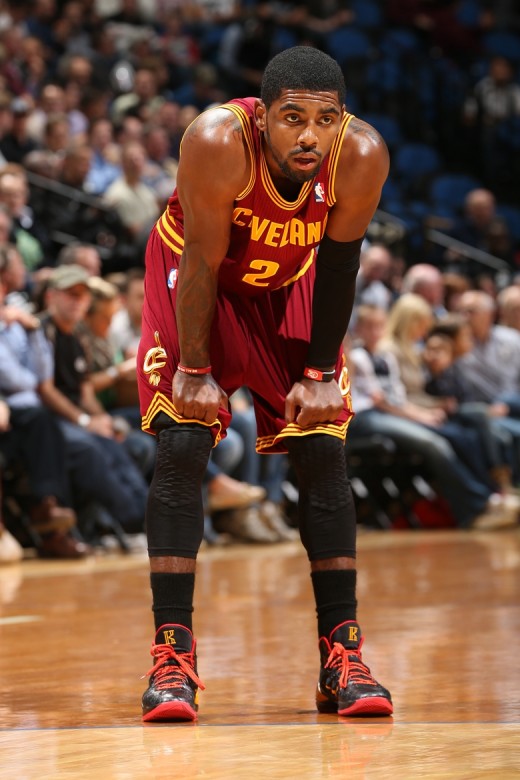 After this game, I gave some serious thought to having this recap just be a whole page of absent, vacant space. Just space. Vacant space. But then I had visions of Ricky Rubio threading a pass to Minnesota Player Whomever who would see that space, as wide open as the lanes the Cavaliers were giving them all night, and have yet another uncontested bucket in a game full of un-to-lightly contested buckets. And I would not be a party to furthering the pattern of defensive blahs that buried a never-very-in-it Cavs team tonight. So here is your written word version of Nikola Pekovic. Here is your lane clogger, your big body … your space eater.
But — long sigh — I don't really know what to say about tonight's game.
At the very least, I thought I was going to be able to write about a fourth quarter filled with Sergey Karasev and Anthony Bennett getting the green light on every possession and that, in this, there might be some hope, but — long, long sigh…
Okay, the first thing I can say is this: Sometimes games like this happen. This isn't a glass-half-full notion. It's true that most teams in the NBA get blown out every once in a while. They look ugly every once in a while. They get it handed to them by a hot-shooting team in that team's building every once in a while. The problem for the Cavs is not this this is a fact, it's that it's becoming a refrain for them in this early season.
I'll get the relevant stats out of the way, though they were hardly relevant on the Cavs side of things. Kyrie Irving led all Cleveland scorers with 20 points on 8-17 shooting. Good for him. Anderson Varejao had 13 and 5. Tristan Thompson had 10 and 6. The rest was just ugly. Offensive execution was ugly. Defensive execution was ugly. Bennett trying to get himself going was ugly. It was all just…
Ah, screw it. I can't even think about the Cavs right now. Let's look over at Minnesota's more relevant box. Here, we see Kevin Love with an eviscerating 33 points on 10-16 shooting, 12-14 free throws, eight rebound and six assists. Ricky Rubio scored 16 points on 5-7 shooting, had six rebounds and dished off a whopping 16 assists. Subbing for key perimeter cog, Kevin Martin, Corey Brewer consummated a deal with the devil and consequently went off for 27 points on 17 shots. Minnesota shot 54.9% from the field (writer's note: that's bad), 50% from three (writer's not: again, bad), out rebounded the Cavs by 12 (writer's not: sigh) and racked up 34 assists to the Cavs' 18 (writer's note: long sigh).
The problem is not that this type of game happened. Minnesota has been tricky for us for a few years now, especially up in Minnesota. Andrew Bynum wasn't playing (which, for the record, I thought would be key, especially from a rebounding standpoint). The problem is that we see the Cavs getting worse at doing things, rather than getting better at them. Irving scored some, but wasn't operating an Adelman-ian machine on offense, as the Wolves were. None of the Cavs bigs were able slow down anything that Minnesota wanted to do at or near the rim. If you're not going to field an offense, as Mike Brown has consistently reminded us that he is not yet ("It's a process"), then there is, at least, the expectation that the one thing you're working on, defense, will get better, not consistently worse.
It was the end of the second overtime against the Sixers on Saturday night when I finally turned to my friend and said, "I don't think these guys know how difficult it is to consistently win on the NBA level." Think about it: when you have a team comprised largely of high draft picks, no matter how good the draft is that year, you will probably have guys who have not had too much competition against players who are equal to or better than them. So, when Irving comes in with 11 games at Duke, most of the winning he's been used to has come from him being exponentially more talented than his competition. Same with Dion Waiters, with Thompson, with Bennnett. And years of losing and a lack of accountability don't start to fill that void. Cavs fans may be in for a rude awakening that Brown may not just have to teach this team how to play defense, but to play hard, smart, winning basketball. One of those lessons, I'd wager, is a quicker study than the other.