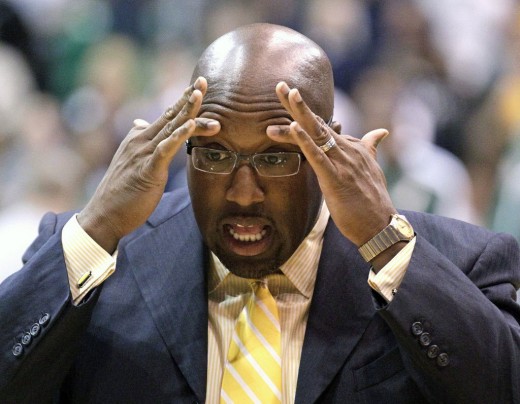 Good lord, it's getting hard to watch these Cavs play basketball. Before I proceed any further, I do want to say that Mike Brown taking what had been a bottom-five defense the last three seasons and turning it into a top-10 defense this year is a HUGE deal, and his focus was clearly on getting his defense installed before his offense, so there is some hope. But objectively, it is hard to watch this team play basketball.
Cavs-Related Bullets:
It's time to say it: Kyrie is having a rough start to the season. His usage has only gone up a hair, but his TS% has gone down a full 10%, and he's currently 21st among point guards in True Shooting. More disturbingly, it doesn't look like he's struggling with his shot that badly, it just looks like he's trying to pilot an airplane made of refrigerators and stuffed deer tied together. There's no space for him to work with, he's not creating angles, and as he gets more frustrated, he's looking for his own shot more and more aggressively, regardless of the percentage. Since Kyrie is capable of making any shot, it works more often than it should, but he needs to get back to being himself on offense, and soon. We can go chicken-and-egg with the offense struggling and Kyrie struggling all day long, but the bottom line is that the offense is going to struggle until Kyrie starts playing like an All-Star again.
Speaking of guards with no real plan on offense, it's Dion Waiters! If there was a way to pare Waiters' game down to his explosive dribble-drives and good, clean jumpers, we'd have one heck of a combo guard on our hands. Instead, Waiters dribbles around the court with blinders on, shoots off-balance midrange jumpers with too much time on the shot clock, and generally plays like a guy who watches a ton of Dwyane Wade and makes a mental note to only do the bad things. There's a name for a "poor man's Dwyane Wade." That name is Randy Foye. This, too, must change.
Jarrett Jack gets described as "solid" so often that it seems odd to see him have a horrible game, but then you remember that "solid" is a euphemism for "not all that talented, as NBA guards go," remember that the Bulls are really good defensively, and it makes sense.
Onto the good news! Andrew Bynum looked very solid offensively in his first start, and the move he put on Joakim Noah here was highlight-worthy. There's nothing prettier to me than a great post move, and that one was a beauty. Bynum continues to look better and better, and you'd have to say that him and Thompson, who had another solid double-double on Monday, have been the two most pleasant surprises of the season thus far.
No Super C.J. for the Cavs tonight. I know I tend to be a glass half-empty kind of guy, but I don't think C.J. Miles thought that C.J. Miles was going to stay top-20 in PER for much longer.
That's pretty much it. Kudos to the defense, which is harder to see improve, but this offense is brutal. That's essentially the long and the short of it. There's no way the Cavaliers make the playoffs without picking it up offensively, and worse yet, the "okay, here's a ball, and I think the basket is that way" offense is not going to be very enticing for free agents this summer. Until next time, campers.