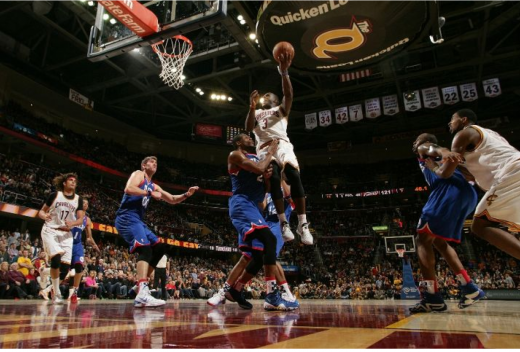 "The Cavs weren't surprised by Bynum's candid comments. They believe it's natural for him to feel that way at this point, and that's likely true. He tweaked his knee coming down from a dunk Wednesday and grimaced in pain. He was able to continue, but it was yet another reminder of his road ahead.
Still, no one on either side believes Bynum will actually retire in the middle of this season — barring a significant setback. He's worked too hard, come too far to walk away now.
"His heart is in this place," one source with close ties to Bynum said this week. "Everybody knows he's a different kid. He's never sought the limelight of L.A. or New York. The organization and people of Cleveland have been wonderful to him and he's very happy."" [Jason Lloyd – Akron Beacon Journal]
"The Cavs say Bynum has worked extremely hard to get back to where he is now. He's nowhere near where he once was as a player with the Los Angeles Lakers. Will he somehow find a way to regain that athleticism? It would be a wonderful story if he did, but it's unlikely.
He's a proud man, and a very intelligent one. I can't see him continuing with this comeback unless he has a breakthrough, some kind of renaissance." [Bob Finnan – The News Herald]
""I felt it was the right time to experiment," Brown said. "It makes us that much more dynamic [offensively]. They can all create, shoot and pass. It was a neat thing to watch those guys feed off each other. The trust and belief was there."
What it gives the Cavs on offense it can take away defensively, which is why Brown may have to be careful when he uses it. Both Irving and Jack are listed at 6-foot-3 and Waiters is 6-4, which could leave the Cavs vulnerable against some of the league's bigger wings." [Jason Lloyd – Akron Beacon Journal]
"For the record, Mays wound up hitting .274 that first year. He batted .284 after the 1-for-26 start. He played only 34 games (.236 average) in 1952 before being drafted into the Army, missed all of 1953, then returned to lead the National League in batting in 1954 and catch Vic Wertz's fly in the World Series.
So there is that." [Bill Livingston – Cleveland Plain Dealer]
"– 15 – The combined number of offensive rebounds and blocks  from Andy and Tristan. The energy and hustle from this front court duo wreaked havoc on Philly all night long, generating extra possession after possession. In a game this close, every possession matters. The Cavs out rebounded Philadelphia by 6 and blocked 7 more shots than the 76ers. While there was some difficulty containing the uber athletic Thaddeus Young, both Andy and Tristan ended the game with double-doubles." [Ryan Jones – WFNY]
"Waiters is aggressive for all of his minutes.   He has made critical baskets at the end of the third quarter when he has played 43 minutes.  He is still driving, still finding his way to the basket.  He has retrieved his own missed free throw." [Cleveland Jackson – Stepien Rules]
"Kyrie Irving, meet Derrick Rose. For the first time." [Sam Amico – Fox Sports Ohio]