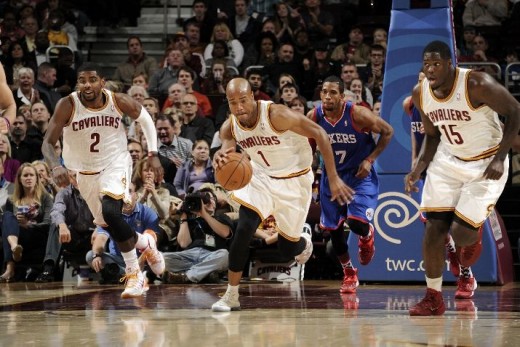 Crap.  I'm exhausted.
As much as the seventh game of the season can be big for two teams that are nowhere near contending, coming out of tonight with a W looms pretty large for the Cavs.  Losing back-to-back to Philly, and starting 2 and 5 would be dispiriting.  As will be typical this season, Andrew Bynum sits on the second night of a back-to-back.  Anthony Bennett's shoulder injury is minor, and he does have the green light.  Let's see how this one plays out.
The evening started rough, as the Cavs defense was pick-and-rolled to death early; the 76ers lead 6 to 11 behind a parade of short shots and free throws.  At that point though, Tristan Thompson went to work, slamming one home from the baseline off a Dion dime, then eviscerating Thad Young from a face-up, creating a new poster opportunity.  Then, Kyrie found TT with a great look; Tristan hit a running hook; some other stuff happened, and voila!  Cavs lead 23 to 18 with three minutes remaining in the first.  Then stuff got weird.  Matt Dellavedova checked in.  Then Henry Sims.  Those two, plus fellow rookie Anthony Bennett, along with Jack and Miles, formed a small, inexperienced back-up crew.  And actually, it didn't go poorly.  Sims snagged an O-board and scored his first NBA basket, Miles drilled a three, and Jack swished a floater, easing Cleveland into the first break leading 30 to 27.
Early in the second, Kyrie checked back in, starting to resemble the bucket-getting phenomena that we know.  First, draining a jumper, then a layup in transition, and eventually a deep three and a pull-up, his 14th point staked the Wine & Gold to a 42 to 36 lead, four minutes into the quarter.  He wasn't done though; a sweet needle-thread resulted in Tristan freebies; a Kyrie dribble & dish to the corner netted Jarrett Jack a three; and an amazing drive & dump resulted in a soaring slam from Andy.   The most shocking play of all came on defense though; facing a 1 on 3 fastbreak Kyrie setup shop directly in Spencer Hawes' path.  The Sixer seven-footer obliged Irving, plowing right through him and sending the ball back Cleveland's way.  At the pinnacle, the Cavs lead by nine, as they cruised to the half leading 53 to 48.  Kyrie paced the team with 14 points, 4 boards and 5 assists, while Tristan tallied 12 & 6 (3 offensive), and Andy drained 5 of 6 shots to also end the half in double-digits.
In the third quarter, everything went haywire.  All of the defensive issues that didn't necessarily kill the team in the first half  were finally exposed.  Pick & roll defense was poor; dribble penetration couldn't be stopped; shooters found themselves open.  Evan Turner scored nine in the first four minutes as part of 13 point quarter.  The Cavaliers got sloppy, turning it over six times, and missing three free throws.  Philly out-rebounded the normally staunch Cavs; basically, everything went wrong as the 76ers won the quarter 37 to 22, making 63% of their field goals.  Okay, one thing went right; Dion found his jumper, draining four as part of a 12-point quarter.  Other than that, forget this ever happened.
As soon as that twelve minutes ended, something completely contrary started.  Cleveland caught fire, and Philly had no answers.  In order, with the Cavs still languishing, behind 78 to 87:  Kyrie drained a three for his 20th points; then a pull-up from Irving; followed by a Varejao dime to Jack in the corner.  Time-out 76ers, with Cleveland down one.  They weren't done yet though…Dion drove for a ferocious dunk; Jack stroked a jumper; Kyrie hit a ridiculous mid-air hand-switching, banked, and-one.  At 93 to 92, Cleveland takes their first lead since early in the third.  Next, Tristan joins in, maliciously swatting a shot, then running the court for free throws; Dion cans my favorite shot, a long, step-back two pointer, before Kyrie pulls-up for a sweet J.  In a dream sequence of what this team can look like, the Wine & Gold stretch a Kyrie-Dion-Tristan fueled 19 to 7 run into a 99 to 94 lead with 4:37 remaining.
Then things started to get dicey.  The teams traded buckets. Philly with a layup and two free throws…Kyrie flashed a magnificent ball-handling display into a sick pull-up three…Dion swoops in for a strong lay-in finish…Cavs lead 104 to 98 with 2:39 to go.  But of course, Spencer Hawes hits a layup, Evan Turner hits a free throw…Kyrie throws a pass away, and Philly scores two more.  The lead drops to one with a minute left!  Fortunately, Kyrie finds Jack for a jumper, to again stretch the margin to three.  But then a Kyrie passing-lane gamble causes a defensive breakdown, and…106 to 105; my fingernails are whittling down.  OH NO!  Jack misses a jumper.  But OH YES!  Tristan grabs the board!  Ten seconds to go, heading to the line.  Alas, TT hits one of two, Thad Young faces-up and hits an off-balance scoop, Kyrie misses an oh-so-close reverse layup at the buzzer…and the game is headed to overtime.
The first extra stanza looked a lot like the fourth quarter.  Everything went right for a while.  A fantastic one minute stretch featured a Thompson swat that became a Waiters transition dunk; then Tristan threw both Spencer Hawes and Thad Young into the basket with a filthy dunk.  A Jarrett Jack trey off of Kyrie's twelfth assist stretched the Cavs lead to seven, 116 to 109, with one minute and thirty-five seconds to go.  Before Cavs fans got too comfortable though, November phenom Michael-Carter Williams drained a pull-up three, leaving the Cavs with the ball, and 53 seconds remaining.  Kyrie isolates at the top, surely looking to run the clock…except he didn't, shooting a long jumper with 16 seconds left on the shot clock (wth?!?!).  After another Philly bucket and a Cavalier miss, Evan Turner willed-in a ridiculous 5-footer over Varejao, tying the game at 116.  My fingernails are gone…blood on the keyboard.  And Kyrie misses a buzzer-beating heave from 18 feet.  The game heads to a second overtime.
As this game progresses, years are being subtracted from my life.  Dion misses a couple jumpers early in double-OT, and the Cavs slip behind, before he redeems himself with a steal and transition assist to Jarrett Jack (no foul there?  Come on, refs!).   At this point, both teams are clearly exhausted; points are hard to come by, and the first four minutes of the second overtime produce nine combined points.  Cleveland holds a slim advantage 121 to 120, when Jarrett Jack pulls the ultimate veteran move, sliding in front of a sleep-running Spencer Hawes…charge on the Sixers big…Cavs ball!  Dion again remembers who he is, attacking the basket and drawing two free throws.  Unfortunately, he only hits one, but in a fabulous hustle play, chases down the rebound, and heads to the line again.  Unfortunately, he only hits one again.  The teams trade buckets, and I call 9-1-1 as MCW drains a ridiculous, deep three with Kyrie right in his grill.  Too much blood loss for me.  I can't see straight anymore and have wrapped both hands in a nearby blanket.  You think typing with your thumbs is bad?  This recap was finished with toes.
Enough of that though.  It's 125 to 125.  Eleven seconds to go.  Cleveland has to score here, because surely my local hospital doesn't have LeaguePass.  As Kyrie sizes-up the defense, Philly runs at him with a double team of 6′ 6″ MCW and 7-footer Spencer Hawes; Irving knows no fear though.  He goes left…he is into the lane…a LEFT HANDED LAYUP FOR THE WIN!!!  127 TO 125 CAVS!!!  KYRIE'S SIXTH CAREER GAME WINNER!!  I JUMP AROUND IN A DAZED STUPOR!!!!
A few quick bullets.  Pray for me.
Kyrie finished with 39 points, 12 assists and 5 rebounds.  He shot 33 times and certainly wasn't perfect, but overall a great game from the team's star.  Several of his dimes were things of beauty.
Dion finished with 24 points on 55% true shooting, with 8 rebounds, 6 assists and 4 steals.  Still a few too many off-balance jumpers, but his passing looked solid, as shooters would frequently fill his vacated space when he drove, and Dion found them.  Please figure out your free throw stroke though; you are not a 60% foul shooter.  A few of these nail-biting games could not have been, with a couple more hits from the line.
Tristan finished with his fourth double-double of the young season, a 19 & 10 on 70% true shooting, thanks to hitting 7 of 8 freebies.  Maybe Tristan can start giving the rest of the team shooting tips.  He also had two nasty blocks and one sicko dunk.
Jarrett Jack finished with 20 points, 4 rebounds, 5 assists, 3 steals and 3 blocks.  Occasionally sloppy with the ball, Jack frequently came through with big clutch shots tonight.  His drawn charge on Hawes was pivotal.  He and Kyrie paced the Cavs at +11 on the scoreboard.
CJ Miles only played 18 minutes.  Earl Clark did not play.  The Irving – Jack – Waiters – Thompson – Varejao unit played most of the fourth quarter and both overtimes.  They played 48, 37, 44, 48 and 43 minutes, respectively.  Take tomorrow off, guys.
Henry Sims tallied 4 points, 5 rebounds, 1 assist and 2 blocks in 13 minutes.  I didn't have high hopes for him, but it was an intriguing night.  He has made as many baskets as Anthony Bennett.
What is up with Evan Turner?  Averaging 22, 6 and 4 coming into the night, he put up 31 & 10 and at various points in the game, abused the Cavalier defense.  He finished a game best +15.
And that's it.  Until Monday.  This shouldn't be this hard.