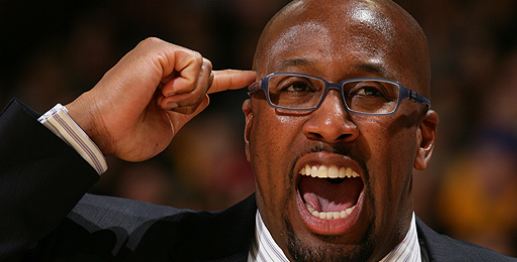 Seven days are now in the books. Seven days of actual, real life, regular season NBA basketball. That's seven days — seven little squares of paper torn from your "word a day" desk calendar, time enough to complete the entire life cycle of your standard male mosquito — seven days worth of evidence that Former Star A is washed up, Draft Pick B is a bust or that Crappy Team C just might be C for Cinderella this year. Seven days.
Seven days, of course, are not everything. But they are also not nothing— and the arc of this season will be built on four game sample size upon four game sample size. Already, the Cavaliers have shown some promising signs looking ahead to the remaining 78 games of the regular season, as well as many causes for concern. The team has won two nail-biters at home and lost two less competitive contests on the road showing, in both the wins and losses, some measure of growth from the skunky quagmire that was last season. How much that growth continues for the team and for its individual players is a question that fills me with many feelings that, given the early state of the season, are like skepticism. Some are actual skepticism (so, like, incredibly like it). Others? Well, others are less so…
Three things I'm skeptical about:
1.) Is this the same Kyrie Irving? There's no doubt that Irving is having a rough start to the season. Through four, he's averaging just 15.3 points on 36.9% shooting and 18.2% from three. He's already had one injury scare when his arm went numb after a fall in Charlotte and, against the Wolves, was at a loss about how to keep J.J. Berea out of his head as Minnesota was making Cavs fans see visions of Byron Scott's Cavs and their multiple losses after holding leads of 20 points or more dancing in their own. So far, we've seen him overdribbling when the game was on the line against the Nets and coughing the ball up nine times to the Wolves. He has been an average NBA starting point guard in this season's first week.
In Irving's defense, though, he has not let his struggles with his shot completely take away his ability to impact a game. His assists are up nearly one a game and his rebounds are up nearly two— all in just 32 minutes a night. His defense has earned Mike Brown's seal of approval, a significant improvement over last season, and anyone who has watched Irving play over the last two-plus years has to feel like that oh-so-pretty shot is going to come around. When it does, if Irving keeps up his assist and rebounding numbers strong, we'll have a much more realistic idea of what this Cavs team is capable of under a still-improving, star-level talent in Irving.
2.) Will Anthony Bennett make a field goal in the season's second week? You'd think so, though you'd thought it would have happened by now too. Bennett's confidence has got to be shot following the first string of games the number one overall pick has put together. Brown has been steady and supportive of Bennett, frequently mentioning that his advice to the rookie is to loosen up, have fun out there, take open shots and play like he did last year as a freshman at UNLV. Bennett has not been a travesty on the defensive end and he's shown the ability to be a force on the glass, but he needs that lid to come off the basket if we're ever going to see flashes of the player that Chris Grant reached for with the first pick.
3.) Will we see anything resembling an NBA offense by Christmas? Cavs fans were told time and time again that the team's offense would be a work in progress. They spent nearly all of their time installing Brown's defensive concepts and, according to reports, only installed a couple of offensive plays so that the defense would have something to practice against. Brown was very explicit about this point: the offense will be a season long process and will only get the lion's share of the attention after he is satisfied that the team is living his system on the defensive end. So, why are some people so surprised to see the offense look so ugly early in the season? Surely, one reason is Irving's struggles from the field. When your star offensive player isn't hitting shots like he's used to and players like Dion Waiters (33%) and Bennett (0%) haven't warmed up (yet?) from the floor, people watching this team can lose patience with ugly real fast.
Three things I'm less entirely skeptical about:
1.) Tristan Thompson. Take out Thompson's disappearing act in Indiana where he was swallowed up to the tune of two points and four boards and the Cavs third year power forward is averaging 17 points and 10.3 rebounds a game. He's shown decent touch on his jumper nearly out to the three point line and has embraced the challenge of being one of the young leaders on this team. His defense on early-season scoring champ, Kevin Love, helped hold the Wolves forward to 12 points below his average. He's even connecting on 76.5% of his free throws. While I think his season will end up somewhere between the zenith that was the first two games and his struggles when a good defense actually took care to deny him the ball, watching Thompson on the court is amazing because of how radically different he looks then when he came in as a rookie. I got used to seeing a stiff-moving, hesitant Thompson, so now find myself doing a double take when he's darting around strong and nimble and decisive. It really is like watching a player in a different body out there and, still only 22 years old and just having switched shooting hands over the summer, there's a strong chance that he continues to get better as the season goes on.
2.) The Jarrett Jack/C.J. Miles/Andrew Bynum bench unit. Jack has provided the steadying influence on the Cavs backcourt they hoped for when they signed him and Bynum is clearly a difference maker, especially on the defensive end (if, yes, clearly a difference maker that's got a ways to go in getting his comfort level back). The real pleasant surprise here is Miles, currently averaging 14.8 points per game on 52.3% shooting (38.1% from three). He's been hitting jumpers, attacking the basket, and has really reaped the rewards of the attention that defenses have had to pay to Jack and (especially) Bynum. Now, we all know that Miles is a streaky player (and, as Tom has pointed out before, he's a tad anti-clutch) but there's enough scoring ability on this bench — and not a significant drop off in defensive ability — to really see the Cavs bench being what holds them in games until the starters' offense starts coming, in any way, around.
3.) Mike Brown's defense. One week in, the Cavs are a top-5 NBA defense. Didn't think that would happen so quickly, did you? Opponents are shooting 40.5% and are scoring just 91.3 points per game against the team that was dead last in defense a season ago. What's more, they've needed it in eeking out wins against the Nets and Wolves. If the team was giving the effort and execution on the defensive end that they gave last year, there's very little doubt the Cavs would be 0-4 right now.