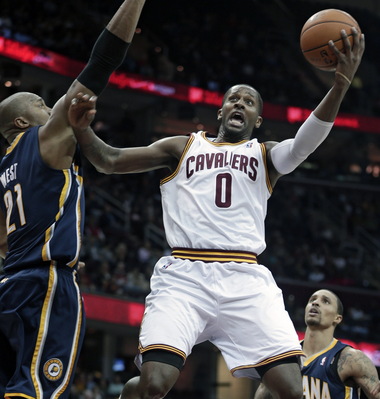 Lacking creativity, and also time between work and family, today I offer a few simple bullets on the early season.
1.  C.J. Miles for Sixth Man of the Year?  Let me take a 5-game sample and dream for a bit.
3J has kicked-off this season as a revelation.  After a miserable debut with the Cavs, from December 2012 til April, he averaged 12.4 points while hitting 40% of his threes.  Early this year, it's 15 point per night on berzerk 64% true shooting.  His shot continues to look pure, and his explosiveness looks bounds better.  According to 82games , 3% of his shots were dunks in 2012 – 2013; this November, he is tearing down the rim at least once per game.  He is racking up steals at nearly twice the rate of last year.  As of yesterday, he was 7th in the league for PER.
Will that keep up?  Obviously, no.  But follow me here.  Once upon a time, CJ Miles was a 20 year old; a promising, athletic wing; already a 3-year veteran; a guy whose per-36 minute averages were 16 points, 4 rebounds, 3 assists and 2 steals on 48 / 39 / 78; a youngster that Sam Presti offered 4 years and $15 million.  Then Utah matched…Miles went from being a Dallas teenager and 2nd round draft pick to a 21-year old multi-millionaire…eventually Deron Williams got the coach fired and himself traded…Miles languished, never meeting his early flashes of potential.  Who knows how those circumstances and environment affected him?  Was he stunted?  Has a combination of age, maturity, suitable environment and role enabled him to resume his early career arc?  It's an interesting story to watch.  If a good case plays out, one thing potentially impeding consideration for Sixth Man accolades though is…
2.  C.J. Miles as Starter?  Let's pretend for a minute that after 10, 15, maybe 20 games, universal clarity forms around the idea that Earl Clark isn't very good, and that when healthy, the 144 minutes per game from the guards / wings primarily need distributed wholey to Irving, Waiters, Jack, Miles and Gee.  There are size issues there, but at some point a team needs to play their best players, right?    Sandwiched between Kyrie, Dion, and Tristan, the "three" almost certainly requires the ability to shoot threes.  Miles can be that court spacer.  Maybe a mid-season trade can swing a 3-and-D wing, but that's not the topic here.  Right now, he possibly represents the best compliment to the starting unit.  The rotation could be whittled from ten men to nine, with Miles and Gee splitting time at SF, and CJ also seeing some minutes at shooting guard.  This likely improves the dynamism of the offense, while only marginally disrupting the defense.
Finally, if CJ continues his quality play, what role does he have with the team moving forward?  For the last several years, every veteran to come through Cleveland has basically been discarded as "not part of the future".  Miles will play this entire season as a 26-year old.  If his play resembles his last 60 games, he is a must keep this summer.
3.  Long Twos are Bad Shots – Many of us know this.  Dion Waiters may still be learning.  Mike Brown needs to instill this in him.  Possibly make him write one hundred times on a black board,  "long twos off the dribble with double-digits left on the shot clock are not the right idea".  I'm a big supporter, Dion, but please take a look at your shot chart.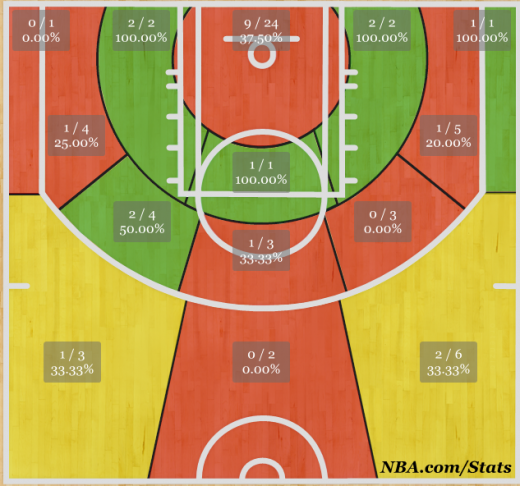 First, a good note.  Nearly 40% of Waiters' shots are in that little circle near the basket.  That's pretty solid.  It is improbable with that frequency of basket-attacking that Dion will: A) not eventually best his current rate of less than one free throw for every four field goals attempts, and B) not convert significantly more than the 38% he currently hits near the basket.  Last year, he netted 50%, and over the course of 82 games, I'd expect an improvement on that in his age-22 season.  Now the trouble area…the four long two-point shots per game…with the 25% conversion rate.  Limit those; almost no one hits them at much better than forty percent.  Shoot threes, attack for layups or free throws, and if those aren't available, pass the ball.  Save the 20-footers as a bail-out when the shot clock winds into low single digits.
4.  Tristan Thompson: Stretch Four? – Making 76% of his free throws so far, the right handedness shows early benefits.
5.  Omri Casspi is playing well – Why do these things happen?  Did Omri Casspi ever have a stretch of 114 minutes in Cleveland with a PER of 17.4?
6.  This Weekend's Games – Back-to-back games against Philly.  First, a return for Dion to his home town.  Last year, he struggled mightily when there.  In two games, Waiters shot 7 of 28, with zero free throws, 2 assists and 9 turnovers.  Take a deep breath…then kick their asses.  After a cross-state trip, Saturday night brings the teams to the Q.
So far, this has been a bizarro season for both teams.  For the Cavs, it has been victories against Brooklyn and Minnesota, and losses to Charlotte, then a Milwaukee team missing three rotation players.  For the 76ers, a miracle 3-0 start, including a win over Miami.  Through five games, Spencer Hawes, Evan Turner and Michael Carter-Williams have PER's between 21 and 23.
When counting to 40+ wins this season for the Wine & Gold, many probably considered both of these games as wins.  The Sixers are young, feature a relatively weak defense, and the aforementioned trio are almost certainly not borderline all-stars.  Fingers crossed that the Cavs exit the weekend on the right side of five-hundred.