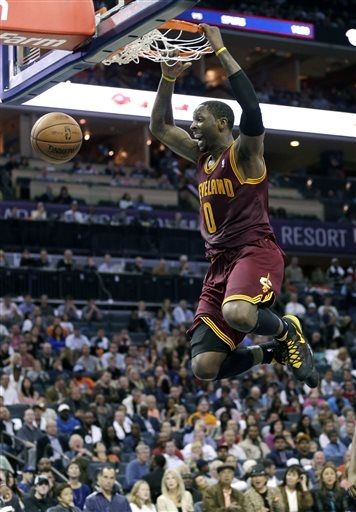 This battle contained all the storylines one could handle: 2011 draftees Kyrie and Tristan versus Kemba and Bismack; how much more could Andrew Bynum play; which Zeller brother would dominate the other?  For the most part though, for Cleveland, this was a game to forget.
The game started ugly, particularly for Dion, as the game's initial three minutes witnessed a sloppy passing turnover, an egregious palming violation, and a missed 20-footer off the bounce with 17 seconds left on the shot clock.  Cleveland struggled keeping Biyombo off the boards, and offensive wunderkind Michael Kidd-Gilchrist went to work against Cavalier defensive ace Earl Clark.  Fresh off his 20th birthday, MKG scored eight points in the first six minutes, off of several drives and a lucky jumper.  For the entirety of the quarter, whether MKG, Walker, or Ramon Sessions, the Cats got dribble penetration, ultimately resulting in layups or open jumpers.  On offense, the Cavs also struggled early, with only Kyrie and Jarrett Jack managing to keep the team afloat.  Irving tallied nine points on 4 of 6 shooting in the first, including a glorious left-hander off the glass, with some sweet english on it.  He also setup TT with a monstrous two-handed slam, and Jack's five points in 30 seconds to close the quarter kept the Cavs from early embarrassment.  Charlotte lead 30 to 23 at the first break.
The beginning of the next quarter looked similar to the prior.  In an initial battle of 2013 lottery pick forwards, Cody Zeller scored four quick points against Anthony Bennett, while the Cavs rookie responded with an errant 26-footer and a foul.  Cleveland's defense continued to have no answers, as Charlotte rang up 40 points in the game's first 16 minutes.  Fortunately, Jack and Miles provided a small lifeline to keep the team afloat, combining for nine points in four minutes, as the Cavs trailed 32 to 40.  As the quarter wore on, short bursts of strong individual effort continued to buoy Cleveland from sinking.  Tristan Thompson scored 11 points for the quarter, knocking down a 13-footer and drawing fouls on the offensive glass.  In a non-box score contribution, he drew a defensive three-seconds call against Bismack Biyombo, as the Charlotte center waited to help Josh McRoberts, isolated on Thompson near the right block.  Nice to see that opposing bigs are respecting TT's face-up game.  Anyways, Cleveland headed to the locker room trailing 49 to 54.
The second half started ugly.  An Earl Clark layup got smothered by Biyombo; two Kyrie passing turnovers, with one a bobble by Dion; three fast-break dunks in four possessions for Charlotte. The Cavs transition defense, as well as their clean up of the defensive boards, were subpar.  Earl Clark lost his dribble out of bounds on a Cavalier run-out, and early in the third, the deficit extended to eight.  Again though, the sole trio of Cavs to show up kept performing.  CJ stroked two jumpers, including a deeeep three, then stole a Kemba Walker pass, resulting in a completely bad-ass alley-oop finish by Tristan.  After Tristan drained a 14-footer, Miles netted a lay-up, then Jack swished a nifty floater, and the Cavs drew to within one point at 66 to 67 with three minutes to go.  Par for the course on this night though, that run was immediately followed by a hot mess of turnovers and ill-advised shots, as Charlotte scored eight unanswered and headed to the fourth, ahead 75 to 66.
The final stanza started stunningly, as the big three of Miles, Jack and Thompson scored every point in a 10 to 1 run; the Cavs were even with eight minutes to go.  Unfortunately, the seventy-zillionth foul on the defensive boards was called against Cleveland, and Charlotte was in the bonus with 7:45 left.  For both squads the offense began to struggle, as the pressure built and the defense tightened; for the quarter, the Bobcats attempted only three of their 15 field goals within the paint.  Eventually, Charlotte went on a mini-run, but Cleveland responded with a monstrous CJ Miles dunk from a Varejao dime, and a jumper from Jack.  After Tristan drew two more free throws battling on the offensive glass, and Miles hit a swooping finger-roll, the game was again even…84 to 84.  Alas though, Cleveland didn't score in the final 2:08; Kemba Walker drained a deep trey with a minute left; and the Bobcats stumbled to a six-point victory.  All eighteen fourth quarter Cavalier points were scored by Miles, Jack and Tristan.
Well, there's always tonight.  Bring on the Pacers.
A few bullets:
I mentioned this last night, but Clark, Varejao, Waiters, Gee, Bennett, Bynum, and Zeller combined to shoot 3 of 27.  Kyrie scored 16 on 42% true shooting.  The team turned the ball over 17 times, compared with 14 assists.  A few young magician tricks from Kyrie aside, this game was ugly, ugly, ugly for the bulk of the team.
Tristan finished with an awesome 21 and 11, including 9 of 10 from the foul line, as part of 68% true shooting.  20 & 10…90% from the stripe…keep those lines up and most improved player is a possibility.  He was really good, but perfection is still perhaps a year off.  Four turnovers and five fouls were detrimental.
CJ Miles was the best Cav tonight with 22 points on 67% true shooting.  Of four Cleveland three pointers, he made three, and also snagged five boards and three steals.  He paced the team in plus/minus, at plus six.
Jarrett Jack pitched in 15 points and 3 assists.  A very nice game providing a bench scoring punch, but he also lost three turnovers, including two during the somewhat critical Bobcat run to close the third quarter.
Cleveland was waaaay worse on the defensive boards than the box score indicates.  When I first scoped out the Bobcats individual offensive rebounding totals, I said, "whaaaat?"  Only 5?  It seemed Charlotte was perpetually gaining an advantage over Cleveland there.  Browsing through the play-by-play, Charlotte was credited with 16 (!) additional "team offensive rebounds".  I counted at least six fouls against Cleveland trying to regain position from Charlotte on the glass; I can't remember seeing that foul called so many times in a game.
In his 11 minute cameo, Andrew Bynum was not as effective as Wednesday.  While once showing the exceptional footwork that can make him a monster, gathering a pass & agilely spinning between two defenders, he otherwise exhibited poor touch, missing several short hooks and finishing 2 for 7.  Also, in contrast to his Wednesday night shot blocking, instead Jeff Adrien sent one of Bynum's hoists into the stands.   Rustiness should be expected after 18 months, right?  It's great that he's on the court and showing flashes of nimbleness.
I have been one of Dion's big supporters, but this was the worst performance we have seen from him in a while.  His ankle is hurting, and after being pulled three minutes into the third quarter, he never returned.   In his 14 minutes, he shot 1 of 5, with 2 turnovers and 2 fouls.  Zero rebounds.  Zero assists.  Zero steals.  Remember the preseason game against Orlando, when Dion twice scored on dunks, from cuts?  Those early glimpses of the offense / Dion generating easy looks was so promising compared to last year, when offense was always an individual effort.  Certainly tonight, for Dion and the team, offense again became a matter of outstanding individual efforts controlling over a system creating any easy buckets.   Dion took zero shots at the basket, and one of his two attempts in the paint  came after splitting a double team; of course this shot was swallowed whole by a Charlotte defender.  Of his five shots, his three long jumpers came with 17 seconds, 11 seconds, and 9 seconds remaining on the shot clock.  As a general concept, the offense needs to create more easy looks for everyone; the team shouldn't have to always rely on individual heroics.  For Dion specifically, if 35% of his shots are not coming at the rim, that is trouble.  He needs to be patient, play within the offense, and not shoot long twos off the dribble with 17 seconds left on the shot clock.  When he gets the ball early in the possession, act quickly and smartly, and if nothing is there, move the ball to someone else.  Sometimes, the ball tends to stick to Dion; move the rock and it will come back, hopefully with him in a better position to score.  Be aggressive, Dion!  Keep the ball moving, and keep yourself moving off the ball.