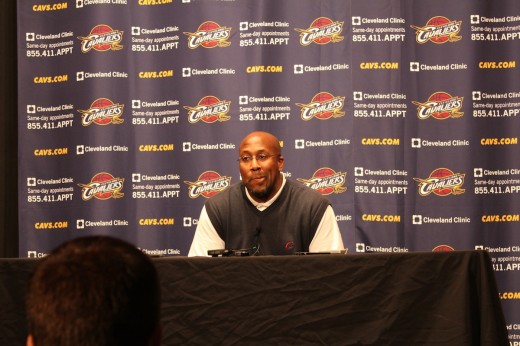 Mike Brown and Dan Gilbert kicked off the pre-game press conferences Wednesday night at The Q. First, the recently re-ordained head coach sat down to what everyone knew would be a 90% "Is Andrew Bynum going to play?" presser. The owner followed, eschewed a seat, and then spent most of his time on the Cavs-themed riser wondering why it was so darned hot under those lights and looking for something to dab dry his brow. After both men had spoken, my friend, Scott, turned to me and said, "If you had to guess which of those two was the multi-billionaire, what would you say?"
"I am fully convinced," I said, in place of a direct answer, "that Mike Brown could fix everything that's wrong with me as a human being."
Now, yes, successful head coaches can often hold that type of sway over an audience. But Brown, who later characterized himself as sometimes "too uptight" in his first run with the club, possesses a self-confidence (that, let's face it, would be difficult not to have after your old boss hires you back and admits to it being a mistake ever letting you go in the first place) and belief in his direction for this team that begs to be stirred in with one's Kool-Aid and greedily gulped down.
There will be questions going forward about if Brown has equally matured as a tactician or in-game decision maker but, for now, it should come as no surprise that his young Cavs team seems to have bought into what he's been preaching and is responding with some of the most determined basketball we've seen at The Q in a while (well, from the Cavs anyway…).
Other notes:
-If you're Dion Waiters, how would you respond to this key sequence in the game:  Kyrie Irving, clearly frustrated by his off shooting night and trying to place his mark on the game during a tight fourth quarter, puts on a dribbling clinic trying to find a driving lane past the Nets' tall, long defenders. And he dribbles. And he dribbles. And he dribbles (okay, yes, beautifully so … sure) only to flip the ball to Anderson Varejao for a shot clock-beating jumper from the foul line giving the Cavs the lead. Clutch play from Andy. Good find by Kyrie. Only one problem: your shooting guard is standing to your left this whole time completely unguarded. Waiters had some success with his outside shot in the opener, so it would seem that the better basketball play would be to get the ball to the open guy beyond the arc, not dribble out the clock and dump off to your center for a 15-footer. Andy made the shot, so it's tough to press the issue too much, but our iron-clad one game sample suggests that our backcourt duo still have a ways to go in figuring out how to effectively play with one another.
-Looking for the season's next big comedy hit? Try Mike Brown's impressions of his players. In his post game press conference, Brown told of Tristan Thompson coming over to him during a time out in the tight fourth quarter after the Nets had grabbed a rebound. Brown huffed and puffed, imitating his power forward saying "Coach, if no one wants [those rebounds], I'm just gonna grab 'em all." Brown then switched hats and deadpanned his response, "That's a good idea, Tristan."
-It will be very interesting to track how Brown uses Andrew Bynum now that the center has logged his first NBA minutes in over a year. He admitted that there will be times where he rests Bynum … well, essentially just because and is very conscious of the team's need to be able to play well without Bynum, as well as with him. He did not indicate any strict policy regarding how minutes will be managed and when/whether they'd be increased. I would not be surprised to see Brown rest Bynum tonight against a weaker opponent in the Charlotte Bobcats and work the center back very, very slowly. But, as Brown admitted after the win over the Nets, "We're a different team with him out there."
Now, sit back and enjoy some pics I snagged before tip-off on Wednesday…