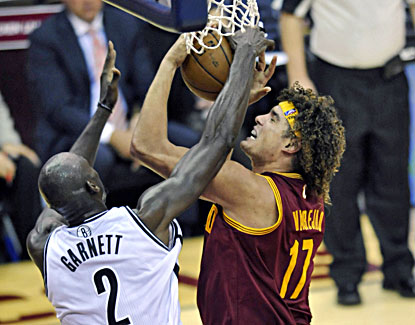 Cavs win the season opener! Against a team many project to go to the finals! Andrew Bynum possesses two knees! In short: it was a big night for the Cavs and Cavs fans and as such, we're getting short  reactions from 6/7 of the Cavs: The Blog staff.
Patrick: There was a whole lot happening tonight, from the debuts of Jarrett Jack, Andrew Bynum and Tristan Thompson's right hand to the return of Anderson Varejao to a revamped team defense. There was trepidation in the Q early on, as the Nets rushed out to a 12-2 lead on the back of scoring from the interior and the perimeter and the Cavs responded by appearing flustered. However, Tristan Thompson and Jarrett Jack collaborated well to steady the ship and the Cavs won the first quarter 27-26. Andrew Bynum entered the game late in the first to huge ovations, and he looked calm in his first cameo. The Cavs have struggled with protecting the rim in years past, and his two blocks in eight minutes were an intriguing preview of a potentially sound interior defense. Bynum is a massive dude and managed to make Brook Lopez (who Austin Carr referred to multiple times as a "mountain man") look fairly average.
As a team, the Cavs defended actively throughout the game, the Nets initial run nonwithstanding. One of the most important  facets to a succesful season will be improved defense. There were lapses tonight, as there are for every team every night, but the Cavs were aggressive in doubling, showing weakside help and remaining active on the perimeter. It showed, as they held Brooklyn to 40.2% shooting. Irving led the team with a balanced 15 points, seven rebounds, nine assists and two steals, impressive considering Jarrett Jack was the Cavs' most effective guard in the first half. While Jack and Miles scored well, there was a worrying portion of the early-fourth where the bench stagnated heavily on offense. Word up to almost every starter finishing with double digits.
Kevin: It took one night, but my pre-season predictions are screwed. Bynum and Zeller played (BYNUM PLAYED!!!).  Kyrie only scored 15. Philadelphia did not take until February 18th to get a win (Haha…the Heat).
Of course, I'll accept it though. An awesome victory, with the Cavs starting the third quarter and closing the fourth quarter strong; two definite differences from last season. There was a lot to like. Tristan Thompson with two jumpers, including a 20-footer. That is a fairy tale; almost literally out of a movie (weird parallels to Major League). An offensively challenged big man switches shooting hands, then becomes a deadly pick & pop threat?  Who writes this stuff? I don't know, but keep doing what you do, Tristan.
The Jarrett Jack and CJ Miles backcourt will provide some really painful nights, but also some stunners like this evening. Fifteen combined points in a four-minute stretch of the first quarter saved the team early. I am looking forward to that combo all season.
Cleveland kept their composure, and even on an off shooting night from Kyrie and Dion, beat an opponent poised for a deep playoff run. In what should be a season long strength, the Cavs excelled on the boards, including a game-transforming 16 on the offensive glass. Combining that with a nearly two assists per turnover, and this team will go places…like maybe to a first round playoff match-up against the Nets. That would be cool.
Mallory: Believe it or not, I have nothing controversial to say about tonight's game. It was simply great. Despite an off night from Kyrie (and some head scratching shots from Dion – but isn't that the norm?) the Cavaliers were able to beat the Brooklyn Nets to open the season.
Tristan looks like he's absolutely ready to take his game to a new level. Who could've imagined that he'd develop a competent midrange game this early?
Andy was his usual ball of energy, even with only 8 rebounds and the game-winning jumper. Imagine the pairing of him with Bynum to close out games? They'll be a rebounding, defense machine. Andy did have trouble defending Lopez in the post, but that's what Bynum is for anyway, right?
One substantial thing that stood out to me was how many shot clock violations the Cavs had. Off the top of my head I remember three (all ending, by the way, with an Earl Clark jumper…what?). I know it's game one, but the coaching staff should stress getting earlier looks, and never, ever, EVER deferring to Clark when the clock is about to expire.
Anthony Bennett's first game is finally out of the way, and even though Tyler Zeller had to play four minutes, the Cavaliers won.  With good defense (Dion on Joe Johnson, anyone?), great rebounding, and timely buckets, this Cavaliers team should be able to overcome the occasional bad shooting night and win games. That's a recipe for success. After one game, I can say with some degree of certainty that this season will be a much, much more enjoyable one for Cavs fans. Congrats, guys – we made it!
Nate: The Defense: So much more impressive than last year. Kyrie jumped out on screens and pressured the ball. He did a much better job of fighting through picks. He did sag way too far off Terry when Jet hit a big three in the fourth, but Cleveland didn't give up a bucket between 5:16 and 1:35 left in that quarter (of course the Nets were playing without a point guard in most of that span). On the last big possession, Gee's closeout on Jason Terry was perfect and Terry missed. And, oh my God, the rebounding. The Cavs are going to be an absolute bear to rebound against this year. 34 rebounds from the starters, and no one played more than 35 minutes. The Cavs had at least two possessions with three offensive rebounds, and Bennett had some nice D-boards. However… The Nets looked pretty bad. That 3:41 stretch without a point guard in crunch time was a disaster offensively, and Deron Williams' injury made things much easier for Kyrie and company. Billy King may have assembled a team of overpaid geriatric cases.
Dion Waiters: I only counted four awful shots. Can you imagine his field goal percentage if he took them out of his game?  Speaking of bad jump shots, what did everyone think of Anthony Bennett?
Oh, and it may be time for CtB to rename Cavs' king of offensive efficiency: Tristan Thompson. I used to call him "Canadian Dynamite", but that jumper and that hook shot are so buttery, that his name is now "Switch Maple Smooth."
Robert: The 2013-14 Cavs looked like what many of us thought they would, optimistically or not: a talented, versatile, athletic team that will be able to weather some unevenness on offense if they play Mike Brown's defense like they did for the better part of the opener. Let's face it, we've got some streaky guys on our roster. Tonight, everyone seemed to pitch in at one point or another. Jarrett Jack's ability to be a scoring point guard with the second unit was huge in the first half. Earl Clark, Alonzo Gee and Andrew Bynum all had their moments. Kyrie's shot wasn't there, but he had seven rebounds. But we saw how the defense could keep them in games when things got ugly in the fourth quarter. When Tristan stopped scoring, he kept rebounding. After the game, Brown talked about how he was interested to see how his team would respond when faced with adversity. "The fight," he said, "the belief was there the whole time." A lot of it wasn't pretty but, Brown conceded, that was fine by him.
Tom: Here's what I feared going into the season. The Cavs would start slowly. Andrew Bynum wouldn't play. Kyrie and Dion wouldn't play well together. Kyrie and Dion wouldn't play defense. Mike Brown wouldn't play C.J. Miles. Earl Clark would be just awful. The Cavs wouldn't play defense because they don't have physical players. Now I don't want to overreact to one game, but the Cavs more or less shattered every one of my fears. They played relentless defense for 48 minutes, Kyrie and Dion played well off each other in the second half, Bynum played on OPENING NIGHT, MB played C.J. Miles and he was effective, and the Cavs beat a legit championship contender. This team has talent, athleticism, depth, and size. If they stay healthy and become more cohesive on offense – they will win a lot of games, and it's going to be a fun ride.