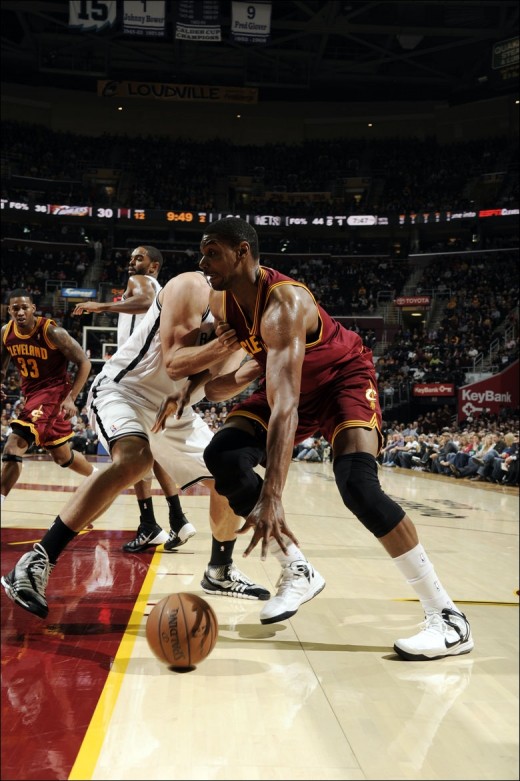 Opening Night isn't exactly like Christmas for NBA fans. Christmas is more like Christmas for NBA fans (because of the day-long slate of nationally televised games and … well, because it's actually Christmas) but that didn't mean that the Cavaliers would kick off their 2013-14 campaign completely bereft of gifts for their fans. After blanket local and national skepticism about whether of not newly acquired center Andrew Bynum would ever play for the Cavs after missing all of last season, that particular cat could not be kept bagged. Rumors heated up as the days ticked down to tip-off, but head coach Mike Brown remained noncommittal. Bynum, he said, was close, but wouldn't play until he was ready. Finally, in a warm-up that ended less than an hour before game time, Bynum told Brown he felt ready and the Bynum Era Cavs took the court.
First quarter: Less than two minutes into the game, questions about Kyrie Irving's defense were temporarily hushed as the Cavs' star point guard poked the ball loose from Deron Williams and pushed a break that eventually led to a Earl Clark dunk. The rest of the defense, though, started shaky. After the Nets opened a 10-2 lead with 9:46 left in the first, Mike Brown continued his preseason form of burning time outs to fix his team's still awkward-fitting defensive identity. Four points a piece from Anderson Varejao and Tristan Thompson (including a pretty right handed jumper from nearly three point range!!) got the Cavs back to within four at 14-10 Nets. With Irving out with early foul trouble, the Cavs rode Thompson and Jarrett Jack until first overall pick Anthony Bennett subbed out Thompson at 4:40 then, with 3:40 left in the first, Bynum stood up, peeled off his white warm-up and entered (our hearts) the game. Let's get this out of the way first: a Bennett/Bynum front court is not built for speed. But, they're both very good on the boards and defending the hoop. Behind 10 points from Jack and five from C.J. Miles, the Cavs bench chips away at the Nets' lead, finally taking a 27-26 lead after one.
Second quarter: Bynum kicks the quarter off by swatting a Williams shot several rows deep. His first points as a Cav came seconds later at 10:33 as he cleaned up an Alonzo Gee miss, got fouled and hit the freebie.  Gee, meanwhile, was flying all over the court, being a disruptive gem on the defensive end. He did, however, continue to shy away taking corner threes opting, instead, for his trademark ill-fated careens along the baseline. For anyone wondering exactly how long Bennett could stay on the court because of his incredibly high preseason rate of fouling, should feel a little relieved. The rookie didn't pick up his first foul until the 8:06 mark — or over eight minutes of court time. Good work, big man! Most of the starters for both teams were back in by the six minute mark, but Brooklyn started feeding on a steady diet of Brook Lopez down low. The Nets' center finished the half with 15 points, most coming in the final five minutes of the half. Irving's first points of the season didn't come until 28.4 seconds left in the half when Waiters drove then dumped the ball off to a cutting Irving under the basket. At the half, the Cavs reclaimed their one-point lead at 49-48.
Third quarter: Dion Waiters started feeling it toward the end of the first half, getting some jumpers to fall after his drives were … eh, less than successful. He starts the third by hitting a three. Yes, his jumper looks much better this year. It looks like an actual jumper. Plenty has been said (and will surely be said again) about he should not fall in love with it, but you also like your shooting guard to be able to hit open shots, right? (Author's Note: Waiters promptly fell in love with the jumper, started drifting a little on his next attempt and missed). The Q got a little nervous when a Paul Pierce three and a bucket by Kevin Garnett put the Nets up one — almost like they'd seen those two do damage in this building before.
Brown's influence on this team was never more apparent than at the 6:22 mark when Irving poked the ball loose from Williams before, after three wine and gold jerseys where on the floor grabbing and poking at the ball, returning to Irving who smothered it and called time out. That's Mike Brown 50/50 basketball, ladies and gentlemen! TT went on his own little mini-run (a jumper from the elbow and a left-handed hook) to put the Cavs up 73-66. Then, it took most of three quarters, but Bennett finally got his first NBA points going 1-2 at the line with 49 seconds to go in the third. After 36, it's Cavs 79, Nets 70.
Fourth quarter: Aaaaaaand there's where the sloppy play was hiding. Turnovers by Jack and Tyler Zeller led to easy buckets for the Nets and another Mike Brown quick-trigger time out. The Cavs pushed their lead back to six at 82-76, but Jason Terry canned two straight threes (the second after another Cavaliers turnover) and suddenly it was a tie game with 7:33 to go. And just when it looked like the Cavs were headed to a shot clock violation and another turnover, a wild Varejao jumper (no, seriously … I'm not making a joke) seemed like it might be the spark that got the Cavs going again. It wasn't. Both teams really struggled to do much of anything offensively in the fourth, but with 3:51 left in the game, the Nets had outscored the Cavs 16-7 to keep it knotted at 86. You read that right. Seven points in the first eight minutes of the fourth. And The Q got that queezy feeling again. But Varejao continued to battle Lopez down low and made a real impact leading to some missed bunnies under the Nets' basket. A Varejao jumper at 28.1 seconds left (after a … shall we say protracted dribbling display by Irving) put the Cavs up two at 93-91 and some stout defense and five points combined at the free throw line from Irving and Varejao sealed the game. Irving only goes 4-16 from the field for 15 points but he pulls down seven rebounds, the Cavs have six players in double figures led by Thompson's 18 to go along with nine rebounds and this years' Wine and Gold win 98-94.
Your Cavaliers are 1-0, my friends.