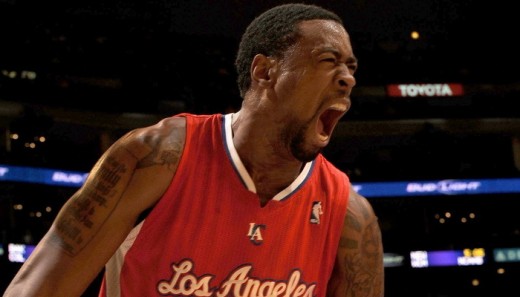 It was a decision made in the heat of a waning summer. We, your Cavs: The Bloggers, would look to irrigate the NBA's barren season by checking in with every NBA team — we'd look at their off season and imagine how they might match up with your Cleveland Cavaliers — because previews … previews, young reader, are what August and September are all about.
And we came so freaking close to getting them all done!

But, as Alonzo Gee will tell us in November and Earl Clark will remind us in March, starting is not what's important. Finishing is what's important.
So, without further ado, here is you Cavs: The Blog super-short, insultingly quick primer to the 2013-14 Minnesota Timberwolves, Denver Nuggets and (in a Pacific Division oversight) Los Angeles Clippers.
What they did last season:
T-Wolves — Kevin Love played only 18 games due, in part, to injuring his hand doing knuckle push-ups. Ricky Rubio played in 57 games and was limited to starting 47 of those as he worked his way back from a March 2012 ACL tear. The team that was everyone's darling to make the leap to the postseason finished 31-51.
Nuggets — The team that stat geeks cheated on the Warriors with, the deep, athletic, run-run-run Nuggets, led by 2012-13 Coach of the Year, George Karl, went 57-25. Then the team got bounced in six in the first round of the playoffs. Karl, soon, was similarly bounced.
Clippers — The Clips were the best basketball team in LA by a pretty wide margin. Because, in large part, of Chris Paul and Blake Griffin and despite, in large part, because of head coach Vinnie Del Negro, the team went 56-26 and won the Pacific Division. They lost in the first round of the playoffs to the eventual Conference Finalist Memphis Grizzlies.
What they did in the offseason: 
T-Wolves — In attempts to smooth over their relationship with the team's star, Love, Minnesota replaced long-time front office whipping boy, David Kahn, with former coach Flip Saunders. They committed big money to re-signing center Nikola Pekovic, grabbed Kevin Martin, Ronny Turiaf and Corey Brewer in free agency and drafted the enigma that is UCLA guard-forward Shabazz Muhammad.
Nuggets — Longtime assistant coach and former player Brian Shaw finally gets his crack at the head chair, joined by new GM Tim Connelly. The team lost Andre Iguodala, Corey Brewer (see above) and Kosta Koufos, but brought in free agents J.J. Hickson, Nate Robinson and Darrell Arthur. Starting small forward Danilo Gallinari will still miss time as he recovers from a late-season ACL tear.
Clippers — What didn't they do? They fired Del Negro (note: Chris Paul had nothing to do with it) orchestrated the very rare trade for a head coach, bringing in Boston's Doc Rivers, then stocked the cupboards with shooters trading for J.J. Redick and Jared Dudley. They lost stud back-up point guard Eric Bledsoe, but replaced him with Darren Collison. The bench was then primed for former Cavs, Ryan Hollins and Antawn Jamison.
How they match up with the Cavs / Match-up to watch:
T-Wolves — The Cavs and the Wolves have been caught in the same post-franchise-altering-star cycle for the last few years. But both are expected to push for and likely make the playoffs this year. Minnesota could be a real test for the Cavs if the perimeter defense hasn't stiffened to the point that it can slow Rubio's penetration/distribution and if Tristan Thompson gets stretched too far out of his comfort zone covering Love all the way out to the three-point line. For the Cavs to have success against this team, it will be crucial for Thompson to win the battle of the boards against Love.
Nuggets — Playing in Denver gives the Nuggets a real home court advantage and, when Gallinari returns, they'll still feature a balanced, if super-starless attack, with point guard Ty Lawson leading the way and the older than time (by which I still mean younger than me) Andre Miller backing him up. Hickson could be a pleasant surprise for Denver, but relying too much on him and JaVale McGee is troubling. They might be able to run on Cleveland, but the Cavs have the bodies to throw out there to keep up and are much more proven down low. I like Anderson Varejao versus McGee down low. McGee has always relied on his incredible athleticism to make up for some … um, questionable judgement at times. A healthy Varejao to needle McGee, who is expected to be taking on more responsibility this season, should be a show in itself.
Clippers — Somewhere, Dion Waiters dreams of Los Angeles, November, 2012. That's where he scored 28 points on an un-Waiters-like 7-11 from deep. Assuming that Waiters just resides in Los Angeles, the real match-ups here are at point guard, power forward and center: Kyrie Irving versus Paul, Thompson against Griffin and Varejao/Andrew Bynum matched up with DeAndre Jordan. The Clippers are stacked with veteran players in full-on Contender Mode and really that will be what tips this match-up in their favor. These games have the chance to be very tight and very fun, but Mike Brown will not get his revenge on Rivers for the punishment (and the pleasure) that the Cavs endured while both coaches were battling in the Eastern Conference playoffs a few years back … not this season.