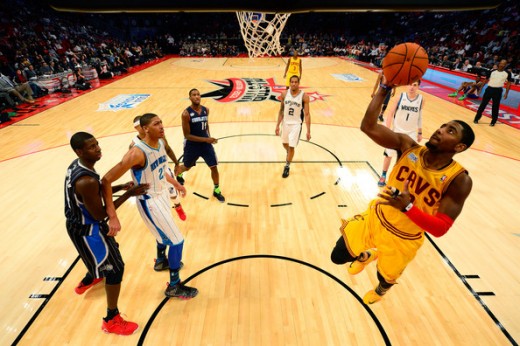 Tonight, the Cleveland Cavaliers kick off a new season.  Last week, I predicted that behind 40+ points from Kyrie, they start with a victory.  And hey, I already surmised that Dellavedova and Sims would stick, so consider Irving's big night a lock.  But how many other wins for the Wine and Gold this season?  Let's complete the trek through these pseudo-scientific projections and see.
21. Andrew Bynum plays 45 games and 1178 minutes.
22.  He averages 12.5 points and 8.5 boards during those 26 minutes.
23. Throughout the season, we each read 28 articles and 10436 words on his status and how close he is to playing.
24.  This year, Anthony Bennett shoots more threes than are probably good for him.  In 20 minutes per night, he averages 8.9 points on 44 / 29 / 74, with 5.7 rebounds.  His PER will be 12.
25.  I won't be mad at him.
26.  For the first time during a full season in his career, Jarrett Jack plays less than 79 games.  He suits up for 73, missing time due to ingrown toenails.
27.  For the most part though, he provides the stabilizing influence intended for on the second unit.  In 29 minutes per night, he cans 37% of his threes and doles out 6 assists.
28.  Due to his limited defensive ability, and the size of the combined unit, lineups combining Irving, Jack, and Waiters are not successful for more that small doses.  Following two distinct schedule runs, discussion heats up about whether Jack or Dion should close out games.
29.  Despite inconsistency, Waiters takes a step forward this.  He plays 70 games and 30 minutes per game, averaging 16 points on 45 / 33 / 75.  He attacks more frequently than the early parts of last season, drawing more fouls and lifting his true shooting percentage to 52.5.
30.  Also experiencing second year improvement on defense, his xRAPM improves from negative-2.8 to negative-1.2.
31.  He will shoot too many 20-footers off the bounce with 12 seconds left on the shot clock.  You want me to put a number on it?  Ok, 128 times.  Dion, those are bailout shots with 2-seconds left on the shot clock.  So, a new season's resolution…zero attempts at long, non-set, two pointers with double-digits left in the possession.  Find the offense a better shot.
32.  Every time I mention the eventuality of something good happening, my wife accuses me of "jinxing it".  That is silly, but part of me dreads making hopeful predictions about Anderson Varejao.  I will anyways though…64 games and 1623 minutes.
33.  He passes: Jim Brewer to move into third in franchise history for offensive rebounds; Larry Nance to reach sixth for defensive boards; and John Bagley to place eighth in steals.
34.  This is a tough one…if Bynum and Varejao combine for 2800 minutes, how many minutes per game and rebounds can I expect from Tristan Thompson?  This is where my pseudo-science really gets put to the test…TT averages a double-double, increasing last seasons 11.7 & 9.4, to 13.9 and 10.  Is that for real?  The NBA featured nine guys last year that played more than 25 games and averaged double digits for points and rebounds; only five of those eclipsed 13 points per night.
35.  He hits 66% of his free throws.  (Bonus prediction: Next off-season he converts to shooting freebies underhanded, then converts 74% from the line in 2014 – 2015).
36.  These incrimental improvements result in him gathering 105 points in Most Improved Player voting, good for a fifth place finish, as the majority of people that don't closely follow the Cavaliers  slowly realize that he is not a bust.
37.  And drummmrollllll please…Kyrie Irving continues a meteoric rise to superstardom.  While it is difficult for him to improve on his already stupendous career averages of 23 points per 36 minutes with 56% true shooting, he does, to 24 and 57.3%.  His assists per game increase from 5.9 to 7.
38.  The biggest increase in his productivity is playing in 76 games.  I will now go look for a four-leaf clover.  And a rabbit's foot.  And hang a horse shoe over my front door?
39.  Due to continually improving maturity and the emphasis of a new coaching staff, his defensive output also experiences an uptick.  He snags 1.8 steals per game and his defensive xRAPM ticks up from -2.0 to -1.1.
40.  Post Christmas until the All-Star break, the team rides their hottest stretch of the season, buoyed by a run of home games and a relatively lax schedule.  Entering the weekend hiatus, their record sits at 30 – 23.  Water cooler talk turns to, "Is first round homecourt a possibility?"
41.  Tristan Thompson wins the NBA three point contest.
42.  But then as hungover youngsters fresh off All-Star weekend, they lose a shocking affair against Philadelphia on February 18, finally securing the 76ers an elusive win and ending the discussion of an 0 – 82 record.  Stumbling from there into a tough March schedule, the season descends into madness.  Kyrie misses his seven games; so does Jack, inviting a Dellavedova cameo; Bynum experiences a bocce mishap… a slide of 8 wins against 16 losses takes the team into April, one game below five-hundred.  Nate posts an article detailing how if the Cavs had only picked Oladipo, then traded the 19th, 31st and 33rd picks to move up and get Kelly Olynyk, none of this would be happening…several unutterable comments are devoured by the comment monster.
43. Fortunately though, the team rights the ship with a five win April.  43 wins!  Eastern Conference 7th seed!! No offseason of panic!!!
Ok…since the team makes the playoffs, here are bonus predictions, in honor of the:
44.  Two playoff victories.
45.  The Cavs are not involved in any substantial trades, as they save cap space for summer of 2014.  If you disagree with this one, throw some potential trades into the comments section.
That's it.  So far, I am one for one.