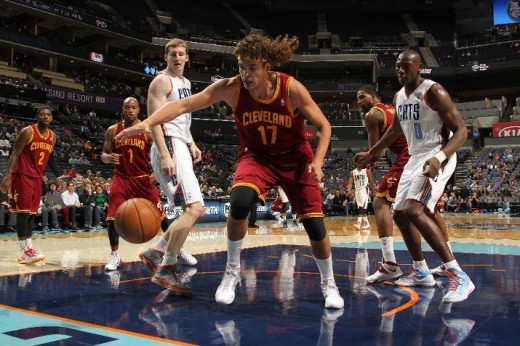 Cavs:the Blog didn't give it our all tonight.  Final preseason game.  Second night of a back-to-back.  Against Charlotte.  Nearly half the anticipated twelve man roster in street clothes.  We didn't want to expend energy better used next Wednesday.
Without delving too deep into this one, the first half went back-and-forth, with Cleveland trailing at the break 51 to 53.  An early 10 – 2 run in the third spread the Bobcats lead, and the Cavs never got within four again.  Another Charlotte run, this time 11 to 2, closed out the game, resulting in the double-digit loss.
Kyrie scored 20 points in 27 minutes on 61% true shooting.  Inexplicably, Tristan did not hit a jumper this game; he canned all five free throws though.  In his worst game of the preseason, he tallied 11 points, 8 boards, 1 block and 3 turnovers.  Dion returned, but only scored four points in 15 minutes.  Unfortunately, only one of his five shots was inside the paint, and he got called for a palming violation (a what?).   Earl Clark finished second for the Wine & Gold in scoring with twelve points, knocking down four jumpers; clearly this will not be a recipe for success.
In possibly the biggest news of the day though, our friend at laughingcavs.com posted advanced stats from the Cavaliers October. It's only preseason, but it's worth a look.  Tristan lead the team in PER through Wednesday.  With the five freebies tonight, he drained 67% of those in eight games.  Enough with the non-counting games though.  Cleveland finished with 4 wins and 4 losses.  Bring on Brooklyn and the real stuff!