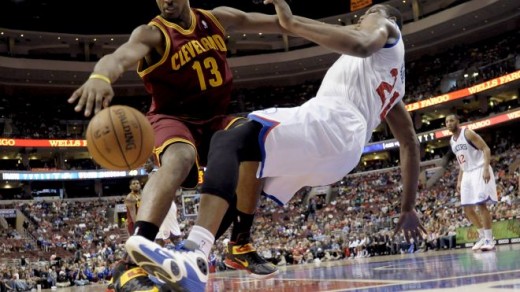 The Cavs travelled to Columbus to play Philadelphia's merry band of tank artists Monday evening. Many players missed the game with injuries, including Jarrett Jack, Tyler Zeller, and of course, the maybe-maybe-not ready for basketball Andrew Bynum. Also not featuring were Dion Waiters and Earl Clark. C.J. Miles and Alonzo Gee got the starts alongside the core of Irving-Varejao-Thompson.
The Cavs jumped out to an early lead behind good ball movement from the entire team. Irving easily had his way with Michael Carter-Williams and pretty much every 76er. He appeared sharp with his passes the entire night, including a masterful fast break in the fourth quarter wherein he hesitated with the right side of his body, twisting slightly so as to continue to move forward with his left. What that did was create the smallest of spaces, through which he tossed a sublime pass to Anthony Bennett for the dunk. Kyrie finished with 17 points and 12 assists, all without exerting too much. He's still elite. The team picked up on his energy and threw nine assists in the first period.
Tristan Thompson had a very strong game as well, finishing with 15 points and 16 boards. More intriguingly, his right-handed shooting stroke looked smooth and effective. He appeared comfortable all game, as did Irving and the hyperactive Varejao to a lesser degree, and the Cavs starters generally outclassed a bad Philly team. The Sixers tried to run most of the game, and this was relatively ineffective, especially against the top Cavs players. Defensively, Tristan Thompson had a monster block on Evan Turner and Kyrie Irving looked improved, as he snuck around and disrupted passing lanes. Every Cavs player had a positive or neutral plus/minus except for Jermaine Taylor.
Mike Brown attempted to bifurcate the rotation, playing a first team for the first and last six minutes of each half and alternating it with a mostly different second team featuring Bennett, Matthew Dellavedova, Taylor, and Henry Sims. Sergey Karasev was out there and looked comfortable despite 1-for-6 shooting, but left with an ankle injury. It remains to be seen how serious it is. Sims and Dellavedova both looked solid and seem likely to round out the roster of 15, meaning Taylor and Elliot Williams are the odd men out in this scenario. Williams looked strong in spots, but Dellavedova shot and passed effectively and Sims was strong on both sides of the ball. Bennett looked good again tonight, and his time spent with the first team showed the dangerous spacing effect he brings to the table. A hypothetical lineup of Irving-Waiters-Miles-Bennett-Thompson has serious range. Bennett slotted in well with Thompson down low and looks more at ease every game. There was a sequence in the second quarter where a speeding Bennett caught a pass with his back to the basket, turned onto forthcoming pressure and calmly fired a pass down low to I think Sims. Dude has poise and is starting exhibit the all around game that made Chris Grant and co. take him first overall.
The duo of Alonzo Gee and C.J. Miles was effective for Cleveland. Gee hit four three-pointers, including a pair in a decisive late-fourth quarter run. He was somewhat anonymous for most of the game, but got open enough and converted his corner threes. Miles missed all of his attempts, but moved well off the ball and often found himself with an open shot.
As for the outcome of this exhibition, the Sixers took their first lead at 74-73 with 9:58 left…and followed that up with a four-minute scoring drought. The starters came back in and took over. Thompson had a nice half hook, which he followed up with the huge block of Turner, and then Kyrie made that magical pass to Bennett, whose dunk basically sealed it. The Cavs looked in cruise control throughout and will play Washington next, on Wednesday.