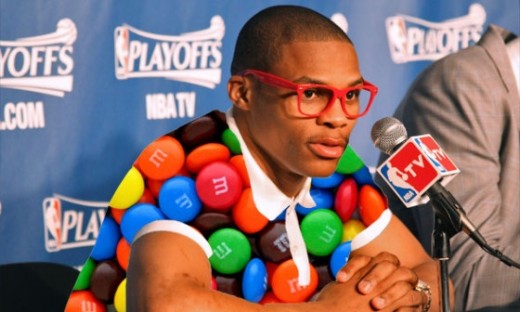 It's hard not to be down on the Thunder heading into this season. For a team that features one (and often two) of the game's transcendent talents, a team whose rise to contender-dom has been so studied as to have a rebuilding model named after them, a team that features so many cool backpack/bow tie/dark-rimmed prescription-less eye glasses, it's tough to think that the bloom may already be off the rose. Of course, one (lingering) knee injury, a widely criticized trade, so-so coaching and general silence in the offseason can do that. Let's check in with OKC:
What they did last season: The Thunder had a great season in 2012-13… until they didn't. Besides running a ridiculous over/under line of five for "How many breaths can Bill Simmons take without mentioning how he opposed the James Harden trade from the start?" (Tip: take the under!), Durant, Westbrook, Serge Ibaka and Harden replacement Kevin Martin captured the West's best record at 60-22 and were heavy favorites to make the Finals for the second year in a row. They had a top two guy in Durant, a top ten guy in Westbrook, good complimentary pieces, good chemistry, so-so coaching, everything you could want. That is, until Rockets guard Patrick Beverly collided with Westbrook in Game 2 of the first round of the playoffs, injuring Westbrook's knee and shelving the dynamic young guard for the remainder of the playoffs and, so far, beyond. It brings me down just writing about it….
Without Westbrook to help Durant shoulder the load, the Thunder lost in the second round to the Grizzlies in five games. And, yes, it did seem like having Harden would have helped, Bill.
What they did this off-season: Not much. They drafted the seven-foot Pitt project, Steven Adams, re-signed Derek Fisher and Derek Fisher's Veteran Leadership and let Martin leave to be reunited with Rick Adelman in Minnesota. The team will still rely on Durant, Westbrook and Ibaka, but really needs third year guard Reggie Jackson and second year guard Jeremy Lamb to establish themselves as reliable to above-reliable NBA rotation players for this team to have a realistic shot at returning to the Finals this year. Still, star power is what it is so, as Cavs fans well know, crazy stuff can happen in the playoffs when you have the best player (or two) on the court.
How they match up with the Cavs: Despite existing on opposite poles of NBA success for the last few seasons, the Cavs have managed to play the Thunder pretty tough. While that's probably more an indication of how seriously the Thunder took those head-to-heads than of any inherent advantage the Cavs hold over this batch of their betters. Still, especially now that the Cavs should be inching their way back toward respectability, there are things to like here. Pitting Nick Collison against Anderson Varejao could cause a rift in the "hustling big who gets under opponents' skins" continuum akin to two Ghostbusters crossing the streams. Kyrie Irving's misdirection and touch from deep versus Westbrook's power. If the Cavs are any good this season, there are plenty of intriguing battles against the model from which they have been built. But…
The match-up to watch: Durant versus Earl Clark's length. Clark's ultimate viability as the Cavs' long, defensive-minded three has been put into some question by a shaky preseason but, in the 6-10 Clark, the Cavs do have a player with the size and mobility to, at least, try to make Durant work. Ultimately, though… well, Durant's just too good and the enduring nature of the Cavs' love affair with Mike Brown's defense too unproven. Expect some crazy games from Irving as he tries to keep pace with two other members of the NBA's upper echelon, but while Irving may be high enough up there to have a nice view, Durant's the one in the penthouse.
(So, yes, following this model LeBron lives on the building's helipad. Man, that guy knows how to live…)