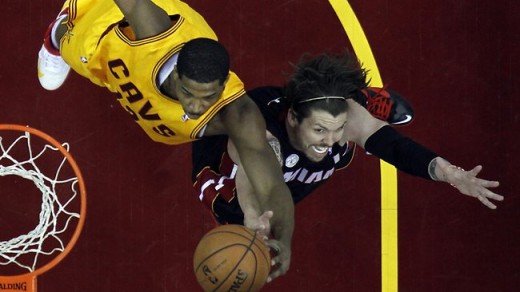 As the calendar hits one week until regular season basketball, I will roll out a concept from last season:  one pre-season prediction for each win that I expect from the Cavs.  And this two-part article features a special brand of pseudo-science.  No spreadsheet or aging curves needed here; this is the type of pseudo-science that happens in my brain (warning – no actual science content).  Today, a daring offering of the first twenty prognostications.  Then next week, a tumultous finale tallying up to 40 wins?  50?  60?  We shall see.
This seems like an easy one, but inevitably it will be proven wrong within days.  Matthew Dellavedova and Henry Sims occupy the final two roster spots.
Matty D is hella fun in Canton, and also plays 153 minutes with the Wine & Gold, parlaying that time into seven ferocious Anthony Bennett finishes off a pick & roll.
Bynum & Zeller miss time early in the season, and Sims sees some time.  Ultimately, he doesn't stick though.
In a more appropriate role than last year, Zeller logs 682 minutes, playing when some combination of Thompson, Bennett, Varejao and Bynum are hurt.
Stronger, and generally more fresh, he better combines the headiness that resulted in 20 drawn charges last year, with other slightly tangible skills.  Like not getting bulled over by Roy Hibbert repeatedly.  I'll say he increases his per-36 minute averages from 11 & 7.8 with 49% true shooting, to 13 & 8.7 with 52% true shooting.
Carrick Felix spends the season in Canton.
In his career, he never cracks the Cavs rotation on a consistent basis.
With Jack, Waiters, Miles, Clark and Gee set to take wing minutes, Karasev struggles to crack the rotation.  On the bright side, him and Zydrunas go out for root beers to celebrate Sergey's 20th birthday.  It's on Saturday. 
During his limited minutes with the Cavs, he generally impresses with his skill level and composure for a youngster the age of a typical college sophomore (7 months younger than Anthony Bennett, 8 months younger than Ben McLemore, etc).
Unlike the last two seasons, Alonzo Gee does not finish second on the team for minutes played.  With fresher legs and a more appropriate role, his performance better resembles that of the 2010 – 2011 waiver wire pickup that first gained our affection.  His usage drops to 15%, with offensive rating of 105.  His defensive RAPM is positive again.  Some of these may be closer to wishful thinking than predictions.
He cans 34% of his threes.
When Earl Clark struggles on offense, we (Cavs fans) will compensate by overstating the impact of his defense.
He finishes top ten of small forwards in rebounding rate though.  With Varejao, Thompson & Clark frontcourts, Cleveland will get all the rebounds.  The other team will get zero.  The Cavs will close out games with narrow leads by taking ill advised jumpers, then grabbing every board.  This strategy will burn minutes of time from the clock.
C.J. Miles will seperate himself as third most deserving player for wing minutes after Dion and Jarrett Jack.  Buying into Coach Brown's system, he provides reasonable defense from the two or three.  Spacing the floor better than his compatriots, for the fourth time in his career, Miles cans more than 35% of his threes.
For the third time, he averages double digits per game, including one 30-point outburst.
He also makes double digit three-pointers from approximately 30 feet.  Three of those come in the 30 point game.  How's that for a specific prediction that inevitably has to be wrong?
On opening night, Kyrie scorches the Nets for 42 & 7.  The world says a collective "daaaaaaammmnnn"; Kevin Garnett cries on national TV; and I jump around my house like a giddy schoolkid.
Following that win and with two games each against Philly and Charlotte, Cleveland starts 6 – 4.
The next seven aren't as friendly as the Cavs face San Antonio, Miami and Chicago.  Heading to December, the team sits 9 – 8.
Heading into Christmas, sitting comfortably in the playoff race, their record resides at 14 – 13.  A huge win in Miami on December 14th punctuates the early part of the schedule.  Tristan Thompson posts his first career 30 & 20; Chris Bosh cries.
Well, I have taken science to previously unseen places.  Next week, I stretch the boundaries of logic and mathematics even further.