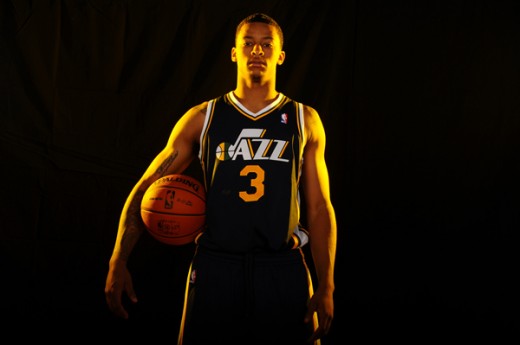 If nothing else, this off-season showed us that there's not just one way to blow up an NBA roster. When it's time to hit the reset button, NBA fans, you don't have to settle for seeing your franchise cornerstone get traded and watch while all the other contracts on the roster are flipped for dimes on the dollar. Oh, no. You could be like the Utah Jazz who proved, to only slightly misquote Gerard Manley Hopkins (yeah, English majors!), they also tank who only stand and wait.
Last Season: All season long, the Jazz dominated … or, at least, they dominated for the title of "most trade rumors involving your team's two best players." In the end, though, neither Al Jefferson and his 17.8 points and 9.2 rebounds a game nor Paul Millsap's 14.6 points and 7.1 boards were moved. As a result, the Jazz weren't horrible at playing basketball well past the trading deadline, only falling out of the race for the final Western Conference playoff spot in the season final week. The Jazz finished a meh 43-39 behind the meh head coaching of Tyrone Corbin and were staring at a roster of equal parts developing young players and veterans that were either full-on meh or just a little bit meh. Where could all this meh be headed, you ask?
What they've done this off season: Since the final buzzer sounded on the 2012-13 season, the Jazz have become a significantly worse team. But, don't worry. It was all totally intentional. *Sigh* While they were unable to acquire any assets by moving Jefferson or Millsap, by not bringing back any odious contracts in return, they have precious little on the books past this season outside of several very affordable rookie deals. They facilitated the summer's mother of all salary dumps by bringing in the bloated (but expiring) contracts of Richard Jefferson and Andris Biedrins from the Warriors (as well as the players, Richard Jefferson, Andris Biedrins and Brandon Rush) and netting five future draft picks. They let go backcourt vets like Mo Williams and Randy Foye, effectively handing the keys over to 2012-13 Naismith winner, Trey Burke, and their incumbent young (and to varying degrees promising) players, guard Alec Burks and forwards Gordan Hayward, Derrick Favors and Enes Kanter). They also added project big man (and Cavs: The Blog favorite) Rudy Gobert with the 21st pick in the first round.
These young players will have all the minutes they need, Corbin will likely finish digging the hold and have his first head coaching stint laid to rest, and the club will be flush with bad in preparation for the ballyhooed 2014 draft and flush with cash for the ballyhooed 2014 free agent class — and beyond.
How they match up with the Cavs: The Jazz are expected to be among the league's worst teams. The Cavs, should things (not) break as expected, will be a playoff team. Advantage Cavs. Even more than the youth on the Jazz roster — the Cavaliers are fielding one of the league's younger teams, as well — the Jazz are in a pickle due to the questionable ceilings of their key young players and their overall lack of team identity going forward. While Mike Brown will make sure the Cavs' identity begins and ends with defense (if only in terms of how much he will talk about it regarding how his team plays, good or bad), I'm not sure anything so definitive can be said about the Jazz under Corbin. Also, while no one knows how good players like Dion Waiters, Tristan Thompson and Anthony Bennett will become, the team has a legit star talent moving forward in Kyrie Irving and Thompson and Waiters have been about to play out their growing pains on the floor, rather than being stuck behind more polished vets, as was the case with Favors and Kanter.
Last season, the two young Jazz bigs posted tantalizingly identical stats per 36 minutes: 14.6 points and 11 rebounds for Favors, 16.9 points and 10.2 rebounds for Kanter) and PER (17.5 and 17.6 respectively). If they are capable of performing at close to those levels in their expanded roles with the club — and if Hayward continues to develop into one of the game's more dangerous shooters (41% from three last year) — and if Burke can lead a pro team as well as he ran his squad at Michigan (he averaged 8.8 points and 4 assists on 24.1% shooting at the Orlando Summer League) then the Jazz might have a talented, young foundation in place — a foundation that's just waiting to find their star talent in the draft. Right now, though? Again, advantage Cavs.
The match-up to watch: I'll come clean. I'm a huge Burke fan, so I'm going to spare him the inevitable abuse of dissecting a Burke/Irving match-up. Instead, let's look at the power forward spot and Favors versus Thompson. Both players came declared for the draft after one year of college, Favors at Georgia Tech, Thompson at Texas, and came into the league as extremely raw big man prospects. Now, with Favors entering his fourth season and Thompson entering his third, it will be very interesting to see which player's game is the most advanced at this point. Favors gets the nod in terms of freakish athleticism, while Thompson has really relished developing into one of the leaders of this Cavs team. Their per 36 stats are very comparable with Thompson at 13.4 points and 10.2 rebounds last year. Whichever player more closely realizes their projections this season will go a long way in showing which team got the better developmental big man.