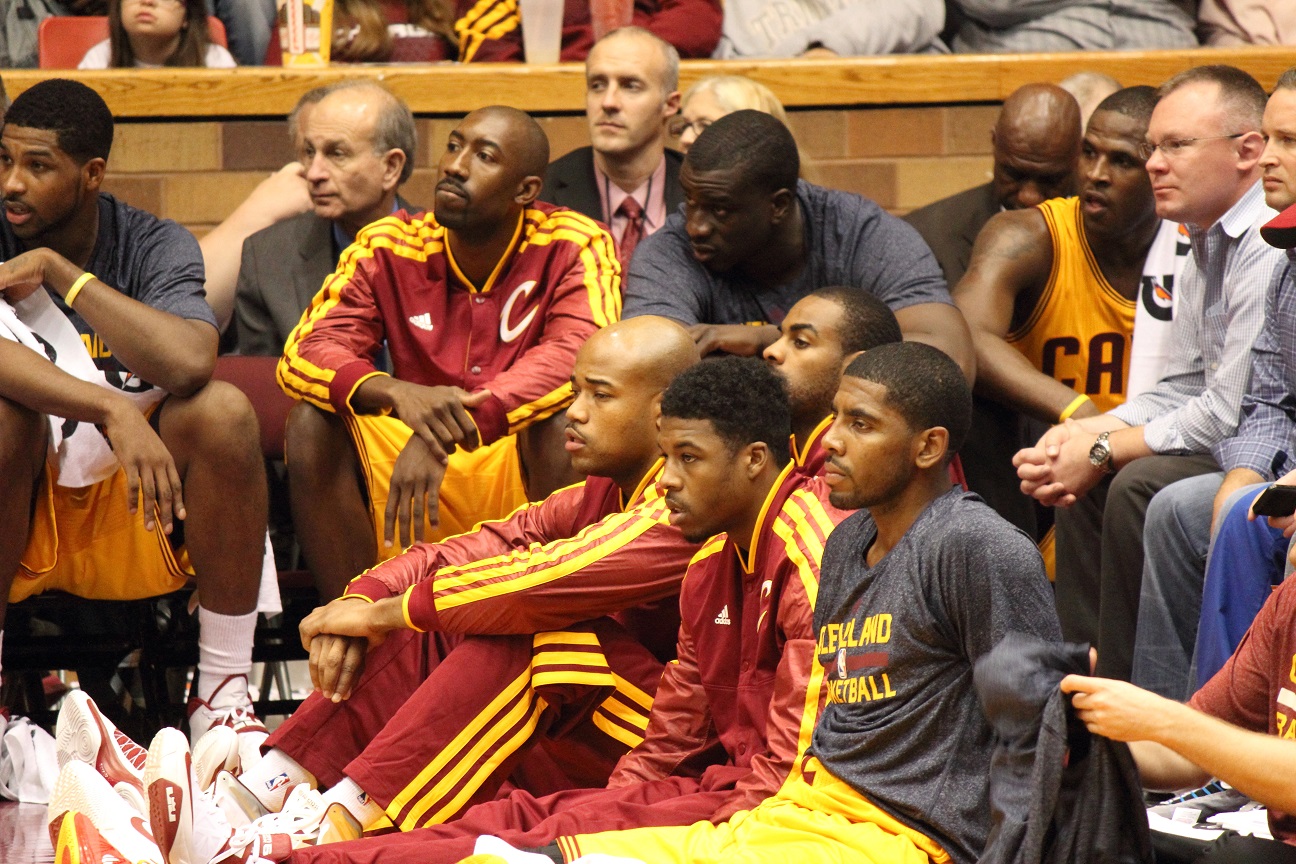 It's official. After three games, the grind and meaninglessness of preseason has set in. With the Cavs kicking off the first of six preseason games in nine nights, most of the Cavs starters played as if this game didn't matter at all (which it doesn't). After racing out to an early lead of 27-16 at the end of the first quarter, the Cavs scored 47 points in the final three quarters, and gave up 75. In their defense, the Cavs were missing Varejao, Jack, Zeller, Karasev, and Felix, plus, Gee left after the first quarter.  It wasn't pretty. Though the Cavs defense looked decent at times, the offense was atrocious and haphazard.
The Bobcats were paced by their guards, Kemba Walker, Gerald Henderson, Ramon Sessions, and Ben Gordon who scored 48 points combined, and dished 11 dimes (with 10 turnovers). Cleveland was paced by Kyrie Irving and C.J. Miles who each scored 15. Miles was really the lone bright spot in the game for the Cavs. He really brought the offense for the second unit, and his -1 +/- was the best of all players not named Alonzo Gee. Gee never returned after the first quarter, after making the start at small forward.
Speaking of small forward, Earl Clark's 3-9 shooting does not convey how bad he was on offense this game. He forced the issue almost the entire game: making ill advised forays into the paint, jacking up bad pull-ups, and just not moving the ball. The one jumper he made hit everything on the backboard before it went in. Clark needs to shoot open shots, defend, and rebound. Everything else is a bad decision.
Dion, for as well as he played the other night, was completely non-engaged this game. He drifted on offense, and generally tried to split double teams to the effect of four turnovers and 2-7 shooting.
Anthony Bennet hit two early threes and did nothing else the whole game — I mean besides foul.
The only other player of interest was Matthew Dellavedova, who got some pretty extended run with the Jack injury. He ran the pick and roll well, and had seven assists and only two turnovers, but wore down as the game went on, and stopped getting his legs into his shot. He also got absolutely lit up by Walker and Sessions. One thing I noticed: Dellavedova plays way too flat-footed on defense. Guys were blowing by him on a regular basis. If you're listening, Matthew, you need to get on the balls of your feet on defense, get your butt down, and work on your knee bend and lateral movement. (of course I wasn't smart enough to include a photo of this). I appreciated Dellavedova's competitiveness and his effort, but there are fundamental things about his defensive stance he needs to change.
The defense was a mixed bag: bigs showed hard on the pick and roll but rotations and recoveries behind them were often poor, which led to dunks.  Sometimes the hedging on the pick and roll was closer to tackling.  Kyrie got stuck on more than a couple screens, and the Cavs lack of shot-blocking is going to be a problem all year.
I was lucky enough to go to the game, and lucky enough to have been upgraded to the second row by my good friend, the Aultman Hospital mascot, Freddie LaFever. Despite the poor showing by the Cavs, it was an enjoyable game, and a sell-out in Canton. I got to try my hand at sports photography, and guess what?  There's a reason these guys spend $30,000 on lenses, and there's a reason they have $30,000 to spend on lenses.  Sports photography is really hard. I asked my buddy Jay who's the sports editor at the the Mat-Su Valley Frontiersman, and his advice was, "Always get a photo of the point guard first.  That way you at least have something to print." Well, I got one good picture of K.I. out of 50, and out of about 250 shots I produced one (very amateur) photo essay.