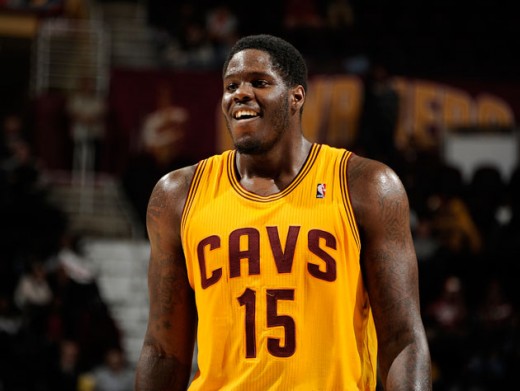 A story about Anthony Bennett maybe/maybe not struggling with his conditioning is making the rounds this week. The Plain-Dealer's Jodie Valade revealed in a story on October 10th that Bennett is slightly above his playing weight of 240 pounds and his conditioning is far from a finished product. This is standard fare for this time of the year, especially for players who used the summer break to heal injuries before the start of the regular season. When an athlete can't play basketball for a solid quarter of a year, its reasonable to expect a refractory period and Bennett has been out since the workout phase of the annual pre-draft buildup.
What seems to worry fans is the history of rookie big guys with apparent conditioning problems. For every Glen Davis who uses mass to their advantage, there is a Sean May who cannot overcome his own inertia to become an effective NBA player. This fear is not without its merits, but it pays to look at players on a case by case basis to determine what pattern exists if any. Generally, young post players take a while to adjust. The most difficult tweak to make is to find equal footing in the physical arena of NBA play. This is why Jonas Valanciunas needed to add 15-20 pounds of muscle this offseason. This is why Tristan Thompson is starting to put it together (theoretically) after an average rookie season. The paramount importance of being able to hang physically is why Andre Drummond has succeeded thus far in the NBA. He is an elite athlete among his NBA peers and so his adjustment period was smaller. For all of DeAndre Jordan's basketball shortcomings, he is sufficiently explosive to make up for certain transgressions. Since there is an order of magnitude jump between college defenses and athleticism and the tactical and physical demands of NBA ball, none but the most talented players are able to step in and impose their will from the jump. It's a very different animal. While Bennett isn't necessarily a monstrous athlete on the order of the Javales and DeAndres of the league, he has the mass factor on his side and is more than his size.
This particular physical advantage is an uneasy one to ally with, due to the spotty history of Oliver Miller et al. I looked at the top half of the first round of the past 10 NBA drafts and tried to isolate players who struck me as similar to Bennett in composition or situation, and examined if they ended up flaming out in the NBA or succeeding in an attempt to suss out a pattern. The most similar players I found were Drummond, Demarcus Cousins, Derrick Williams, Jeff Green, Ike Diogu and Paul Millsap. Millsap  was a second round selection, but is maybe the most similar to Bennett. Bennett is not a five, unlike Cousins, but the Kings centerpiece has been tagged as a conditioning problem since day 1. While Cousins has been an effective if not polarizing player, he does fall into a lot of the traps of poorly conditioned players. He has led the league in fouls before and appears to be a step slow on many defensive rotations. However, the Kings have a new/actual coach now and Cousins looks to be improving in all areas. What this reveals with regards to Bennett is that young players, particularly tall, vaguely out-of-shape ones like Cousins, are prone to fouling a lot. NBA defense requires a lot more communication, quick shuffling around and mastery of positioning. Bennett may struggle with this early on, but the depth ahead of him looks to allow him the necessary breathing room to learn on the job without heaps of pressure.
Diogu, Green and Williams are all tweeners, tall enough to be a power forward, but theoretically athletic enough to play closer to the wing. While all these players have vacillated between the three and the four with variable amounts of success, Bennett is probably going to exclusively play power forward for now (although a Irving-Jack-Waiters-Clark-Bennett lineup would be pretty fun). This is great news for Cavs fans, because players seemingly stuck between small and power forward should always move up. Today's NBA is getting faster and more hybridized, and anyone playing on the wing needs to be able to check hyper-athletic threes. Bennett is probably not built for this, and his versatile skillset is better utilized as a floor stretching power forward. Thus, he avoids the pitfall trap of his coaches attempting to mold him into a zippy three, which requires probably more transformation than Bennett is capable of. He also gets to take advantage of his apparently nuanced and varied ball skills against less mobile power forwards.
A best case scenario sees Bennett developing into a Paul Millsap-type at the NBA level. Both players are slightly undersized, muscular power forwards with range and serviceable off-the-bounce abilities. Millsap has found ways to be successful despite his apparent spatial limitations by leveraging his skill and hustle. DraftExpress notes that he slipped in the draft because of concerns about his weight and size, which seem retrospectively silly. Bennett comes off as more polished version of Millsap, with better ball skills and good athleticism to pair with his tenacity. There is a conditioning hump for all players to get over, but with his apparent drive, the Cavs coaching staff pushing him and actual basketball to play after his summer hiatus, Bennett feels more like Millsap than Sean May with every game.