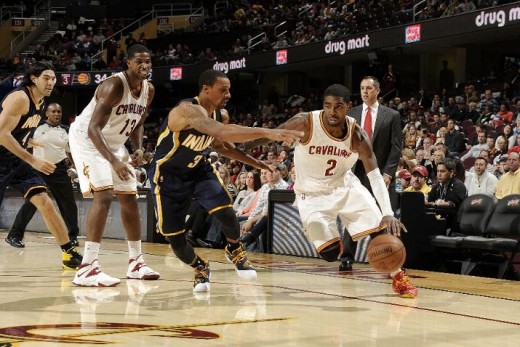 Let's see how this goes; despite having NBA TV, League Pass, and living in Indianapolis, it appears I will watch the Cavs – Pacers game via a sketchy online stream.  So, with kids up, and no pausing, this could be an intermittent recap.  This will be kept simple, with "Things I liked" and "Things I Didn't".
Things I Liked
1Q, 9:47 to go – Tristan throws down a nasty slam in transition off a Kyrie dish.
1Q, 8:41 to go – A baseline jumper from Thompson.  The right hand is silky…
1Q, 7:35 to go – Then a short push shot from the other baseline by TT, this time off a Kyrie dime.  Along with a defensive stop in the post facing David West and a crushing swat of a Roy Hibbert shot, the early part of this game is all Tristan Thompson: Canadian Dynamite
1Q, 5:41 to go – Grabbing a second offensive board, the man of the quarter gets to the line and sinks 1 of 2.  After a push from David West, he gets a bit agitated at the Pacers veteran; the teams are a bit chippy for October 19th.
1st quarter – Cleveland leads 17 – 13.  Seven offensive rebounds were the difference, with four from Varejao, as both teams shot sub-30%.  This was very ugly basketball, but Cleveland held the Pacers to a bunch of jumpers, and they obliged by missing.  Tristan and Andy were awesome, almost a best case scenario.  The Cavs led 16 – 5 as the starters began heading to the bench
2Q, 8:30 to go – On back-to-back possesssions, two straight Dellavedova to Bennett pick & rolls generate easy looks, one of which is a monstrous dunk (by Bennett, lest there was confusion).
2Q, 5:56 to go – Cavs lead 26 – 19, as Indiana misses 13 of 15 shots outside the paint.  Cleveland looks active on defense, showing hard on pick and rolls and keeping the Pacers from finding a rhythm.
2Q, 1:38 to go – Dion intercepts a pass, heads the other way, but misses the layup.  Kyrie follows him with the near-dunk finish!  Interesting half for Dion; he's 0 for 6, but with zero turnovers, the aforementioned steal, one traditional assist, and now three "Dion Assists", where a miss at the basket nets an opportunity for a teammate.  At the half, he actually leads the time in plus / minus.
2Q, 1:00 to go – Anderson Varejao is a sight for sore eyes; his high-post court vision finds Kyrie for an easy lay-in.  Cleveland leads 39 to 32.
Halftime – The Pacers drain two jumpers to close the half, cutting their deficit to 39 to 36.  Both teams can not find the basket, but the Cavs have doubled-up the Pacers in rebounding, 30 to 15.  Andy and Tristan snag 12 boards between them, while Kyrie paces the team with 11 points and 4 assists; of 13 field goals, the Wine & Gold register 12 assists.  Glass half full: 90+% of field goals assisted.   Glass half empty: 13 field goals made in a half.  Tristan tallies 9 points and 5 boards, while Varejao has 6 & 7.
Start of the 2nd half – I missed this, and also a little bit of the end of the last quarter, reading books to my kids and putting them to bed.  It appears that Dion hit a couple of jumpers.
3Q, 8:42 to go – Waiters splashes a three.  I would feel like his offense is a lot more sustainable if these shots were coming at the rim, but at least shots are dropping now.
3Q, 8:10 to go – After assisting on Dion's three, Gee hits a step back 12-footer.  Nice two possession sequence for Alonzo.
3Q, 6:25 to go –  Tristan wrestles away another offensive board, then swishes two freebies.  I can get used to that.
3Q, 6:11 to go – On defense, everything looks more crisp this year than last.  Guys appear to be playing with purpose, rotations are prompt recovering on pick & rolls and on the boards.  I like where this is headed.
3Q, 5:48 to go – Off a Kyrie kick, Alonzo Gee drains a three, pushing the Cavs back to a 4-point lead.  Soon, the roster filler will start to fill the court.  This game has not been pretty, but the Cavs have been competitive against one of the Eastern Conference's elite.  The team looks more organized and is playing with some fire.  Bring on real basketball.
3Q, 4:58 to go – Dion drains a jumper, then Kyrie finds twine on a drive.  Lead is pushed to eight.  Everyone looks faster, with more urgency than last year.  This seems odd considering it's preseason.  Maybe I am making this up…maybe it's the pixellated stream that I am watching.  In ten days, once the real games start, we shall see.  As the starters begin checking out, Cleveland leads by six.
3Q, 2:49 to go – Nice three-quarter court pass from Dellavedova to Karasev, who gets fouled.  No assist there, but Matty D now tallies four assists against one turnover.  It looks like the team is keeping three point guards.
3Q, 2:11 to go – He hits a floater in the lane; Cleveland leads 62 to 58.
Things I Didn't
1Q, 10:26 to go – With thirteen seconds left on the shot clock, Dion steps right and jacks up a 20 foot airball.
1Q, 7:03 to go – With eleven seconds remaining in the possession, Dion hoists an 18-footer off the bounce.  He starts 0-for-4, and is forcing too much outside the flow of the offense.  His chances will come, he needs to exhibit more patience.  He did get two "Dion assists"; driving, drawing the opposing big, hence Tristan or Andy grabbing easy offensive boards.
1Q, 3:09 to go -Anthony Bennett badly misses a three with 15 seconds left on the shot clock.
1Q, 1:42 to go – Following a possession getting swatted by Luis Scola on a post move, Bennett puts the ball on the floor, and takes too many steps.  Like Dion, perhaps he is trying too hard, and needs to let a shot or two come to him…get a groove going.
2Q, 11:02 to go – Bennett misses a 27-footer with 18 seconds left in a possession.  Someone needs to teach these young'uns to keep the ball moving until the offense generates a better shot.  Often enough, that someone eventually benefitting from the open look will be Waiters or Bennett.  Take a breath…count to ten…
2Q, 2:00 to go – The full, mind numbing misery of preseason is now leaving it's stink on this game.  Neither team can get a shot to fall. They have combined to hit 3 of 21 from deep, and are mired in a 33 to 30 mess.
3Q, 7:40 to go – Indiana is already in the bonus.
3Q, 6:46 to go – Following two Kyrie misses, Paul George streaks downcourt for a fastbreak dunk, then Lance Stephenson draws two freebies.  The Pacers draw even at 48 – 48, for the first time since two to two.
3Q, last two minutes – Cleveland gets sloppy.  Turnovers by Bennett, by Karasev, and by Sims, along with two fouls from the young big, allow the Pacers to close on an 11 to 3 run.  Of course, when Paul George, David West, and Luis Scola suit up against three rookies (one age 19 and one undrafted), Sims, and Earl Clark, that is the probable outcome.
4Q, 7:05 to go – I spent the last 15 minutes editing this article and not watching the game.  This is fortunate, as the Pacers start the quarter on a 19 to 4 run.  I guess this is where it becomes apparent that Luis Scola, Lance Stephenson, Chris Copeland, and CJ Watson are rotation players on the East's second best team.  And Sergey Karasev is 19 years old and may not be in an NBA rotation this year…and Matthew Dellavedova and Henry Sims are definitely not playing real NBA minutes this season…and Anthony Bennett is an out-of-shape rookie…and Earl Clark is Earl Clark.
4Q, all of it – Actually, I didn't watch the fourth quarter.  Instead, I finished this recap.
Final Takeaways
I don't know; it's preseason, right?  Andy and Tristan are going to be a lot of fun.  Dion and Bennett need to stop looking to score as frequently when they touch the ball; when passing with 15 seconds to go in a possession, they will probably see the ball again, hopefully in a better position to score.
Probably most importantly, until Cleveland's starters sat in the third, the Wine & Gold lead against one of the East's elite, playing the bulk of their core (does Danny Granger still count?  He was the only guy missing).  The Cavs youngsters looked wiser and more crisp on defense.  Ultimately though, the Pacers wanted the win more (they hadn't yet this October), keeping their starters and rotation players in midway through the fourth quarter, while Cleveland missed Jarrett Jack, CJ Miles and Tyler Zeller on their bench.  Anyways, the Cavs travel to Columbus to play the Sixers on Monday, then nine days after that, here comes Brooklyn and the regular season.  Then no more crappy streams of partially contested games.
Thank goodness.  Until then.